MANKATO — A year after a 76-year-old woman was beaten inside her rural Mankato home, investigators and her family are putting out another plea for help identifying her killer or killers.
Blue Earth County Sheriff Capt. Paul Barta said his investigators have "working theories" about the Feb. 23, 2019, home invasion and assault that led to Evelyn Adams' death.
They are "close to getting justice for Evelyn and her family," Barta said at a Monday press conference. But they need some help.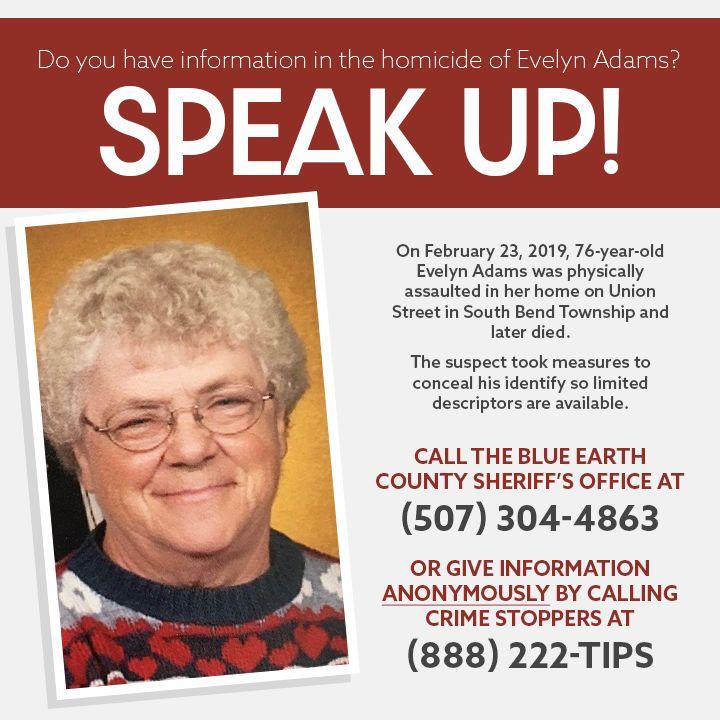 "We know that there are people in our community that know exactly what happened and have that last piece of information that we need," the captain said.
Adams' son and stepson were at the news conference to echo the appeal.
"Evelyn was a totally innocent victim," stepson Jim Adams said. "She did nothing wrong. She did not deserve to die like this. If anybody has any information, please contact the Blue Earth County Sheriff's Office or Crime Stoppers."
Authorities have not released many details about the home invasion and will not say whether they believe Evelyn Adams knew her killer or killers. It's still unclear whether or not one or two people were involved in the burglary.
A neighbor called 911 after seeing a person or possibly two people carrying items outside her house on Union Street in South Bend Township.
A blizzard delayed law enforcement response.
Adams herself called 911 more than 20 minutes later. She woke up covered in blood and did not know who assaulted her, according to the call transcript.
She was taken to the Mankato hospital with injuries that did not initially appear to be life-threatening, but she died Feb. 28. Her cause of death is not being disclosed.
The Sheriff's Office has received assistance from the Minnesota Bureau of Criminal Apprehension and other law enforcement agencies.
Investigators have conducted over 100 interviews, executed 10 to 20 search warrants, reviewed surveillance video and analyzed hundreds of documents, Barta said.
"We are not going to stop the investigation until we get answers," he said. "For as long as it takes we are going to continue working on this."
Anyone with information is asked to call the Sheriff's Office at 507-304-4863. Anonymous tips also can be made by calling Crime Stoppers at 1-800-222-8477 or going to crimestoppersmn.org. A reward of up to $1,000 is offered for information that leads to a conviction.
Adams worked at Modern Woodmen, a fraternal benefits society, where she led a youth service club and planned member events. She also taught Sunday school at her church and volunteered at VINE Faith in Action.
"Evelyn had no enemies. She was beloved by everybody around her," Barta said. "She was truly an innocent victim and she deserves justice."