Yellow ribbons came to symbolize hope during Bruce Laingen's 444 days of captivity in Iran.
And on Saturday, his hometown church in Odin was full of them, as family and friends gathered to celebrate the decorated U.S. diplomat's long and eventful life. Laingen died at age 96 on July 15 in Bethesda, Maryland.
Chip, one of Laingen's three sons, traced his father's optimism through the hostage crisis back to his Odin roots.
"He always knew there was a light at the end of the tunnel," he said during his eulogy at St. Olaf Lutheran Church. "And the faith that he represented, that he got right here in this church, in this community, carried him through all of that."
Laingen was the top U.S. diplomat in Tehran when student protesters supporting the Iranian Revolution stormed the U.S. embassy on Nov. 4, 1979. He and 51 other hostages remained in captivity until early 1981.
Three of his fellow hostages came to Odin to pay their respects Saturday, describing him as a pragmatic and encouraging leader during a turbulent time in Iran. Their remembrances complemented what family and friends had to say, that Laingen lived a life full of kindness, gratitude and humility.
The hostages
Kevin Hermening of Wausau, Wisconsin, was a 20-year-old Marine security guard who interacted with Laingen on a near daily basis leading up to the embassy takeover. A senior sergeant at the time, he turned to Laingen for mentorship on how to discipline Marines several years his senior.
"I remember talking with Bruce one day about how should I deal with having to discipline somebody who's four years older than me, and his style was not to use a club or a stick but rather to lay out ideas that would essentially say you can do better than that," he said.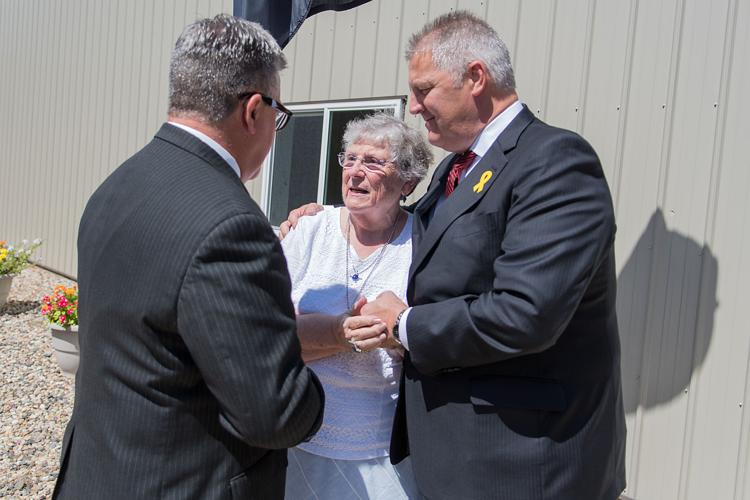 While Laingen was held captive at the foreign ministry with two other officials, Hermening spent the first night in captivity in Laingen's room at the embassy. Captors tied one arm and leg to the bed, and the other arm and leg to another service member. Armed guards watched over them.
Direct contact with Laingen was completely cut off. Through intermediaries, however, Laingen received updates on how the others were doing.
Chip, in college at the time, remembers the uncertainty he and his family felt during the hostage crisis.
"It was never really stable," he said. "It was always in the back of our minds."
Kathryn Koob of Waterloo, Iowa, was director of the Iran America Center in 1979, where she remembers describing upcoming cultural exchange programs to Laingen. Upon learning what the center was up to, he smiled and told her she must have the most fun job in Tehran. She agreed.
She said "Iowa pragmatism" got her through the long hostage ordeal, and expanded it to "midwestern pragmatism" in explaining how Laingen seemed to approach the situation.
"Bruce was very good at that," she said. "He had a very good analytical mind."
Rocky Sickman of St. Louis was a 22-year-old Marine security guard in 1979. In the weeks before they were taken hostage, Laingen caught word of Sickman's strong tennis game.
The diplomat asked the young Marine to play doubles with him on the embassy's clay courts against Canadian ambassador to Iran Ken Taylor and an assistant.
"We smoked them," Sickman recalled with a laugh. "Little did we realize … Ken Taylor would rescue six people."
As dramatized in the movie "Argo," Taylor worked with the CIA to disguise six American diplomats as a Canadian film crew to escape Iran in January 1980. Sickman's son appeared in "Argo."
Odin roots
Laingen and the remaining hostages were released on January 20, 1981. He received the State Department Award of Valor for his service.
The ribbon his wife of 62 years, Penne, tied to the oak tree in their front yard is now part of the American Folklife Center collection in the U.S. Library of Congress. The ribbons dotted the Odin community during his captivity.
Lloyd Carlson, who lives near where Laingen grew up, remembers Sunday school children writing Laingen letters during his captivity. To Carlson's surprise, Laingen somehow wrote back.
"He wasn't complaining about how terrible it was for him," he said. "He was more concerned about the country and everybody back here."
Chip said humility was one of his father's defining characteristics. Laingen repeatedly credits his fellow diplomats and support staff in Iran in his book, "Yellow Ribbon," based on the journals he wrote while in captivity.
Laingen's release was like pure joy for his hometown. Odin residents threw a homecoming parade, which Carlson said was probably the biggest celebration the tight-knit community has ever had.
"Everybody was there," he said. "They parked a flatbed semi and parked alongside the town hall and put everyone up there."
Much of Odin turned out for the funeral Saturday. Those paying their respects watched the family lay a wreath in Laingen's honor outside the church after the celebration of life.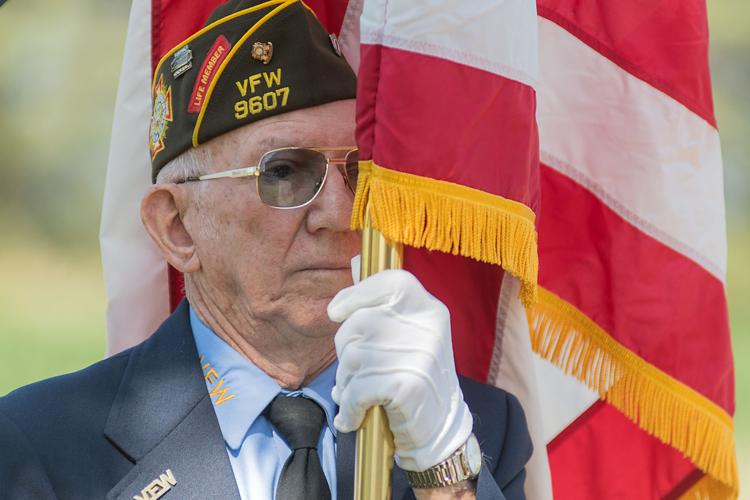 Although known as Bruce, Laingen was born as Lowell Laingen in 1922. He went on to serve as a naval officer in the South Pacific during World War II.
He joined the foreign service in 1949, serving at posts in Germany, Iran, Pakistan and Afghanistan over the following decades. President Gerald Ford appointed him ambassador to Malta in 1979.
Chip said Laingen was the fourth of fifth option for the Iran post in 1979. The others turned it down, but Laingen took on the challenge.
Although his esteemed career continued well past his time in Iran, Chip said being a diplomat was just one of five identities his father wanted to be remembered by. The other four are farmer, naval officer, public servant and family man. Along with his wife and sons, he had 10 grandchildren, seven great-grandchildren, two great-great-grandchildren, a sister and two brothers.
"He was always there for us," Chip said. "Even as a hostage, he took the time to write letters."