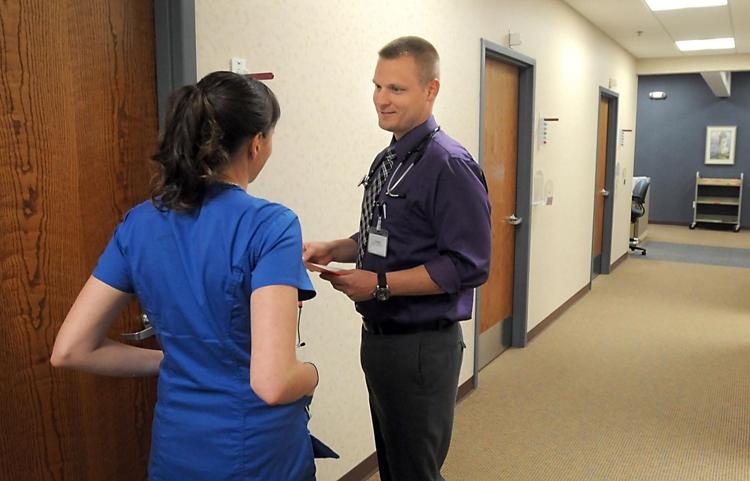 Car stickers are just what the doctor ordered for a squirrelly 2-year-old and his family.
Before Dr. Brian Lovig helps a male patient in his 20s, he produces a giant, shiny sticker for the patient's son.
"That's pretty cool, huh?" Lovig said to the boy.
This doctor's appointment is supposed to be for dad, who injured his wrist several months ago. Yet mom, dad and their son are all in the room with Lovig, getting a checkup together.
Dad's wrist isn't healing quite as well as he had hoped — his hand is starting to go numb at times, which Lovig thinks is due to a brace dad has worn for a while.
Mom has troubles with her foot, which Lovig will take a closer look at during the family's next appointment. The toddler has an odd rash, which Lovig says is natural and will go away on its own.
That's a typical visit for Lovig, a former physician-in-residence at Mayo Clinic Health System in Mankato. He delivered the toddler during his first year as a physician in residence at Mankato, and he's been the family's doctor ever since.
It's part of the reason why he wanted to be a family medicine doctor, also known as a primary care physician or general practitioner, in the first place.
Lovig and others like him graduated from their residencies last month to begin their careers as fully licensed physicians. Yet there still aren't enough doctors to treat a growing number of patients each year, which could lead to a medical care access crisis in the region, and throughout Minnesota, during the next few years.
Doctors are in demand — the U.S. is facing a shortage of up to 90,000 doctors by 2025, according to the Association of American Medical Colleges. A third of those needed positions are in primary care fields such as family medicine or pediatrics; surgeons will make up almost half.
Minnesota alone will be short 1,200 primary care physicians by 2030, according to a study from the Robert Graham Center.
The shortage disproportionately affects Greater Minnesota, where people are on average older and live farther away from medical access than the Twin Cities area. Parts of Blue Earth, Waseca, Faribault, Freeborn and Brown counties don't have enough access to primary care physicians, and region has a shortage of medical specialists.
Industry experts have watched the increasing shortage for decades — as Minnesota grows, it naturally needs more trained doctors. Yet the incoming retirement of millions of baby boomers will generate even more need for medical care, and it will be difficult for medical schools to keep up.
"Some of the shortages that we are seeing that are emerging in health care are really only just beginning," said Susan Brower, Minnesota's state demographer.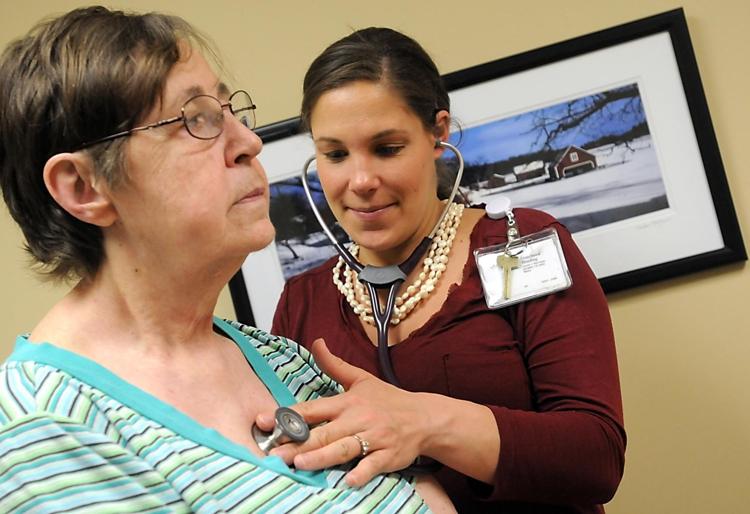 Training doctors
Solving the shortage isn't as easy as recruiting more doctors.
Medical work has become more complex in some ways as technology enables physicians to keep people healthier and living longer. A rural practice run by two doctors 30 or 40 years ago needs a team of medical workers today, said Ray Christensen, associate dean of the University of Minnesota — Duluth Medical School.
"It's changes in society," he said. "It's changes in demands where care is given at some extent, and it's an attempt by high-quality physicians to provide that care without burning themselves out."
Medical schools can only provide so many doctors to hospitals each year, however.
Congress capped residency positions in 1997 when they set limits on how much Medicare would reimburse hospitals that hired physicians in residence based on 1996 workforce figures. Since then, medical organizations and companies have tried to lobby for more Medicare money, to no avail.
Because residencies are required to give physicians on-the-job training, residency programs have become a bottleneck of sorts for would-be doctors entering the workforce.
In Minnesota, there are only two places for medical students to go: Mayo Clinic in Rochester or through the University of Minnesota system, which has nine residency programs around the state.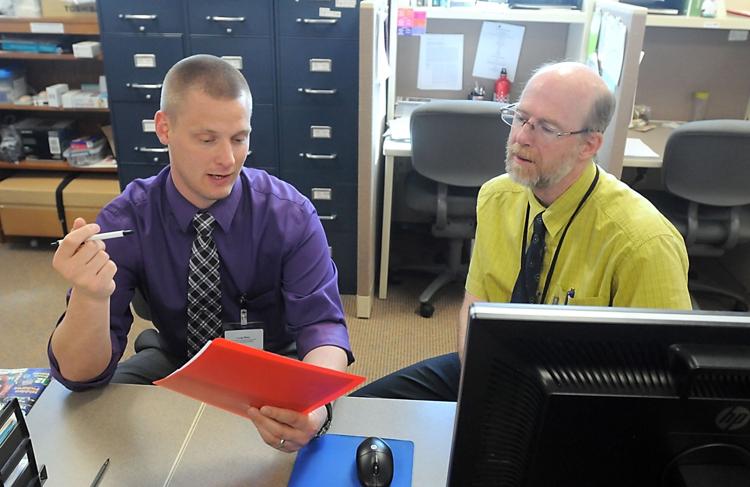 Residency programs aren't very large, either. Last year about 41,000 applicants vied for 30,000 residency positions across the U.S., the highest number of available positions ever.
In addition, most medical students tend to go into specialized fields rather than primary care, and choose urban areas to practice rather than rural.
"There are less resources in those communities," said John McCabe, director of the U of M's Mankato Family Medicine Residence Program. "There's a more finite number of doctors who sort of cross-cover. For a community to sustain a critical mass of physicians, it requires that they have a critical mass (of people). Once it falls below that, doctors often just run out of steam after a while."
That can make it difficult to recruit people into rural practices as rural hospitals can't always match salaries with urban medical centers.
"Rural physicians in particular need to be able to make enough money to pay off their medical school loans," said Steve Gottwalt, director of the Minnesota Rural Health Association.
Over the past few years, the association has funded recruiting efforts to high school and college students in rural areas in hopes of convincing them to stay in Greater Minnesota once they graduate with medical degrees.
That kind of recruiting is important, as physicians like Lovig know.
A rural calling
As a high school student in Mantorville, Minnesota, Lovig was inspired to become a physician whenever he saw the town doctor sitting on the sidelines during football games.
"I remember being like 'God, I want to do that some day,'" Lovig said.
He went from Mantorville, population 1,213, to Minnesota State University for his undergraduate degree, then onto the University of Minnesota — Twin Cities Medical School.
Despite his studies in Minnesota's biggest city, Lovig knew he wanted to go into rural practice.
"I knew I always wanted to be in a small town," he said. "I knew I wanted that — doctor-on-the-sidelines, everyone knows who he is, everyone sees you at the restaurants and knows who you are."
That's how he found himself in Mankato once more.
Mankato has 15 physicians in residence with classes of five doctors coming into and graduating out of the program every summer.
That's typical of other residency programs in the state — classes vary in size from four to 12 physicians, said John McCabe, director of the U of M's Mankato Family Medicine Residency Program.
It's also unique among nearby rural residency programs. There are almost 55,000 people in the Mankato area, and not many cities can match Mankato's reputation as a rural growth center.
That's what attracted Dr. Emily Bastyr to the program. Bastyr will join the residency program this month after her time in medical school at Des Moines University. She's no stranger to the area, as she and her husband grew up in nearby Owatonna.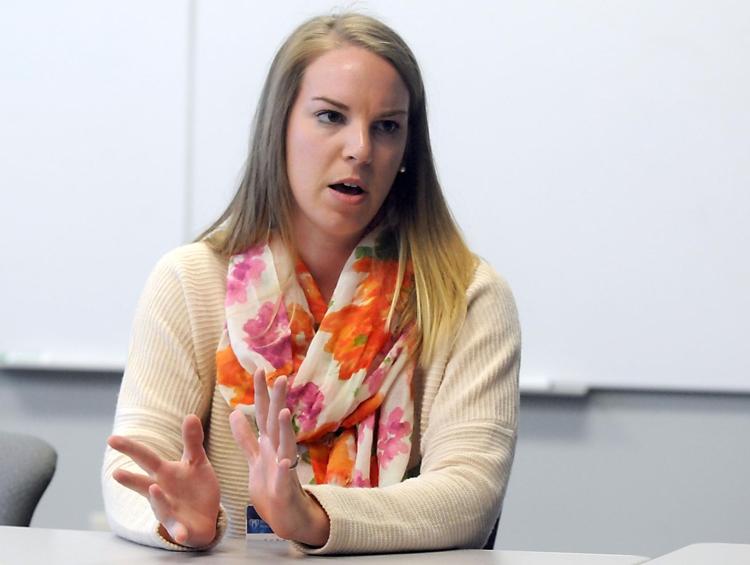 She knew she wanted a rural career, but many rural residencies were in cities with a population of 5,000 or fewer — nothing like Owatonna's population of 25,000.
"I knew I wanted it to be bigger than that, but I didn't want to be in a big city like Minneapolis," she said.
She's entering the program as Lovig leaves. Lovig will start a job at New Ulm Medical Center this month, where he'll get as much experience he wants in a regular clinic or emergency room setting — which appeals to him.
"When you're over there, you can do hospital medicine, you can do clinic medicine, you can deliver babies, you can work in the emergency room — it is like the true rural experience," he said.
This is the first in a three-part series of stories examining how doctor shortages affect south-central Minnesota. Be sure to check out part 2 and part 3