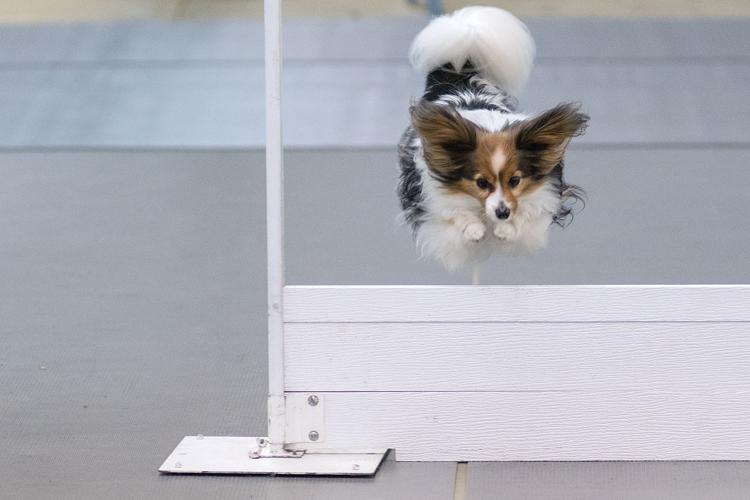 ST. PETER — Lilly the border collie paused once to sniff the fence surrounding the ring at the Key City Kennel Club's obedience trials.
But the 6-year-old four-legged competitor jumped, heeled, sat and stayed well enough to earn a passing grade in one of the beginning levels of the obedience challenge Sunday.
Lilly is a seasoned competitor in agility, but it was her first time in an obedience ring in several years. Owner DeeDee Kuhl of Waseca wasn't confident Lilly could ignore all the distractions inside the show hall.
"You can be totally perfect in your yard, but when you go somewhere else it's a totally different story," Kuhl said.
Distraction is the downfall for many of even the most experienced obedience competitors, said Sue Erickson of Eagle Lake.
For more than a decade Erickson has served as chairwoman of the obedience division of the annual dog show at the Nicollet County Fairgrounds.
Over 750 dogs competed in the show Friday, Saturday and Sunday hosted by the Mankato-based kennel club.
Most of the dogs trotted around rings as judges evaluated how well their appearance and temperament conforms to breed standards.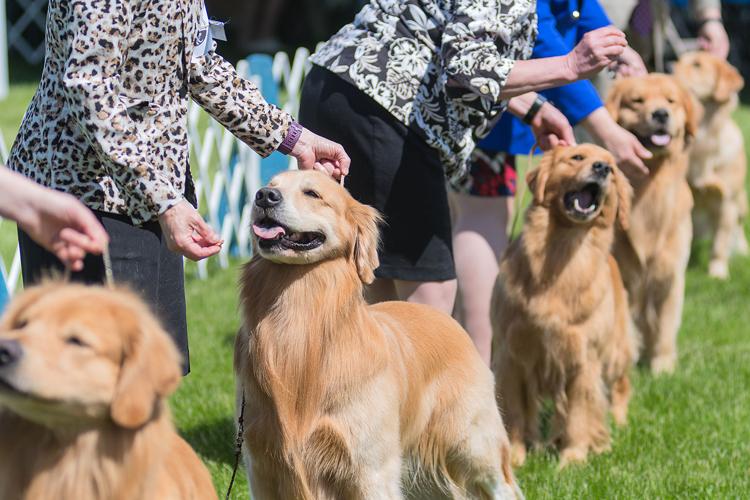 The obedience and rally contests give dogs a variety of challenges showcasing how well they obey their handlers.
In the rally contest, handlers can command and encourage their dog as much as they want as they follow a prescribed course of skill tests.
In the obedience trials, handlers can give a command only once after a judge gives them each challenge. In the advanced divisions some of the challenges require handlers to use only a hand signal without any verbal command.
Rocky the 6-year-old miniature American shepherd performed most of his obedience tests flawlessly, including sniffing out one object out of 10 that his owner, Carol Arthur of Brooklyn Center, had previously touched and bringing it back to her.
But Rocky failed to honor Arthur's hand signal to lie down. Despite his otherwise spotless performance, Rocky did not pass the round. Near perfection is required in the elite division in which he was entered.
Praising Rocky after they exited the ring, Arthur said she wasn't terribly disappointed. Rocky is stronger in rally and agility, she said and she's debating whether to now focus just on those two sports.
The Key City Kennel Club offers an agility contest, which times dogs as they race through an obstacle course, each Labor Day weekend.
Kuhl and Arthur said the draw of the competitions is as much about camaraderie as about earning ribbons.
"There is so much support," Kuhl said.
"Everyone leaves their personal problems at the door and we just have a good time," Arthur said.
For dog owners who are thinking about tying the sport, Arthur said her best advice is to start their canine companions in a training program ASAP.
"They're just like kids. You have to bring them to school," she said.
Kuhl had three tips:
1. Train at parks and other public sites whenever possible to give dogs practice working in places that have distractions.
"Expose them to a lot of different environments," she said.
2. Dogs need to be rewarded, and not just with treats. Play time and emotional encouragement are essential during training.
"It can't be all work. There has to be some fun too," she said.
3. Volunteer to help at shows. While you are giving back you will learn from the judges and seasoned competitors.
"You'll pick up a lot of tips," she said.