Astronomy professor Paul Eskridge stumped everyone, kids and adults, with his challenge during a lunar-landing anniversary event at Minnesota State University Saturday.
On his table was a globe of the Earth and in his hand a baseball, the two objects proportional in size to the Earth and moon.
His question to passersby was how far away they would hold the baseball to represent the true distance of the moon from Earth.
Most held it a few feet from the globe. "No one's ever gotten it right," Eskridge said, telling people they'd have to walk 30 feet away to demonstrate the distance Apollo 11 had to travel 50 years ago.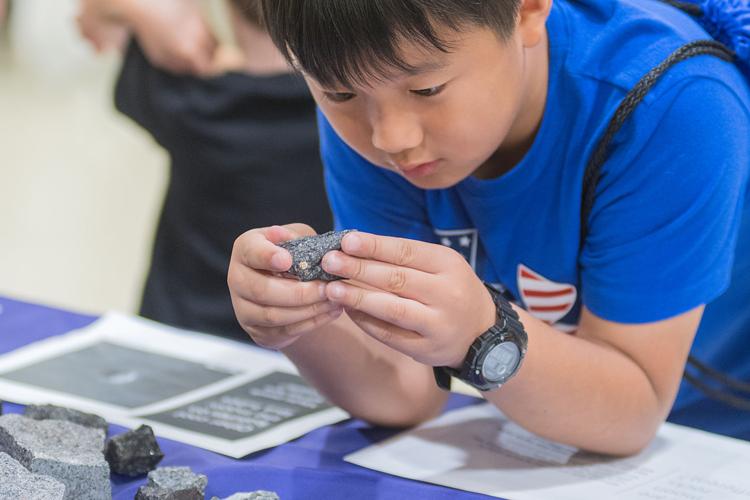 Students and faculty from the department of Science, Engineering and Technology were on hand for a variety of craft projects, demonstrations, movie and information of science, engineering, technology and math. Kids made a rocket from toilet paper rolls, painted "moon" rocks, took a photo next to an astronaut cutout and watched a film on the landing.
Eskridge remembers watching the landing when he was just shy of nine years old. "That's why I am what I am now. "I watched the Gemini, the Apollo, Armstrong going down the ladder."
Even for the parents who brought their kids to the event, the landing is only a part of history. But for Susan Ward, who was there with her granddaughter Lucy Simonsen, that day is seared in her mind.
"I grew up in San Diego. I remember looking up at the moon. It was a moment you were so proud to be an American."
She also has a personal tie to the famous day. Her neighbor at the time was the pilot of a helicopter that helped recover Apollo 11 when it splashed down.
Simonsen traveled from Utah to take part in a four-day STEM camp that starts Monday at MSU. The eighth grader, who wants to be a Kindergarten teacher, loves science.
"It's really cool and fascinating and has a lot of history."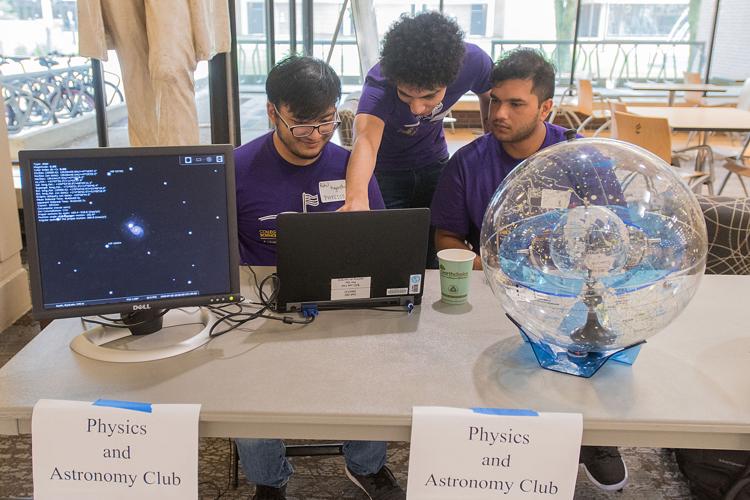 MSU student Rohil Kayastha was manning the booth for the physics and astronomy club, which he is vice president of.
He had a globe of Mars, the next target for manned landings, a clear celestial globe showing the constellations surrounding the Earth and a computer program that let him dial in any date, including the exact time of the landing, to show what the moon and constellations looked like from Mankato in 1969.
He will graduate next year and is going on to get his PhD. For those in the sciences, the 50th anniversary is a particularly big event. "This is a very good year for us. Everything about space is interesting."
Geology professor Chad Wittkop showed visitors representations of various moon rocks that were brought back. Many came from Minnesota.
"The geology of the moon is very similar to northeastern Minnesota." He said the lava flow remnants from the Superior shore and granite from further inland are very similar to the rocks brought back from the moon.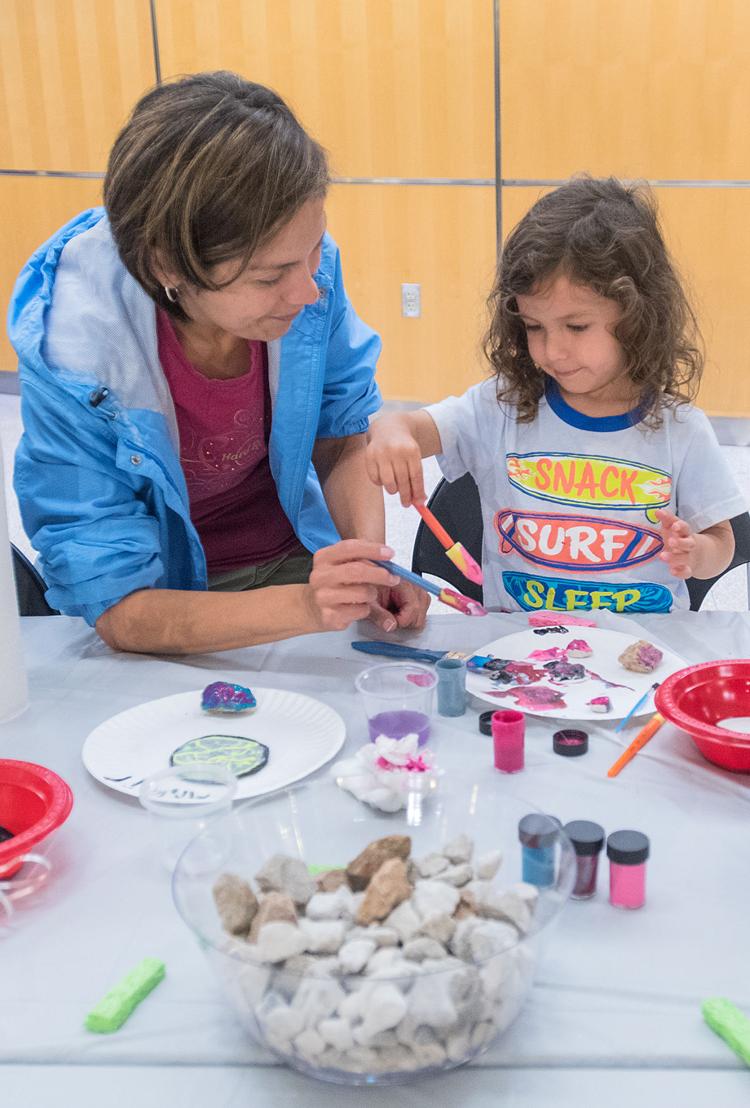 Wittkop said the moon landing anniversary has been exciting for faculty and students. "It's such a big deal for our country and everyone in science and technology."
Another area college has a close tie to the lunar landing. Buzz Aldrin took a Gustavus pennant, awarded to him when he received an honorary doctorate, on the Apollo 11 mission. He returned the pennant, along with a flag he took on the expedition to Gustavus.