MANKATO — On Sunday afternoon, as patrons of two of Mankato's independent coffee shops warmed up with hot beverages during yet another round of snow, Sen. Amy Klobuchar's announcement that she's running for president of the United States did not come as a surprise.
"She'd left hints in different interviews about deciding to run," said Lori Peters of North Mankato. "I was actually hoping for a reasonable person; she seems to be really honest about things and she expects that from other people."
The third-term, 58-year-old Minnesota senator with family ties to Mankato officially announced her candidacy to a crowd of supporters Sunday at Boom Island Park in Minneapolis, making her the fifth senator to run amid a growing field of female candidates.
"It would be cool to have a woman president from Minnesota," said Cyrus Brave Heart, who turns 18 in March and is excited to vote in the next presidential election. "I think it's cool that there are more women candidates running for president. That's definitely a big change and a good change."
He and his father, Dave Brave Heart, took a break from their cribbage game at the Coffee Hag to express their support for the senator.
"Amy's the only one that I really know, and people you know is what you're going to lean towards," Dave Brave Heart said. "And I think she's had a pretty good track record."
As a resident of the West Mankato neighborhood where Tim Walz until recently lived along with State Rep. Jack Considine, Dave Brave Heart said there's been a great deal of speculation that Klobuchar would be announcing her candidacy.
But nobody really knew for sure what her announcement was going to be beyond family members, including Klobuchar's in-laws, Bill and Marilyn Bessler, who have lived in Mankato for decades.
Klobuchar's husband, John Bessler, called them last week to give them the news. They, like many of her constituents, were not surprised, but think she will continue to focus on being a senator for Minnesota. Last year she easily won a third term.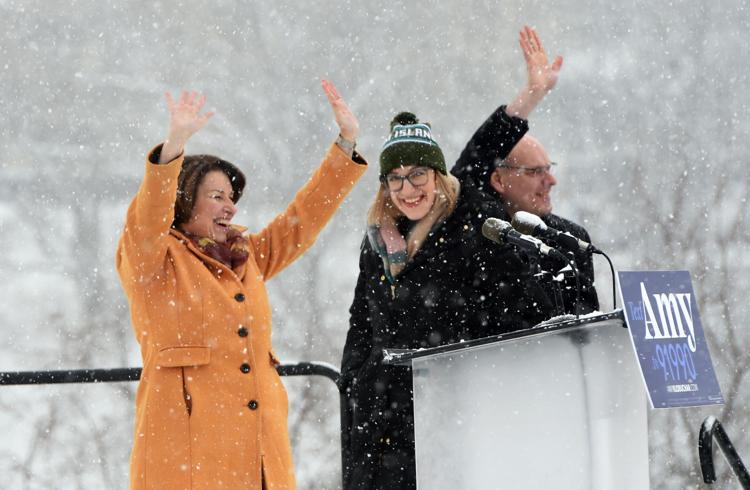 "We've had over the years a number of people — even when Amy was running for re-election in the Senate this past November — who said that she would make a good candidate for president," Bill Bessler said.
The couple have been cheerleaders for Klobuchar over the years at parades and various conventions; they carried a banner in support of their daughter-in-law at Minnesota State University's Homecoming Parade in downtown Mankato last year.
"She's been a real positive influence on our family," said Marilyn Bessler. "Obviously we're very proud, as we are of all of our sons and daughter-in-laws. She's been a part of our family since she ran for Hennepin County Attorney; she's always tried to find common ground."
Klobuchar has developed a reputation for reaching across the aisle and enjoys a 57 percent approval rating in Minnesota, based on a survey conducted by American Public Media in 2018.
William Brueske, who moved to Mankato a year ago, said he tends to lean Republican, but has voted for Democrats in the past. He touts her "Midwestern values" as an asset lacking in Washington D.C.
"These days it's more about corporate money, corporate sponsorships and what the politicians can do for their sponsors rather than doing what's right for the people and I think Amy does a great job," Brueske said.
Across town at the Fillin' Station Coffee House, Lynn Rozen of Mankato also describes Klobuchar as relatable and honest. She said that Klobuchar's down-to-earth pragmatism that she compares to a neighbor bringing a dish to a local potluck makes her likable in the U.S. Senate, but she's not sure that that personality trait will benefit her in a national election.
"I have mixed feelings about her chances," Rozen said. "I love Amy, I love her policies. I feel like she's a very honest straight shooter kind of person, but I honestly don't know how she would fare on the national level. I think you need a certain kind of charisma to get people excited about voting for you; I don't feel like she's got that. I don't feel like she's the kind of person that's going to get people super excited at a rally."
Bill and Marilyn Bessler say one benefit that Klobuchar and husband John Bessler have moving toward an even busier year is mutual support for each other in spite of their hectic schedules. They both spend a great deal of time on the East Coast —John Bessler is a law professor at the University of Baltimore — but come back to Minnesota when Congress is out of session for a big family Thanksgiving. Politics, they say, is left at the door.
"They don't really discuss politics at family events," Marilyn Bessler said. "Amy has a good sense of humor and she'll come up with stories about events that have happened. But we usually just try to concentrate on the family."
Marilyn Bessler said that Klobuchar's measured approach to finding compromise in politics is an asset that will help her stand out in an increasingly polarizing political climate, and they tout her record of keeping political discourse positive.
"Amy has always been very positive with her campaign ads, but we do worry about the negative things that may come up and all that," Marilyn Bessler said. "So we'll do our best to support in any way we can and keep things positive."
Bill Bessler said he hopes his daughter-in-law's measured approach to politics will eclipse the negative personal attacks in recent elections.
"You'd have to be from another planet to not know what it's been like lately in national politics," he said. "We're hoping that this can still be a really positive thing for the sake of both Minnesota and the country and our family."