The golden bands of cloth tied around trees, and the magnetic versions that were later stuck on vehicles, were a ubiquitous sight in America during wartime in recent decades.
The organization serving up gallons of chili in Le Center on Saturday has a name that aims to remind Americans of their ongoing obligation to do more than display a symbol of their support for members of the military.
Beyond the Yellow Ribbon.
"Because it can't stop there," said Stanley Stocker, who was manning one of the chili stands in the Le Center American Legion. "We all have to give a few dollars — and that's all it takes, is a few dollars, or coming to events like this."
The South Central Beyond the Yellow Ribbon Chilifest is one of two annual fundraisers that generate the vast majority of the organization's revenue. For $10, people could try 11 bowls of chili concocted by various nonprofits or businesses competing to see whose was the best.
"All of 'em were good," said Anita Janda, one of the judges and the commander of the host Post 108. "There wasn't a bad one in the bunch."
That seemed to be evidenced by the empty bowls in front of a satisfied-looking pair of couples in the Legion just after noon.
"Very good chili. Highly recommended," said Ken Jax of Apple Valley.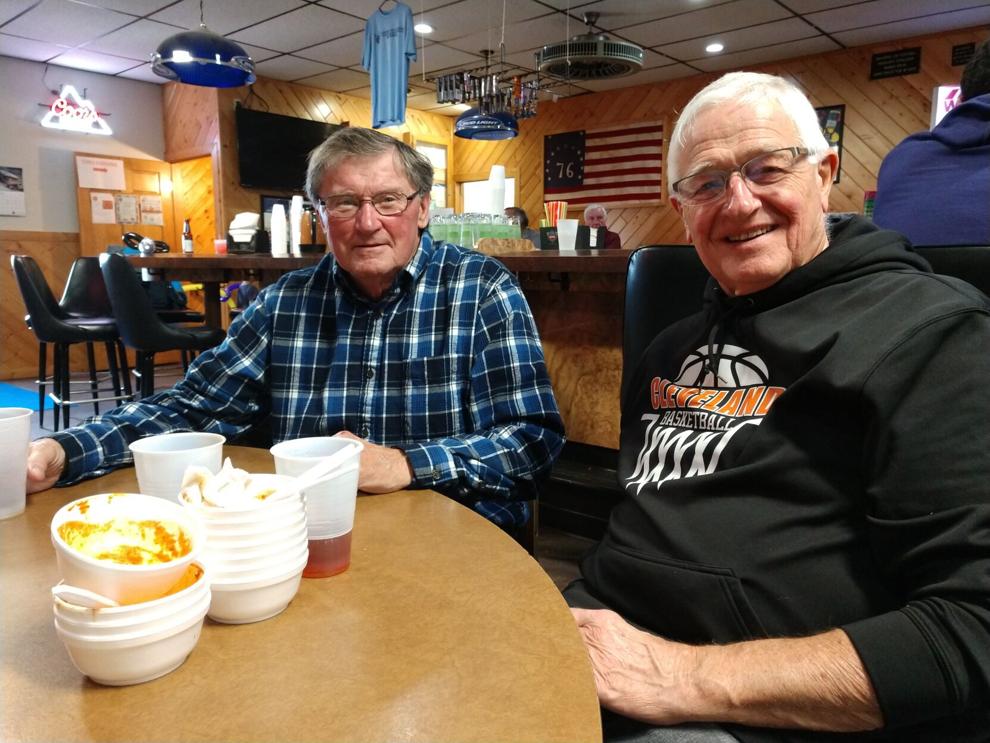 Jax made the drive with his wife, Sandy, who — rumor has it — downed a bowl of each of the 11 recipes. The outing was suggested by Alan and Becky Baer of Madison Lake.
A good cause, a good meal and a good price made a good excuse for the couples to get together. Ken and Alan served side-by-side in the Army in the late 1960s, and their wives have known each other since they traveled together to see their guys when they were stationed in Germany.
"We both came home pregnant," Becky said. "... And our children were both born on the same day."
For years after, the families celebrated the joint birthdays together on April 18. That's faded since the kids became adults, but the parents still seek reasons to get together — particularly in places midway between Apple Valley and Madison Lake.
The Madison Lake couple was vaguely aware of South Central Beyond the Yellow Ribbon, the Jaxs not at all, but Saturday was an opportunity to learn more.
Lorraine Little, vice-chair of the organization, said people often confuse it with the Yellow Ribbon Suicide Prevention Program. While the local group refers veterans to that organization if they're struggling with thoughts of suicide, South Central Beyond the Yellow Ribbon is unrelated and has a goal of helping veterans, active-duty military and their families with a wide variety of assistance, said Little of rural Mankato.
Because of its relatively small size, the organization prides itself on being nimble and creative.
"We're definitely hands-on in helping anybody that needs help if they're military-affiliated," Little said.
"Not only are we a financial help but also connecting to other resources," added Angie Glassel of St. Peter
If the spouse of a deployed soldier suddenly needs a new roof or other home repairs, Beyond the Yellow Ribbon will connect them with a reputable and supportive contractor — "someone safe who understands," Little said.
"Shoveling, yard work," Glassel said.
Little: "Busing kids to school. ... Prescription shoes, dental."
Glassel: "Gas cards ... Car repairs."
"Most of that was just this year," Little said. "... And sometimes it can be done in less than 24 hours."
In 2020, the assistance totaled $24,231 to veterans, service members and families within Blue Earth, Nicollet and LeSueur counties.
This year's Chilifest was the first not held in Mankato, a move aimed at getting the food and the message into one of the other two counties. Janda said the fundraiser, which also includes a silent auction and dart tournament, was a good opportunity to show off the local American Legion to people who may not otherwise have visited.
Even with the long wars in Afghanistan and Iraq at an end, there are still plenty of military members serving their country and needing an occasional helping hand for themselves and their families. That includes Minnesota National Guard members being called up for a wide variety of duties ranging from medical relief for pandemic-stressed health care facilities to providing backup for police during civil unrest.
"You have to switch gears pretty fast to go from a nursing home to a riot," Janda said, noting that Guard members are also taking leave from their civilian jobs when they're called up. "The National Guard and Reserves, they give twice because they end up giving up a job and they have to serve."
Stocker isn't a veteran, but his father and grandfather were. So he is pleased to work with Wally Blaschko to serve up a Legion breakfast for veterans on Veteran's Day, chicken wings on the Legion's weekly Wing Night, and — for the first time — an entry in Chilifest.
"Wally found the recipe and we did some testing and changed a few things," Stocker said. "(After three tries), we had it."
The Jaxs and the Baers agreed. It was good chili and an opportunity to make a contribution to a worthy charity. And thanks to the Disabled American Veterans, which covered the fee for all veterans, the lunch cost just $20 for the foursome.
Considering that they'd consumed something on the order of 33 bowls or half-bowls of chili, they conceded that there was a potential additional sacrifice to the cause as their lunch made its digestive journey.
"It's too early to tell," Sandy Jax said.