WASECA — A Waseca County sheriff who took the helm after witnessing his colleague's murder continued to serve the community long after he retired his badge.
Merton Schwarz died Tuesday, one month shy of his 101st birthday.
Schwarz served in World War II and capped a career in law enforcement as sheriff from 1976 to 1983. He also was a horseman who rode across states with a former governor and gave countless rides to Waseca area residents young and old.
Schwarz is being remembered at an 11 a.m. service Oct. 18 at Grace Lutheran Church — one of several places where he volunteered.
Schwarz was open to talking about the tragedy that elevated him to sheriff. He was chief deputy when he accompanied Sheriff Don Eustice to check on a man with a history of mental health problems who was acting erratically. The man fatally shot Eustice in the chest as they approached the house.
"I was dumbfounded. I expected to hear that gun go off again," Schwarz told The Free Press in 2006.
Schwarz found himself with no place to duck for cover.
"I yelled at him to lay that gun down and he did. Thank God he did," he said.
After he had the man in custody, Schwarz said he asked the gunman why he fired and the man responded: "He's the devil."
It wasn't the first time Schwarz had witnessed a gun fatality. An Army Ranger during World War II, he saw combat in the Pacific, including the invasions of Tinian, Saipan and Okinawa.
Schwarz, who grew up on farms in the St. Clair area, returned to farming after he came home from the war. He quickly married Elaine, a teacher in Pemberton whom he met before the war when she requested he teach her how to ride a horse. They farmed in a few locations before settling outside Waseca.
Their farming income wasn't enough to pay all the bills, so Schwarz briefly also worked as a car salesman and for the Waseca Police Department before joining the Waseca County Sheriff's Office. He started as a dispatcher, then patrolled as a deputy, then as chief deputy before he was appointed sheriff and was elected sheriff for one term before he decided to retire.
Daughter Ann Schwarz said her father could be authoritative when needed but also was the kind of person who looked for the best in people.
She once came home while her father was sheriff and was surprised by the man her father had hired to help with a few farm chores. She recalled asking her father: "Isn't that the guy who held a gun on you last week?"
He replied: "He's a mean drunk, but he's a good worker when he's sober."
Ann said her father was proud of establishing a rehabilitative jail diversion program. Instead of going to prison, some offenders were offered the opportunity to stay in the county jail and work during the day and attend AA meetings and GED classes at night.
"They could come out with a year of sobriety, work experience and a GED," Ann said.
Nephew Dan Schwarz, a recently retired special agent with the Department of Homeland Security, said his uncle inspired him to go into law enforcement. He went on a ride-along and "saw the way he related with people," Dan said.
His uncle was firm but fair, Dan said, and listened to and treated everyone with respect.
Nephew Jim Schwarz said his uncle's position and large stature could have made him an intimidating man, but instead he had an aura of compassion.
"He always had a positive outlook. He really cared about people," Jim said.
Schwarz served in many other capacities beyond law enforcement.
He sang in the choir and volunteered with youth programs at Grace Lutheran Church.
He was a reading tutor at Hartley Elementary School and read with residents at senior communities.
He brought his dog to visit residents at Lake Shore Inn Nursing Home before he became a resident there.
He gave wagon and sleigh rides at the senior homes, at FarmAmerica and during the Sleigh and Cutter Festival and other community events.
Schwarz was a lifelong horse lover and horseshoer. For several summers he spent a few weeks riding with former Gov. Al Quie, following the Continental Divide through Montana, Wyoming and Colorado. He served on the Waseca County Sheriff's Office Posse and was a member of the Waseca County Horse Thief Detectives.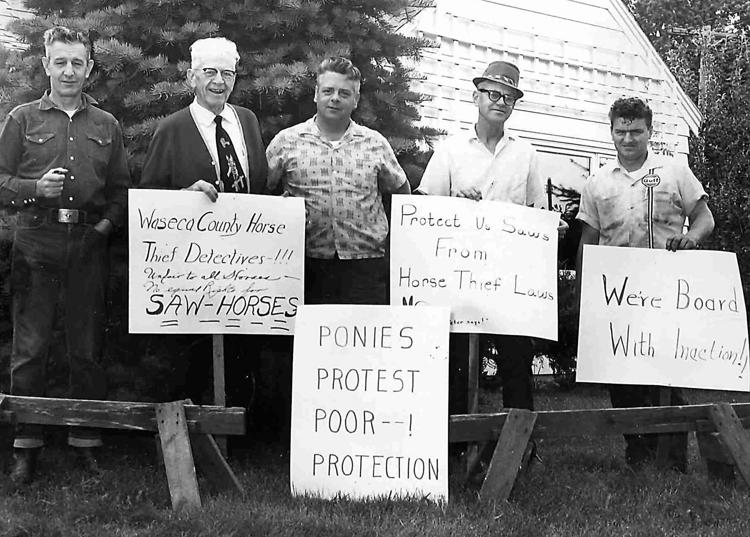 Even after he sold the farm and his horses at age 90, he occasionally returned to visit his horses. He paid a last visit his last surviving horse, Tula, just a few weeks ago. Tula still recognized him, Ann said.