Jo Dalton was leaving nothing to chance to fulfill one of the things on her bucket list — seeing Bob Dylan in concert in Mankato Oct. 24.
"I got here at 2 a.m. and sat in my car until the lobby opened," said Dalton, who was in her chair, first in line, at the civic center box office Friday morning, waiting for tickets to go on sale at 10 a.m. "People really started coming in at 6."
Eric Jones, co-director of the civic center, said the more than 200 people who lined up at the box office lobby to get tickets for Dylan's only Minnesota show haven't been seen for a while.
"I haven't seen lines like this since Elton John," he said of the 2012 concert in Mankato.
Sitting next to Dalton was her sister Liz Clark, who joined her in line after getting an early morning text. "She texted me at 1:40 in the morning but I didn't see it until 5. I asked her how she was doing and she said 'I'm sitting in line,' " Clark said.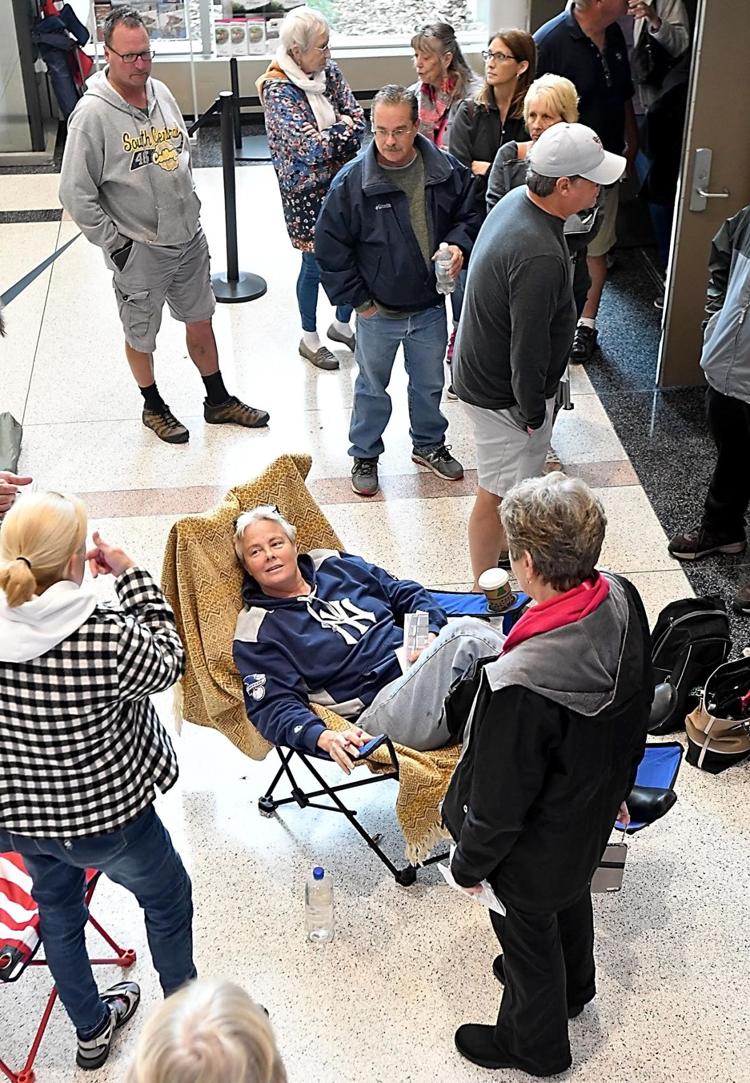 Dalton hasn't been to a Dylan concert before but has followed him since the late '60s. "There were seven girls in the family and they were all older and they had all his albums so I just grew up listening to them," Dalton said.
The line waiting for tickets for the 78-year-old musician's show was decidedly on the gray-haired side. Sam Orinstien, 24, in his tie-dyed shirt, stood out. He's an avid concert-goer, attending about 40 shows a year with his girlfriend, but he hasn't seen Dylan before.
Orinstien is from the Twin Cities but is in a masters program in Mankato.
Like many in line, he was checking online while he slowly moved to the ticket counter, watching to see how fast tickets were selling.
"Usually we have better luck getting good seats at the box office and you don't have to pay the 20 to 30% Ticketmaster fee." The civic center charges no fees for the tickets, which sold for $49.50 to $89.50.
Most people near the front of the line had the option to get closer-up floor seating tickets if they wanted to pay the highest ticket cost.
Dalton's determination paid off when she got eight tickets — the limit for each person — seven rows back in front of the stage.
"I'll be having some eye contact with Bob," she said.
An hour after tickets went on sale, Ticketmaster was showing that most of the front half of the floor seating was sold out as was all of the first level seating ringing the auditorium. There were still hundreds available for the higher seats.
Dylan first came to Mankato for a show in November 1996 and the civic center staff have been working to get him back since 2002.
Dylan, winner of multiple Grammy Awards and a Nobel Prize for Literature, is one of the greatest and most respected musical artists ever.
Born Robert Zimmerman in Duluth in 1941 and raised in Hibbing, he left the Iron Range in 1959 to attend the University of Minnesota. He dropped out of college after a year to focus on his music, and the world would never be the same.
He kicked around the Minneapolis folk music scene for a while but eventually headed to New York. He played mostly small venues and coffee shops in Greenwich Village during the early 1960s, but by the mid-1960s his reputation as one of the best young folk musicians had grown dramatically.
In a dramatic switch that wasn't universally beloved by his fans initially, Dylan went electric. The move proved to be a good one as it catapulted him to global renown as one of the greatest songwriters of his generation.