It was quiet at the St. Peter Food Shelf Thursday evening. Volunteers took inventory of food and cleaned the facility. Only a few clients were scheduled to pick up food that night.
The quiet night fits a recent pattern. The food shelf has seen a large decline in visitors during the pandemic, and the number of visitors has continued to fall in 2021. Before the pandemic, about 30 people a day would visit the food shelf.
The St. Peter Food Shelf is not alone. Visits to some other local food shelves have decreased during the pandemic. This comes as visits to food shelves statewide rose by 7% last year, according to Hunger Solutions Minnesota.
It's unclear why there's been a decline in local food shelf visits, but managers speculate it may be due to the way food is distributed now and because more people are receiving unemployment and other aid.
Local food shelves have been operating with a curbside pickup model during the pandemic.
Mike Nowacki, of St. Peter, called ahead and scheduled a time to pick up food from the St. Peter Food Shelf. A volunteer met Nowacki at the building door Thursday night and provided him with a cart of food.
"It's weird that you can't pick out your own food now," Nowacki said.
Andie Kukackca, manager at the food shelf, said language barriers make it difficult for some to order food over the phone, which may deter people from using the food shelf now. Community members may be frustrated they can't pick out food in the store and have to communicate with a volunteer on the phone to arrange pickup.
"It can be really intimidating for clients and volunteers to communicate sometimes," Kukackca said.
The food shelf is in the process of getting a translation service to help reduce this barrier.
Kukackca also thinks people may be going elsewhere to get food. The St. Peter Food Access Network has been hosting a monthly free food distribution event during the pandemic to help provide food to households.
At the distribution on Saturday, visitors will receive a survey that asks if people also use local food shelves. This is to help determine if some food shelf clients are getting food through other means.
"We just want to make sure they are still getting the resources they need," Kukackca said.
While there's been a decline in visits at the St. Peter Food Shelf, Hunger Solutions reported there was an influx in seniors visiting food shelves in the county last year; there was a 154% increase in food shelf visits by seniors compared to 2019. Statewide these visits increased by a third.
Colleen Moriarty, executive director for Hunger Solutions, said there's been a rise in hunger in the senior community for years, which may partially be due to people living longer. During the pandemic, seniors also may be more isolated and not feel as comfortable going to the store as they do picking up a box from a food shelf, she said.
ECHO Food Shelf in Mankato has had a drop in visits during the past year. Household food shelf visits in Blue Earth County declined by 15% in 2020 compared to the year prior. The food shelf had been growing in recent years and staff had been anticipating more growth when the pandemic hit.
While it is hard to pinpoint exactly why food shelf use has declined, ECHO Manager Deisy De Leon Esqueda said fewer people may be visiting because they are receiving government assistance. The food shelf found that some people will stop coming when they receive assistance such as unemployment or a stimulus check because they have extra money to get food.
"We can only assume that ... because as soon as the pandemic hit, we saw a decrease in numbers that had been increasing before the pandemic," De Leon Esqueda said.
The demographics of the area also may be playing a role in the decline. Seniors had the biggest increase in food shelf visits statewide last year, but ECHO tends to serve a younger population, serving a higher percentage of children than in other parts of the state. Schools have been providing food to students during the pandemic.
Hunger Solutions found that food shelf visits increased throughout the state last year, showing that hunger is not just an issue in cities, according to Moriarty. Which makes it more difficult to determine why visits are down in the Mankato area.
"We just don't really know why visits are down," Kukackca said.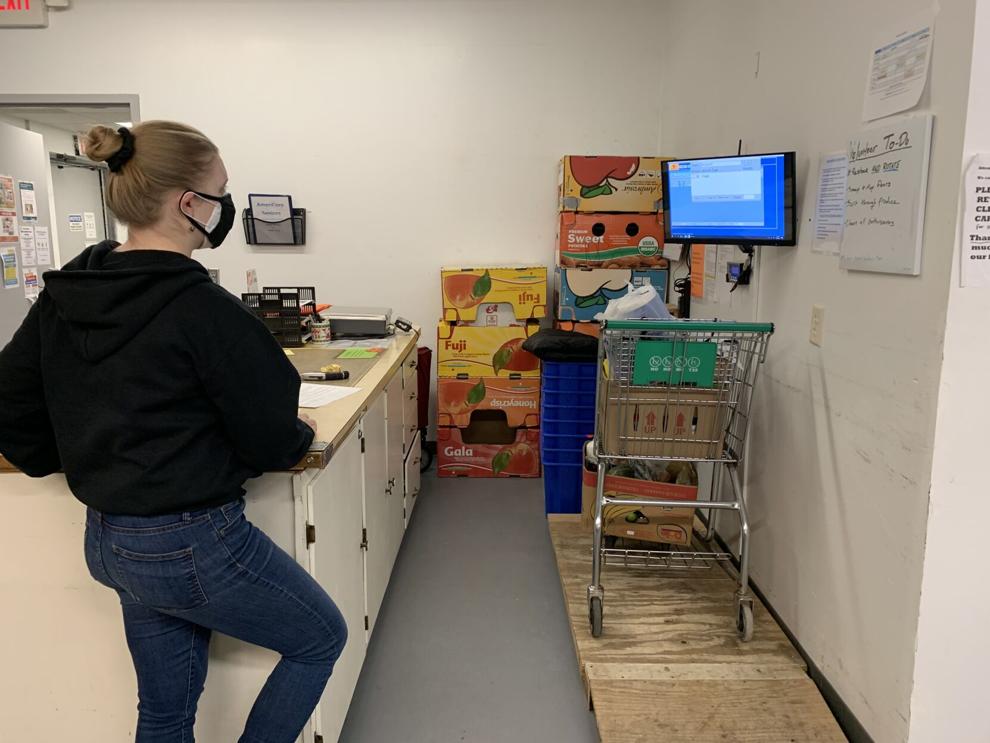 Local food shelves also have had a drop in volunteers during the pandemic because many are older and may not be comfortable being in that space anymore.
Despite the changes, local food shelves are doing well with funding and resources.
"The community has been very giving," Kukackca said. The St. Peter Food Shelf has had to turn away some bread donations because it doesn't go off the shelves fast enough now.