A veterans memorial that has been several years in the making is finally nearing completion in Waseca.
Organizers are putting the finishing touches on the Waseca County Veterans Memorial and planning a dedication ceremony later this month.
"Everyone has wanted this to happen for years and it's finally here," said organizing committee member Gary Bohm.
The memorial outside the Waseca County Courthouse has room to honor over 1,500 military veterans.
Thus far over 600 families have purchased a $200 plaque engraved with a loved one's name and summary of service. The honorees served between the Civil War and the Iraq War.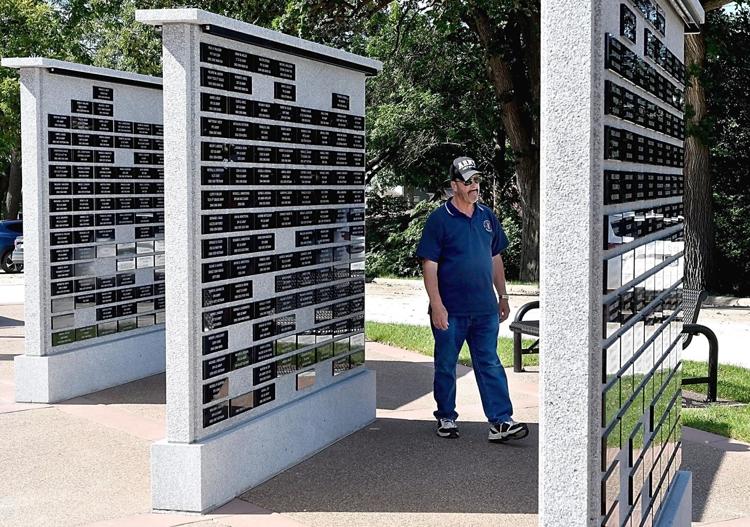 The memorial is open to veterans living and deceased from all eras and branches of service who have some tie to Waseca County, said Jill Stagman, another member of the 10-member memorial committee.
Six walls of granite, each weighing 7,600 pounds, bear the veterans' names. At the center of the memorial are three tablets that bear the insignia of each branch of the military, a piece of bronze artwork and a quote from President Harry S. Truman thanking members of the military.
The memorial cost about $350,000 to build, which Stagman said was supported by grants coming from the state, city of Waseca and the Waseca Area Foundation, and many more donations from local businesses and residents. One of the largest contributions came from a foundation started by Paul and Susan Rosenau — the former Waseca couple who won the Powerball.
The memorial has been in the works for years but has been delayed by a debate over where exactly on the courthouse grounds it should be located.
More recently committee member Kent Schultz said progress has been hampered by uncooperative weather.
Some names are still being engraved, landscaping is still in progress and a few other odds and ends need finishing.
But visitors are welcome to visit the memorial while the work wraps up.
Committee member Grant Whissenmore recommends paying a nighttime visit.
"At night it just glows," he said. "It's just so beautiful when it's lit."
The finishing work is expected to be complete before the dedication at 2 p.m. Saturday, Sept. 28. A ceremony with veteran speakers will be followed by a reception with treats.
Although they won't be ready in time for the ceremony, people can still purchase plaques.
Going forward, names will be added once a year before a Memorial Day ceremony at the courthouse.
The proceeds from future plaque sales will fund memorial maintenance.