MANKATO — The Ferris wheel of rotating faces, one of many intricate Halloween decorations that sit in enthusiast Troy Mercer's front yard, almost didn't exist.
The man who builds tombstones and carves detailed faces into wooden posts to celebrate the holiday started building the wheel with his son, Hunter. Then a teenager, Hunter would cut out characters' faces in exchange for $5 from his dad.
When Hunter died at 18 after an accident with synthetic opioids in August 2016, his father swore he would leave the project unfinished. He wouldn't even touch the piece because of what it had come to symbolize.
"He was gonna be done with Halloween, everything, and the neighbors all were like, 'Nope, you're not gonna be done,'" said Mercer's wife, Christina Mercer, standing next to the finished project in the couple's front yard Sunday evening.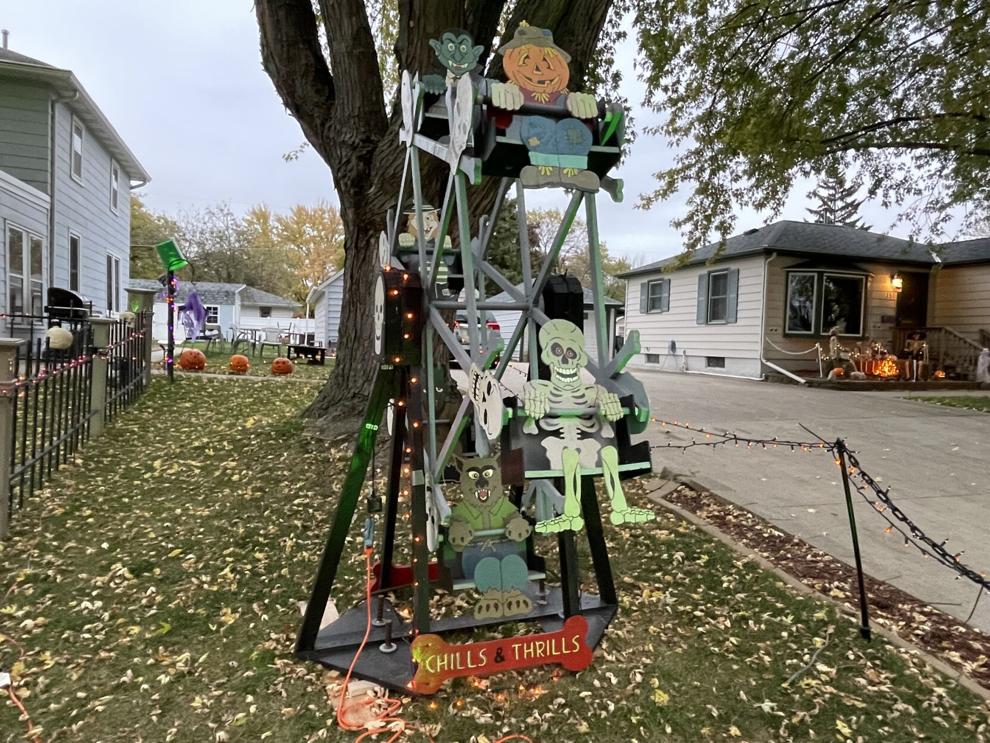 Several came knocking at the couple's door, wondering what they could do to encourage him to finish. They told him his son would want the project completed.
A neighbor prodding a neighbor to put up Halloween decorations might seem like a strange overstep following the death of a child. But on Long Street in east Mankato, everyone knows Mercer is the ringleader of elaborate decorations that attract around 450 trick-or-treaters annually.
Though it took him about three years, much longer than planned, the Ferris wheel now stands finished outside the Mercers' home at 153 Long St.
"I'm glad I did now," said Troy Mercer, looking over his creation as the daylight waned. "You know, after I look at it, I'm like, '(Hunter) would like that.'"
In 2010, the Mercers and a neighbor adorned their yards with skeletons, coffins and other symbols of Halloween. Now more than a half dozen homes partake in the practice.
On Long Street, the undecorated houses look out of place. Angie Juliar learned this five years ago when she, an unwitting neighbor with average Halloween preferences, moved into her home across the street from the Mercers.
"We didn't really know the first year. … The second year we lived here, we were like, 'OK, Halloween's definitely a neighborhood thing. We're gonna get on board."
Her yard Sunday night, along with her festive candy corn nails and ghost earrings, showed the transformation.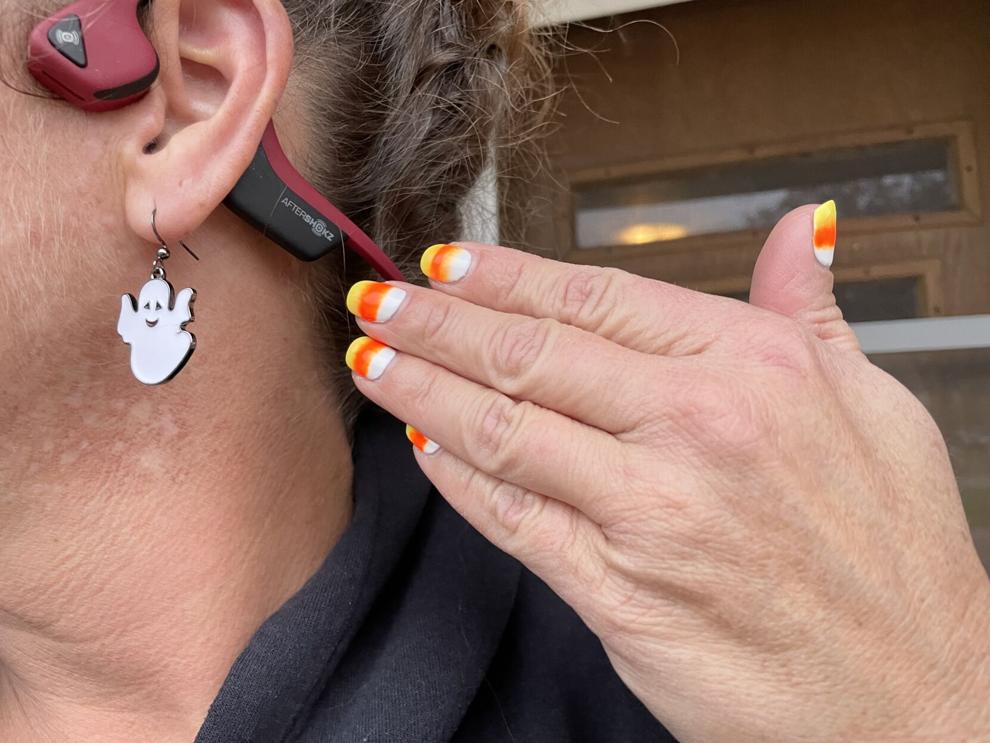 The jewel, in her view, is the open coffin in her lawn from which a black-cloaked skeleton springs. Another skeleton and spiders hang from the wooden lid, while zombie hands and feet appear to shoot up from the surrounding grass.
"I like that people know about it and they come from across town, bring their kids. … We have a lot of trick-or-treaters," Juliar said.
Five of the homes along the street, including both the Mercers' and Juliar's, are included on a southern Minnesota list recognizing the best holiday yard decor in Mankato. That recognition in part justifies the time and expense Juliar puts into decoration.
"Too much," she quickly replied when asked how much money she spends on the yard. "More than we should."
Troy Mercer hopes the attention his yard garners helps to fill a food cooler, the contents of which he will donate to ECHO Food Shelf after Oct. 31. He puts the container near a signature decoration, which he coins "The Big Green Monster," that children show up to be pictured with.
"I work in Lake Crystal, so I get home and I take a lot of pride in doing this. And I get time at night," Mercer said.
"I enjoy it. I like doing it — I love seeing the kids, I love seeing the smile on their face."
The coffin in the yard reminds Christina Mercer of how Hunter used to hide in them and jump out when children came near. She made sure he didn't scare anyone when it was too dark, though.
A poster near the window bears the No. 31, Hunter's football number at Mankato East.
"It's really been a special thing for us, year in and year out," Troy said.