The skyline of Skyline, the tiny hilltop town bordering Mankato's west side, consists of just one thing: its water tower.
"When I can see it in the distance, I'm almost home," said Walter Gates, a Skyline resident for almost 30 years.
The city of Mankato is eyeing the Skyline water tower, too, as it considers options for improving water pressure in west Mankato and replacing an aging ground-level water reservoir.
"The ideal engineering solution is a tower at the highest point, which is Skyline," said Michael McCarty, assistant city engineer for Mankato.
So Mankato officials are asking the independent community of Skyline, carefully and politely, if it would mind allowing Mankato to tear down the water tower and replace it with a modern Mankato-owned tower that would serve both municipalities.
"We have something they want," Gates said. "It's called 'high ground' — 'a positional advantage' in military lingo. I'm an old Army guy."
Skyliners value their impressive vistas, their autonomy, their self-reliance and their municipal government — one where the elected leaders are literally close to their constituents. More than once, for instance, Shirley Piepho has come home to find that next-door neighbor and Skyline Mayor Paige Attarian has mowed the Piephos' lawn while doing her own.
"The neighbors look out for each other," Piepho said. "... 'Neighbors helping neighbors' still exists."
That's actually the sentiment behind Mankato's water tower proposal — that a pair of neighboring communities can each benefit from working together in modernizing and sharing infrastructure. Still, Mankato officials recognize that Skyliners might be skeptical about turning over control of such a foundational city service as drinking water.
"We understand there may be some sensitivity with the amount of services that Mankato might be providing to an independent city," McCarty said.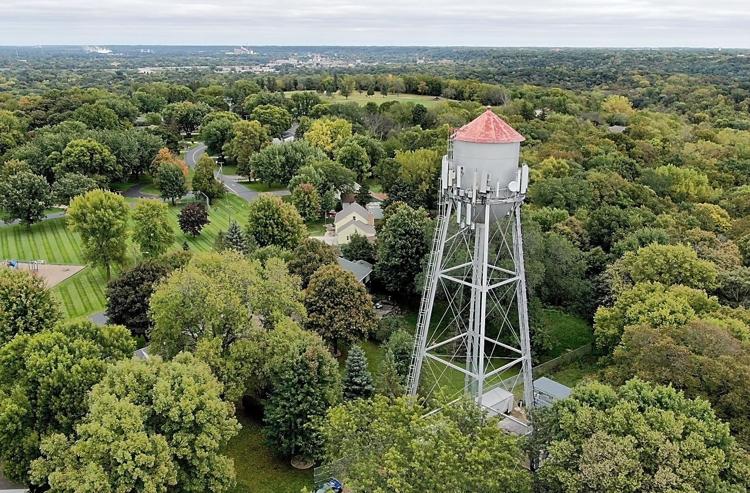 Skyline's big brother to the east has been systematically assuming more and more of the municipal duties that were previously managed by the city of Skyline or its residents.
About 15 years ago, Skyline contracted with Mankato to provide sewage treatment after an increasing number of residential septic systems fell out of compliance with environmental rules. In 2014, Skyline agreed to pay Mankato to provide fire service and mothballed its volunteer fire department. In 2018, Skyline City Council approved an agreement that has Mankato providing police patrols along with fire protection.
So Skyline residents might be a bit nervous about Mankato controlling their water supply, wondering if it's another step toward eventual annexation.
"Trust me, a lot of people will be asking that question," said Piepho, who with her husband, Mark, are longtime Skyline residents.
In no way have Mankato leaders suggested any interest in a hostile takeover. Piepho is inclined to support the joint water project, with the understanding she would never surrender Skyline's independence and small-town nature.
"I can go next door and talk to the mayor," she said. "Our council is very accessible. You can just go down the street and talk to your council member."
In fact, a constituent with a concern or opinion to share with the council can take a 1.5-mile stroll along the looping Skyline Drive — with a couple of detours on East Skyline Court and West Skyline Court — and pass the homes of all five council members (and everyone else in the city of 296).
"Mark can take the dog for a walk and we can take care of all of our troubles," Piepho said.
Whether Skyline accepts or rejects the water tower plan, anyone connected to the town's residents understands that Mankato would be facing a Sisyphean uphill battle to persuade Skyliners to become Mankatoans. Which is why Mankato Council President Mike Laven said he was comfortable making a little joke to a group of men leaving a recent council meeting after their airport-related agenda item had been resolved.
"You guys want to stick around," Laven told them. "We're going to take over Skyline next."
The comment got Laven a scolding from Mankato Mayor Najwa Massad. But Laven said later he has so many connections with Skyline that its residents would know he was not being serious. Laven has a cousin-in-law on the Skyline City Council, he goes to the same church as the town's water-meter reader, and he found his sweetheart and future wife, Shelly, at 14 Skyline Drive more than 30 years ago.
"I knew, in the event that that became a quote, the people who live there would have saw the joke," Laven said, adding that Shelly's parents might not have been amused by his humor. "My in-laws would have been mad as hell."
Laven said his father-in-law wasn't pleased about Skyline hooking up to the Mankato sewer system, even if environmental agencies said the town's aging septic systems were a threat to the water quality of nearby streams and rivers. Laven was on the Mankato council at the time and recalls bearing the brunt of his father-in-law's reaction to the costly switch: "Your son-in-law, in effect, is charging you tens of thousands of dollars to hook up (to municipal sewer)."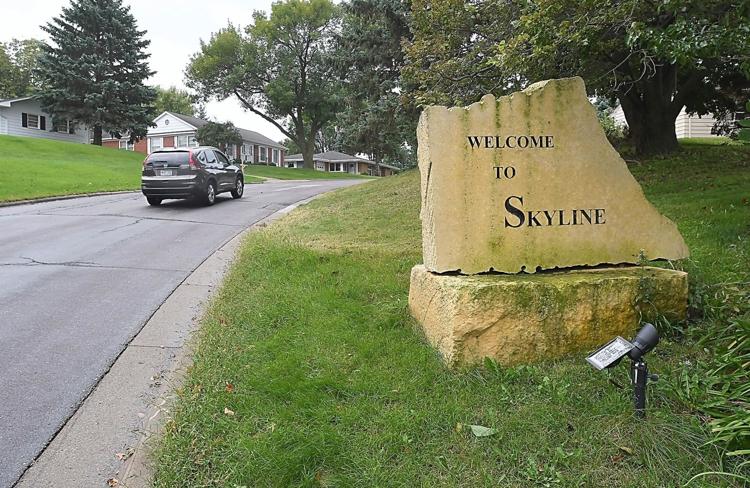 Laven said most Skyliners seem to really like their current position — balancing a strong sense of self-sufficiency with the benefits of being adjacent to the vibrant economy and wide-ranging services and various entertainment options offered by a larger city.
"There's a level of independence and also the serenity of it all. You're in Mankato, but you're not," he said.
Nonetheless, he sees no reason the two cities can't come to some sort of water-sharing agreement. "I'm a big fan of the collaborative piece. ... My view is, 'What can we do to make it easy for you and us at the same time?'"
Skyline's charm — small and peaceful — is a disadvantage in one respect. The absence of a business district or an industrial park means the property tax levy is shouldered entirely by the owners of the roughly 140 houses that make up the town. And every time Skyline residents look skyward, they see a big-ticket item that is going to need replacement sometime in the future.
Replacing the water tower, which is roughly 60 years old, is something Mankato estimates would cost $695,000, not counting engineering, administrative and legal expenses. That's more than $5,000 per household when all the costs are included if Skyline financed the replacement on its own.
Meanwhile, low water pressure on Mankato's west side has been a longtime problem, McCarty said. Instead of a tower, Mankato has relied on a 1958 ground-level water reservoir on the hillside just below the Skyline city limits, and the reservoir needs repairs and updates.
The cost of the overall project, including a booster station in West Mankato Park and water main upgrades connecting the two cities, would push total construction costs above $1.9 million. Engineering and administrative costs would add nearly $400,000 more.
Mankato has laid out three possible financing options, including one where Skyline would face no upfront costs, but Mankato would own the entire water distribution system in Skyline.
Gates said most of that distribution system was replaced about a decade ago. He believes the current water tower has been well maintained and has years of life remaining. He's willing to hear Mankato out, but he will be carrying plenty of skepticism.
"Let's hear what they have to say, but my answer so far is 'Just leave things alone,'" said Gates, who is president of the Skyline Co-op Association that preceded the town's municipal charter.
Preliminary discussions have been held with two members of the Skyline council, including Attarian. McCarty and other Mankato officials will be at the next Skyline City Council meeting, where residents are invited to learn about the proposal and offer input to Skyline council members.
"The Skyline meeting on Oct. 14 will be an opportunity for Skyline residents to ask questions directly of Mankato representatives and share any concerns," Council member Mary Dowd said. "The meeting will inform decision-making as we determine how the city of Skyline can best meet our future infrastructure needs and preserve our assets."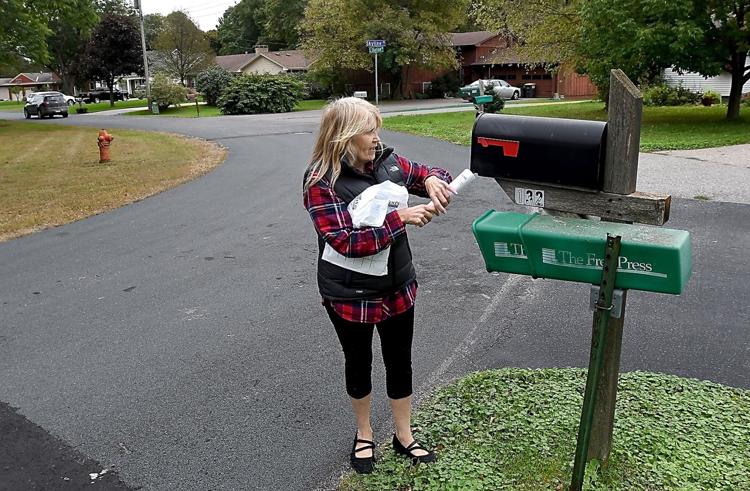 Piepho is inclined to support the idea, largely because she has been pleased by the quality of the services Mankato is now providing.
"I love not having a septic system anymore, and I love having police and fire from Mankato," she said, "because they're good at what they do."
While the tower is a symbol of the community, visible from virtually anywhere in the Mankato area, Piepho isn't very nostalgic about it.
"I just want something that works. I want to be able to take a bath or a shower," she said. "So I think it's time. ... We have to do a lot of work on it, and it's going to cost a lot of money."