Saving lives is part of the job for Mankato police officer Dale Stoltman, but a call on June 21 hit a little closer to home.
Stoltman rushed to a medical call at Grovebrook Drive, the neighborhood in which he grew up. The victim, 75-year-old Sharon Schwartzkopf, was someone he knew.
Schwartzkopf was in cardiac arrest at the time. Stoltman recalled she had turned purple with no sign of life and clearly wasn't breathing.
That didn't stop Stoltman, a 17-year veteran who has worked in Mankato for 13 years, from administering CPR to Schwartzkopf for several minutes before firefighters and emergency personnel arrived on scene.
Schwartzkopf said she owed her life to Stoltman, as well as firefighters Ryan Fitzgerald and Dustin Icks, all three of whom were honored Tuesday with Mankato's Lifesaving Awards from the city.
"It feels great," Stoltman said. "In this day and age, a lot of times people look at the police as maybe the enemy, so it felt really good to be recognized. On top of that, I think what felt even better is knowing that the person I helped save actually made a full recovery and was here today."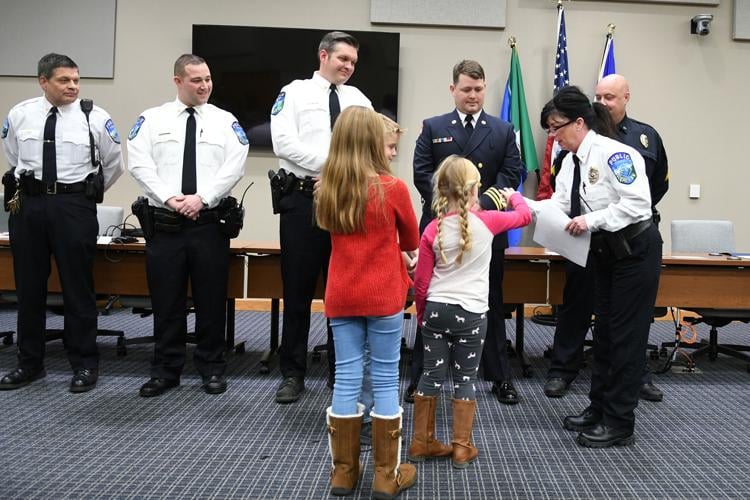 The Mankato Department of Public Safety honored several police and firefighters for their actions in a ceremony. City officials also recognized two new officers and one new firefighter, as well as announcing several promotions within the department.
June 21 was an odd day for Fitzgerald. Though he has worked in Mankato since 2011, the firefighter was honored with two Lifesaving Awards because he responded to two cardiac emergencies within the same 10-hour shift, including Schwartzkopf's call for help.
Fitzgerald was part of another crew of people who helped a 56-year-old who had collapsed on the pavement near another call for help on Owatonna Street. Police and firefighters gave aid to that man, who also later made a full recovery.
"I can think of maybe one or two times that has happened to me in the past nine years I've been doing this," Fitzgerald said about the twin cardiac-related calls. "The fact that both cardiac arrests (resuscitations) were successful is extremely rare, so that's what makes it even more special."
Fitzgerald, Icks, Fire Cmdr. Sean Hayes, Fire Lt. Bill Bowser and police officer Courtney Walker were honored for their help saving the 56-year-old. Police Cmdr. Adam Gray and officer Steve Hoppe were honored for their work helping a woman who harmed herself, while officer Nicole Neudecker received the Distinguished Service Award for her work searching for the woman in trouble.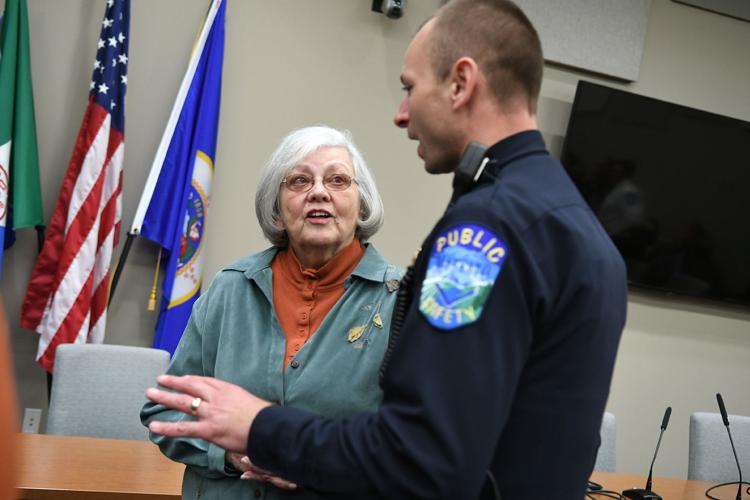 Schwartzkopf was there to honor Stoltman and Fitzgerald — Icks couldn't attend — with tears in her eyes as she thanked them for saving her. She said after the ceremony she thanked God for Stoltman, Fitzgerald and Icks, as well as for her daughter who called 911.
"It was surprising" to be able to honor her saviors, Schwartzkopf said. "And very emotional."