MANKATO — The Minnesota River Valley — from the Highway 169 corridor to the quarries to Riverfront Drive — will be dramatically transformed in coming years if the centerpiece of Mankato's five-year strategic plan comes to fruition.
"Valley Revival" is just one component of the broad-ranging plan, but it's the portion that would bring the most striking changes to the community.
"I look at it as "Valley Opportunity" or "Valley Ventures," City Manager Pat Hentges said. "... It's a convergence of a lot of priorities that a lot of people in the community want."
Some of the major goals of the first draft of the plan include:
• A redevelopment of the downtown Hy-Vee site to potentially include a multi-story apartment building atop a ground floor supermarket, possibly connected by skyway to the civic center.
• A lengthy stretch of riverside parkland encompassing dozens of acres of former quarry, a potential promenade leading from Riverfront Park to the Veterans Memorial Bridge and a possible pedestrian bridge crossing the Minnesota River to North Mankato.
• A study of the feasibility of reducing the width of the rail corridor through the city and of making the community a whistle-free zone.
• An emphasis on transit-oriented development that puts housing within walking distance of jobs and shops — a concept that may be applied not just downtown but also on Mankato's hilltop where numerous vacant retail stores are creating development opportunities.
• Redevelopment of numerous parcels along South Front Street from Walgreens to Kwik Trip, improvements to the City Center Hotel on Main Street, and more use of vacant space on the river side of Old Town.
• Higher quality use of the commercial properties and vacant land along a nearly mile-long stretch of both sides of Highway 169 from near the Veterans Memorial Bridge to Highway 14.
Other parts of the plan tackle in detail the nuts and bolts of running the city efficiently, better communicating with residents, training and leadership development for city staff, providing services more equitably to all Mankatoans and more. The proposals were developed by dozens of city staff in the last 15 months based on a trio of general goals set by the City Council more than a year ago — affordability, community building and stewardship.
"When you look at it all together ... big things happen," Hentges said.
While the plan is ambitious, previous city strategic plans have largely been implemented over multiple years or decades, including the revitalization of downtown, where city subsidies were key to construction of the Hilton Garden Inn, downtown skyways, multiple building renovations, new parking ramps, a spate of new office buildings, the addition of public art and improved streetscapes to make the city center more pedestrian friendly.
The extension of Victory Drive — which dead-ended at Madison Avenue before a strategic plan encouraged the city, Blue Earth County and the Minnesota Department of Transportation to extend it three miles to the north and east — is now bordered by residential areas, affordable housing, retail stores, industrial development and the Walmart distribution center.
"Everything we imagined is coming true, everywhere from Madison Avenue out to Walmart," Hentges said.
Downtown Hy-Vee
"They have a huge parking lot ... . They're not using about half that space," economic development specialist Courtney Kramlinger told the council during a daylong retreat last week.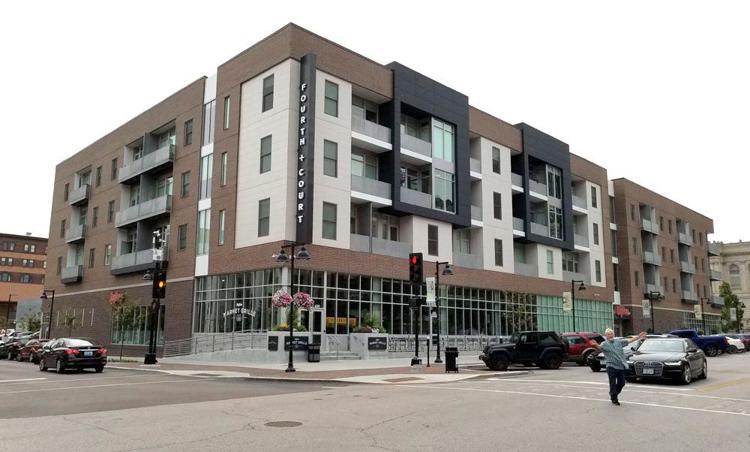 The city owns the land — which totals more than seven acres — leasing it to developer Art Petrie, who owns the building and leases it to Hy-Vee. The project would only move forward if Hy-Vee officials are agreeable, but the company recently opened a downtown Des Moines mixed-use building that has a grocery on the ground floor and 82 apartments on the second, third and fourth stories, along with an adjacent 200-stall parking garage.
"Looking at the different models for how they're growing, it holds a lot of potential," said Community Development Director Paul Vogel.
If and when the company is ready to remodel or replace the 36-year-old supermarket, the city can offer incentives to add affordable apartment units, a transit center and other amenities to the project, Hentges said.
"We could shape this in a manner that fits the strategic plan," he said.
A skyway connecting the Hy-Vee/apartment building to the civic center would provide residents on both sides with a safe connection over Riverfront Drive.
Green space
Riverfront Park and its amphitheater came into existence because of a previous city strategic plan. The latest one calls for greatly expanding the park and recreational land along that section of the Minnesota River.
At the heart of the proposal is implementing all or part of the "River Reflex" proposal, an award-winning master's project by former University of Minnesota landscape architecture student Michael Schiebe.
River Reflex involves removal of hundreds of feet of the flood wall south of Riverfront Park and a construction of a raised promenade leading to the Veterans Memorial Bridge. The riverside green space could approach 10 acres in size — if private landowners agreed to sell — and would include trees, tiered grassy areas and a trail on a slope high enough to provide flood protection.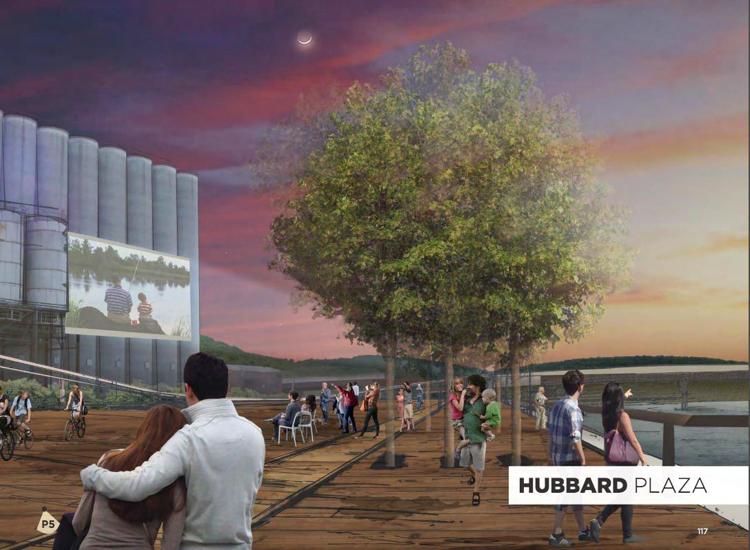 The project would create connections to the river from downtown and Old Town with a direct link to the riverside via Elm Street. The plan even includes a possible pedestrian bridge spanning the river between Old Town and North Mankato.
"Obviously, it's going to be a big investment," Associate Director of Planning Mark Konz told the council, adding that the U.S. Army Corps of Engineers would have to sign off on changes to the flood-control system.
City staff suggested funding could be sought from the Legacy Act, the Department of Natural Resources, the local sales tax and state bonding allocations for various components of River Reflex.
Improvements to Riverfront Park and to the North Minnesota River Trail, including a bridge across the Blue Earth River between Sibley and Land of Memories parks, are also in the plan.
Quarry conversion
The plan calls for the extension of Madison Avenue westward past Riverfront Drive into the retired quarry across the railroad tracks from Riverfront Park. That quarry and the larger quarry along the river just south of Highway 14 are to be transformed into new uses, including parkland.
"That is an enormous opportunity for the community — transformational, really," said Kristin Prosowski, associate director of housing and economic development.
While the quarries are still under the ownership of Coughlan Companies, company leaders have expressed interest in redevelopment, including public uses. Details are not set, but possibilities include pedestrian connections to Riverfront Park and the Germania Park neighborhood west of Third Avenue.
Prososki noted that reuse of the quarries won't be cheap. The Coughlan Companies face substantial reclamation costs to make the dramatic landscape safe and attractive for reuse, and the city will likely be responsible for roads and utilities, along with any park amenities and trails.
That part of town could become more serene for a reason beyond more parkland — the end of whistles from Union Pacific and Dakota, Minnesota & Eastern trains. The plan calls for a feasibility study, working with the Federal Railroad Administration, to see what sorts of crossing improvements and street closures would be required to create a whistle-free corridor through the city — one where the trains would not routinely sound their whistles.
Highway 169 revisited
The primary route leading into Mankato from the north — home to highway motels, fast-food restaurants, former industrial space, a variety of other businesses and a great deal of vacant land — is also targeted in the plan. Those areas are being eyed by the private sector, as well, Prososki said.
"We know there are some prime development opportunities, including from the landowners themselves," she said.
Environmental Protection Agency funds, combined with local tax-increment financing and other incentives could be used to encourage reuse of the property in a way that meets city goals such as affordable housing, water quality improvements, job creation and more attractive entrances to the city, according to city officials.
Prososki said the range of possibilities presented by the quarries and the parcels targeted for redevelopment are enticing.
"This kind of collection of opportunities is kind of like a dream come true for a person in my position," she said.
Areas of opportunity
Land along the Highway 169 corridor and most of the rest of the targeted parcels in the Valley Revival plan are included in recently designated "Opportunity Zones." Created by the tax reform bill passed by Congressional Republicans and President Trump in 2018, Opportunity Zones provide steep tax breaks for investors in a select number of census tracts that are low-income and in need of redevelopment.
"About two-thirds of (of the Valley Revival property) value-wise is in Opportunity Zones, one of the few of this sort in the state," Hentges said.
A municipal plan that details lofty aspirations for downtrodden part of town can make investors more comfortable investing and can make entrepreneurs think more ambitiously about plans for their property, he said. It happened and continues to happen along Sibley Parkway, in Old Town and near downtown — the $16 million Bridge Plaza project being the most recent example.
Valley Revival extends the effort to a wider area that runs from the Blue Earth River to Highway 14. Plans to renovate a roadside motel — or a downtown supermarket — could turn into a new, high-quality, multi-use development if developers see their project as part of a larger trend being pursued by the city and by private investors.
"Somehow marketing that these opportunities exist — that's the next step," Hentges said.
And if proposals come forward that advance the council's priorities — affordability, stewardship and community building — the city is dangling subsidies and other assistance before the private sector.
Along with private investment and municipal funding, state and federal funds could be sought for initiatives that involve affordable housing, job creation, outdoor recreation and environmental protection, according to Hentges, who said the plan would be "pretty salable to the Legislature. ... You've got river water quality. It's got affordability components."
While it is ambitious, it's not substantially larger in scope than other strategic plans pursued and implemented in the past quarter-century, he said: "This is an initiative very much in the scale of what we've done before and doable within that blueprint."
Council President Mike Laven said the community and the city staff are capable of making the plan a reality.
"I look at this and say this organization is ready to take on the role," Laven said. "This is awesome. It ties into everything we've talked about before."
Implementation of any of the major elements will only follow some additional talking — with the broader community.
"There's 42,000 people out there who still have to weigh in on the opportunities," Vogel said, adding that future public meetings and open houses might generate even more ideas and goals. "To realize all those opportunities, you really have to cast the net out."
Hentges expressed confidence that Mankatoans will back the final strategic plan after they get a closer look and a chance to comment.
"Once it goes through the community engagement, I can guarantee you it will have the full force of the community behind it," he said.