Individual desks spaced a few feet apart have replaced the communal tables in the East High School cafeteria.
When they aren't occupied by students eating meals, the desks are now occupied by students in study hall sessions, which needed to be moved to a larger space to keep students distanced.
Senior Jake Schreiber said he's happy to be back in school even if it is only part time.
"I'm very excited to see people finally," he said during his study hall on his first day back in person.
Most Mankato Area Public Schools secondary students are learning part time from home and part time at school this fall.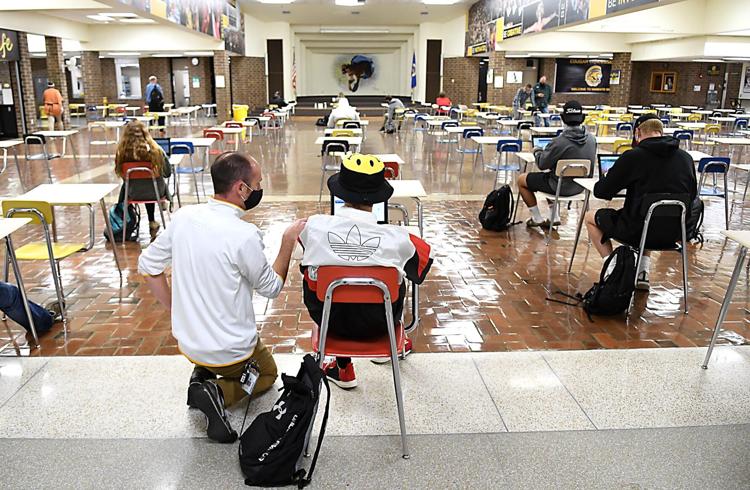 Middle school students are split into two groups and attend in person two or three days a week. One group of middle schoolers had their first in-person days this week and the other group will return to classrooms next week.
High school students are split into three groups and for most of the fall will be on a schedule that puts them in the building two out of six school days. Each group attended one day for the first week of school this week.
The high schools are operating at a lower capacity during the pandemic because students are on the move more often, East Principal Jeff Dahline said.
The middle school students spend most of their time in the same classroom with the same classmates and the teachers are the only ones moving between rooms.
The high school students have the greatest variety of course options and are still changing classrooms as usual each period.
High school teachers are sanitizing desks between each class. Students have assigned seats because if a student comes to school with COVID-19 it will be easier for administrators to identify and warn students who sat near an infected classmate.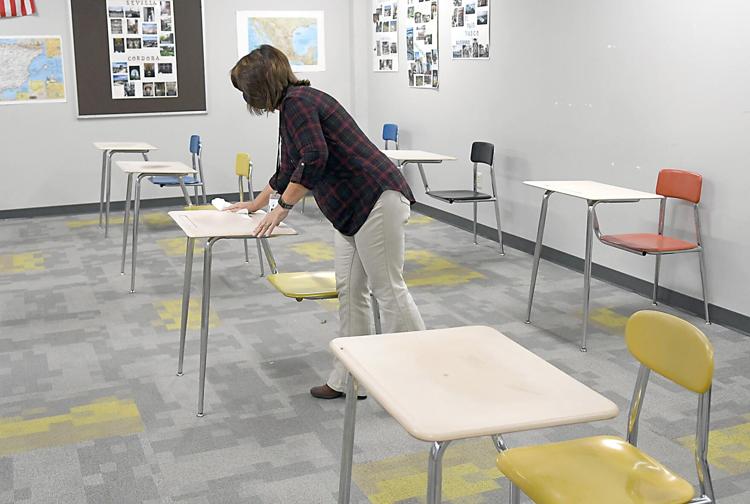 Dahline said teachers are delivering lessons electronically to students when they are at home and focusing the in-person time with students on three areas: building relationships, hands-on lessons and helping students through assignments with which they are struggling.
Schreiber said he's most excited to get to do chemistry experiments. He's also looking forward to being able to get face-to-face help from teachers.
"Giving us time to ask questions in person really helps out," he said.
Other pandemic precautions being taken at all or some of the secondary schools include mandatory masks, staggered lunch times, adjusted parent drop-off and pick-up lanes and assigned doors so students don't all enter their school at the same location.
Schreiber and Dahline said the vast majority of students are following the new rules and keeping their distance from others as much as possible, recognizing those actions are necessary to keep in-person learning going.
"The kids have been awesome. They just want to be back," Dahline said.
Over 900 of the district's secondary students opted to learn from home full time this fall.
The middle schools, like the elementary schools, have established dedicated distance learning programs.
The high school distance learners are integrated with the hybrid learners.
The remote curriculum is "more robust with more accountability," Dahline said. Attendance is taken remotely for every class daily, though there is still flexibility for students who cannot follow a typical school day schedule from home.
Dahline noted high school teachers are each balancing four groups of students on any given day — the students with them in the building, two groups of hybrid students learning from home and the full-time distance learners.
Dahline asked families to be patient and flexible as the educators iron out the inevitable wrinkles.
"We're doing something that has never been done before," he said.