West High School educators rolled out the red carpet as their seniors returned a handful at a time for a final time.
At East High School, the carpet was black but the alternative commencement celebration otherwise was largely the same as West.
While COVID-19 forced the cancellation of traditional graduation ceremonies in Mankato and beyond, Mankato's seniors still get to walk across a stage in their cap and gowns.
Cameras were rolling as East and West students took their walks this week. Central High School students will walk next week.
Each seniors' moment will be compiled into video virtual ceremonies that will be aired on the radio and cable access television on June 4. That is the date the pomp and circumstance had been scheduled to happen in person.
East senior Nathan Shortall said he was pleasantly surprised when he returned to his school Thursday.
"It's really cool how they set this all up," he said after posing for his last photo.
Mom Christina Shortall said she wasn't at all surprised. She "had faith" that East teachers and administrators would come through with a quality substitute recognition, she said.
Small groups of seniors and their immediate families were invited to the school during 15-minute blocks over three days.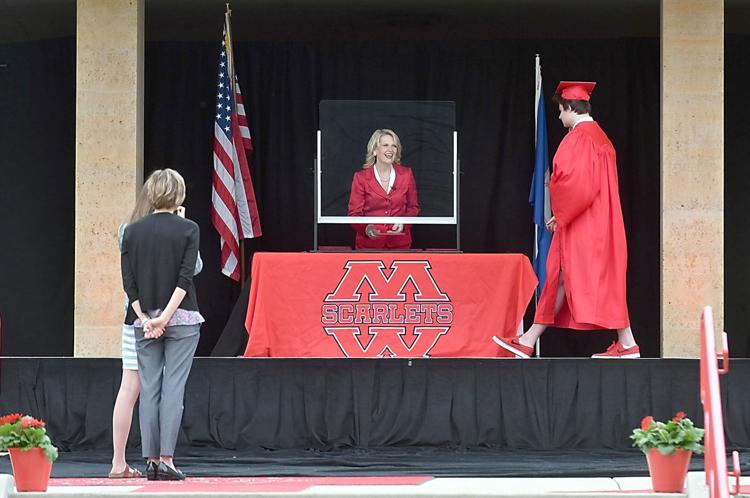 Families waited in their vehicles until it was their graduate's turn to be recognized.
Graduates crossed stages set up outside the schools as their names were read. The principals stood behind plexiglass as they congratulated each grad and handed out diploma covers (the actual diplomas will be distributed in a few weeks).
Students then posed for photos with professional photographers before their substitute sendoff was complete.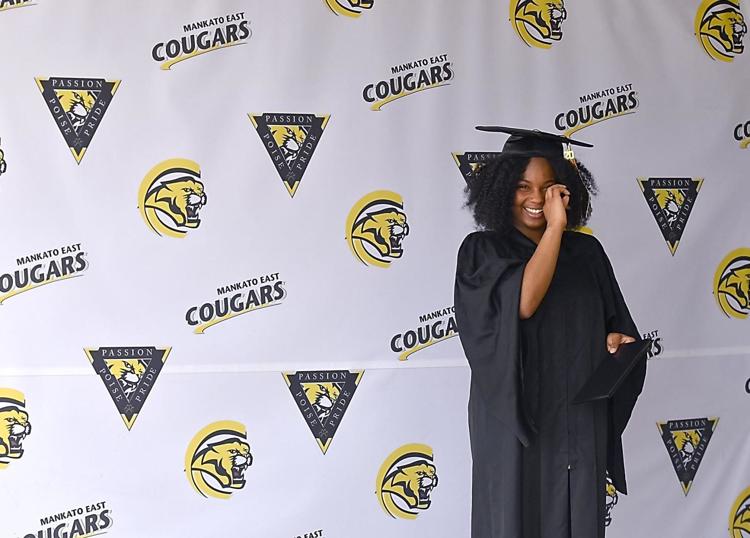 Many East and West seniors said they were a little disappointed about not getting to celebrate with their full class but were happy to have some form of an in-person ceremony.
"It's as good as we can get," said West senior Lauren Knudson.
"It still feels really special," said classmate Freya Gordon.
Ben Kies is the second generation of West grads in his family to experience a graduation celebration that did not go as planned.
"I'm glad we got to have some kind of ceremony," he said after he posed for pictures Tuesday.
Mom Darcy Kies' own graduation ceremony on the school's football field was truncated by a tornado warning. They skipped the speeches because there was a tornado watch and managed to get all of the diplomas distributed just before the warning sirens sounded, Darcy said.
While only members of the Class of 2020 and their immediate families were allowed to come up near the stage this year, Madeline Johansen was among the students who had larger cheering sections come support them from a distance.
"You still get the best part," she said as family members waved from the sidewalk in front of East. "You still get to walk across a stage and get your diploma."
While they would have preferred to walk with all of their classmates, some seniors were happy the stay-at-home order was lifted in time to celebrate in small groups.
"It stinks that we had to miss out, but I'm glad we can still be with friends," said West senior Michael Roessler, who came to East Thursday to congratulate friends.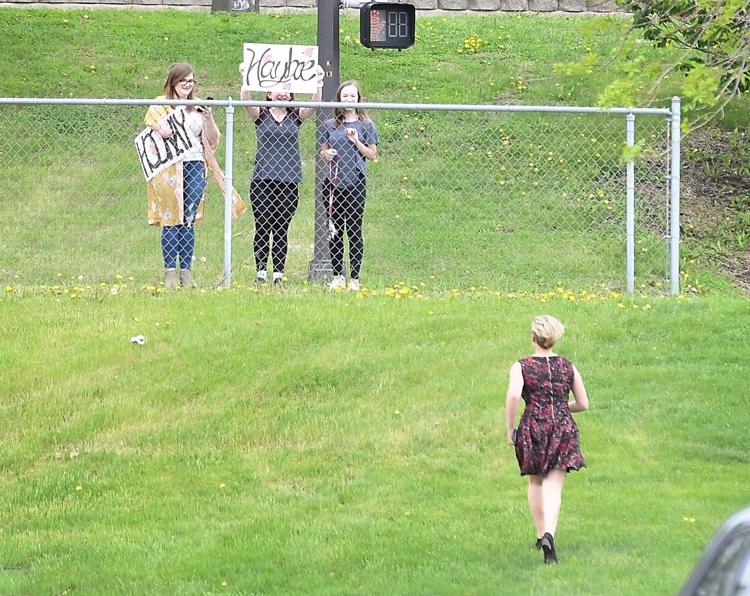 Several seniors also said they were excited to at least see some of their teachers and principals and get to say goodbye in person.
"It's more personal," said East senior Yvonne Ibrahen.
East High School Principal Jeff Dahline said a silver lining of having to spread out the recognition was getting more time with each graduate.
West High School Principal Sherri Blasing said the same, although she said she struggled with not being able to give any hugs or handshakes.
The principals each spent 18 hours handing out diplomas over three days. They said they were happy to give every minute.
Blasing said the schools surveyed students and parents about what they wanted most out of an alternative observance.
Parents said they most hoped to still see their child don a cap and gown and accept their diploma, Blasing said.
Students most desired to gather with their classmates one last time. The school could not honor that wish this spring as large gatherings are still prohibited. So instead the schools will host one-year reunions next summer, the first such events ever.
Gordon said she'll definitely be there. As vice president of the senior class at West, she's already been asked by school leaders to help plan the belated celebration.
Mankato's Class of 2020 is receiving one other unique recognition. After being displayed at the replacement ceremonies, banners bearing the name of every grad will be hung in their alma maters and will stay for many years to come.