NORTH MANKATO — Sitting in the doctor's office at age 9, Noah Gersich vividly remembers what was on his mind.
"My story is one of irony," he said. "All I was thinking about was needles."
He came to the doctor after his third grade teacher recognized possible warning signs of diabetes in class. Gersich was just hoping to avoid any types of needle in that exam room.
"So it was only fitting when the doctor came in and said I'd be taking five shots a day and pricking my finger 10 times per day," he said.
Gersich learned he had Type 1 diabetes that day about nine years ago. He's certainly gotten more used to needles in the years since — technological advancements mean he doesn't need to use them nearly as often as that anymore — along with how to live with a chronic disease.
Now 18 years old and newly graduated from Mankato West High School, the North Mankato young man's hard work in academics and extracurriculars earned him a $5,000 scholarship from the Diabetes Scholars program.
He's one of 62 students in the country to receive scholarships through the program, part of the Beyond Type 1 nonprofit, this year. He earned it — along with a National Merit Scholarship — by accomplishing a 4.0 GPA, captaining West's state-title winning math team and leading the Mankato Area Youth Symphony Orchestra's violin section, among other leadership positions.
Beyond Type 1 CEO Thom Scher praised this year's Diabetes Scholars in a release announcing the 2021 recipients.
"These individuals have persevered in the face of an often invisible chronic illness adding to the already high demands of schoolwork, extracurriculars, jobs and so much more," Scher stated.
Gersich thanked the Beyond Type 1 nonprofit, pointing out he can see how its resources help young people like him. Earning the scholarship was exciting, he added, and it gave him a chance to share his story about growing up with Type 1.
Although he eventually overcame his fear of needles, he doesn't think of the disease itself as something to overcome.
"Conquering" or "overcoming" diabetes can be a powerful message, but he feels like it's a bit idealistic. He quotes Sir Frederick Banting, the man who co-discovered insulin in 1921, in saying, "Insulin is not a cure for diabetes; it is a treatment."
So he doesn't set out to overcome a disease like diabetes so much as treat it. There's no cure yet, but Gersich said with insulin he's able "to do the things other people are able to do."
It just requires more planning and preparation in his case. When your pancreas doesn't naturally regulate your blood sugar, activities like eating and physical activity need to be more planned out.
Still, Type 1 diabetes is an autoimmune disease. All the planning in the world won't eliminate all the unpredictability.
"Even if I plan everything out two weeks in advance to a big test, you never know what's going to happen," Gersich said. "That's one of the most challenging aspects of the disease."
The planning and added work needed for day-to-day life is one of the hidden aspects of Type 1 diabetes, said his mother, Becky. With her son being the only person in the family with the illness, she's grown familiar with what it involves through him.
"My very first reaction was extreme appreciation," she said of her son's scholarship. "Appreciation that there are opportunities out there for Type 1 diabetics to receive something like this and to be acknowledged for the extra work they have to do in order to live daily life."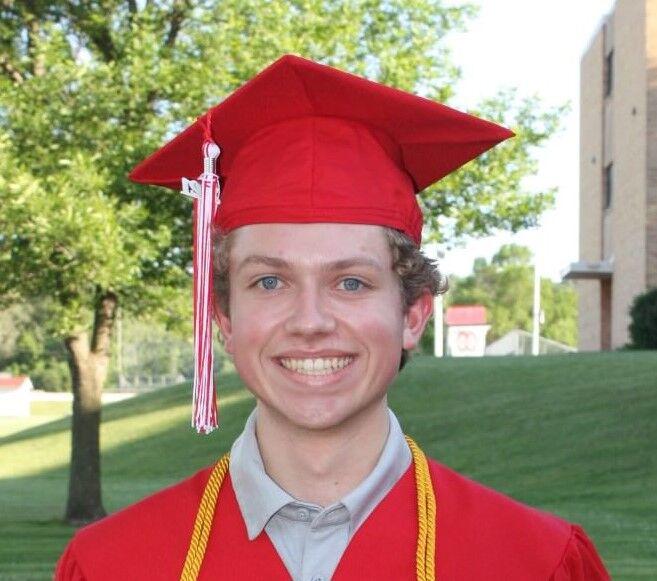 Gersich plans to continue his education at the University of Illinois Urbana-Champaign in the fall, where he'll study computer science. The math skills he honed in classes and competitions should serve him well, with Gersich saying the subject and the problem solving required to excel in it appeals to him.
After a senior year upended by the COVID-19 pandemic, he said he's also looking forward to collaborating with other students again through group work.
"I'm looking forward to meeting new people with the same passions as me and working together," he said. "It's certainly exciting, and I'm very happy with where I'm at and where I'm going to be, but of course I have to continue to work hard."