MANKATO — To say Janet Miller likes to travel is an understatement. The 71-year-old Mankato woman has been to all of the world's seven continents and has visited every one of this country's states.
Since Minnesota's coronavirus restrictions were put in place in late March, Miller has been following state guidelines and following Gov. Tim Walz's advice.
"He told seniors they needed to stay at home (as much as possible), but the state parks are available for you to go walking."
Miller considered what she could and could not do safely during a pandemic to keep in good mental and physical shape. She then got out a map.
"I visited all the state parks in 6.7 months."
Miller started out in March at her nearby favorite: Minneopa State Park.
"I've been there all four seasons and I love it; I've even done the snowshoe event on Jan. 1."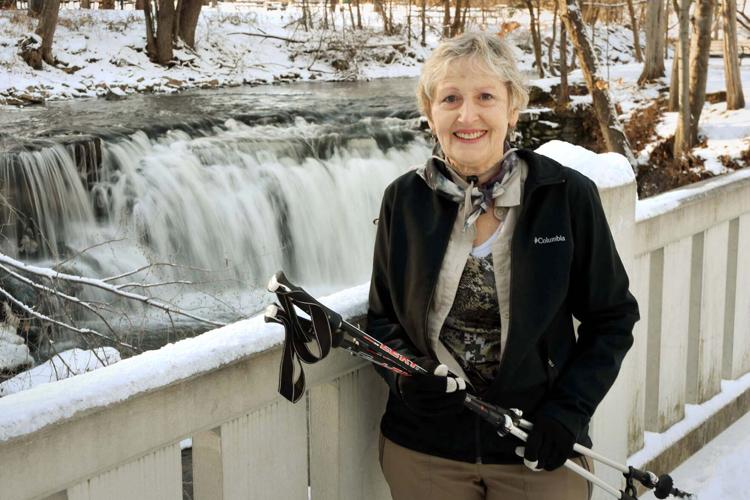 Miller's pandemic quest soon expanded to day trip adventures. On average, she stopped at four state parks per day. Overnight arrangements were required when she toured 11 parks on the North Shore.
She had agreed with her husband, Mike, to be off the road by 9 p.m. during a tour — a good plan for someone traveling solo.
By the end of September, she'd made it to Afton and Zippel Bay and all the state parks in between.
It's not unusual for Minnesotans to set a goal within their lifetimes of enjoying the beauty, historical landmarks and recreation opportunities offered at all of the 66 state parks and nine state recreation areas, a Minnesota Department of Natural Resources representative said. The DNR will stamp state park passport books for these visitors. (See a list at: www.dnr.state.mn.us/state_parks.)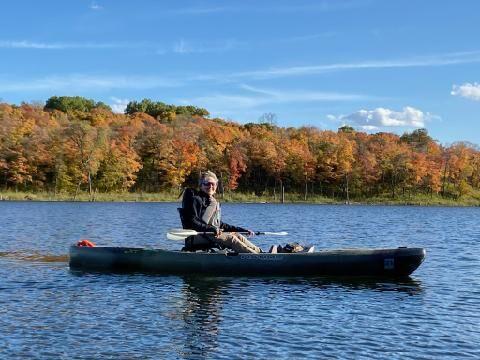 The condensed timeline of Miller's trip is what's out of the ordinary.
She caught the traveling bug when she was a girl. Her family traveled by car to visit her older sister who'd moved to California.
"We'd looked for license plates from all the states," said Miller as she described how her parents kept their kids from getting antsy along the way to their West Coast destination.
Her parents also liked to hit the road while on vacation.
"They taught us to go to national parks. We usually stopped along the way to visit relatives, and we always got to spend one night at a hotel."
Miller's 2020 trek included short periods of time with family members and friends.
"In April when I was at Myre-Big Island near Albert Lea, I saw a high school friend. We met at a Kwik Trip picnic table and I gave her a pie."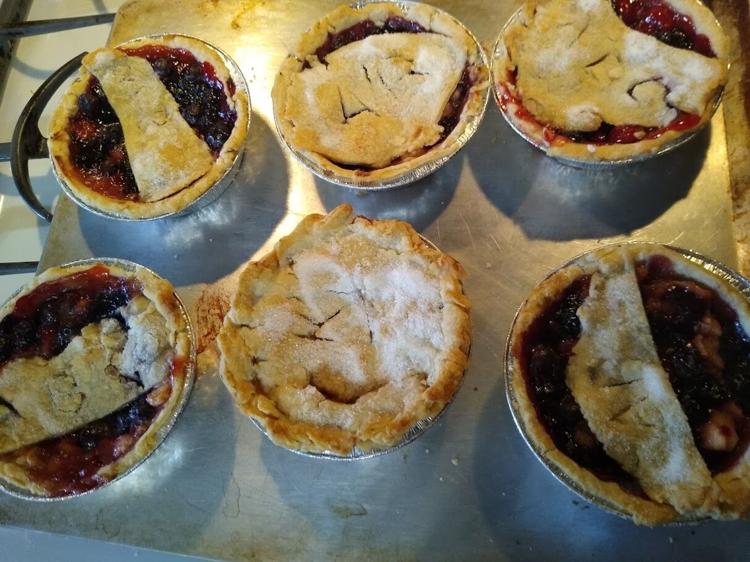 Along the way and throughout her state park journeys, Miller gifted several people with pies. The ingredients for her homemade desserts include fruits from several trees on the Millers' Mankato property.
"She gave me a little pear pie," said Barb Goulet, of Morris, who first met Miller while she and her daughter, Meghan, were on a July hike to the waterfalls at Tettegouche State Park near Silver Bay.
"We had our feet in the water, taking a break, when I saw my 16-year-old was having a conversation with her (Miller).
"Janet told us about her tour and that she was there all by herself. We thought 'Good for you, that's amazing.'"
The women did not formally introduce themselves. As they were leaving the park, Goulet put a note on a car in the parking lot assumed to be Miller's because it had a Mankato sticker on its bumper. The note was a request for Miller to send a text if she was interested in having company while visiting parks.
Miller messaged back agreeing to meet up again later in the year for biking and kayaking trips to Glendalough and Maplewood state parks.
"It was in the fall and the colors were beautiful. Janet was so happy. I gained a friendship — and I got to eat her pie."
The two women discovered they share more than a love of nature.
"We also found out we are sisters in Christ. That's really neat."
When Miller traveled to the northern part of the state, she stayed with family in Sauk Centre.
"My sister-in-law was my salvation," Miller said, expressing gratitude for Eleanor Neubert's hospitality.
During their mini-reunion, Miller's relatives treated her to an ice cream cake created by a nephew who runs a Dairy Queen. An outline of Minnesota was drawn in frosting atop the cake.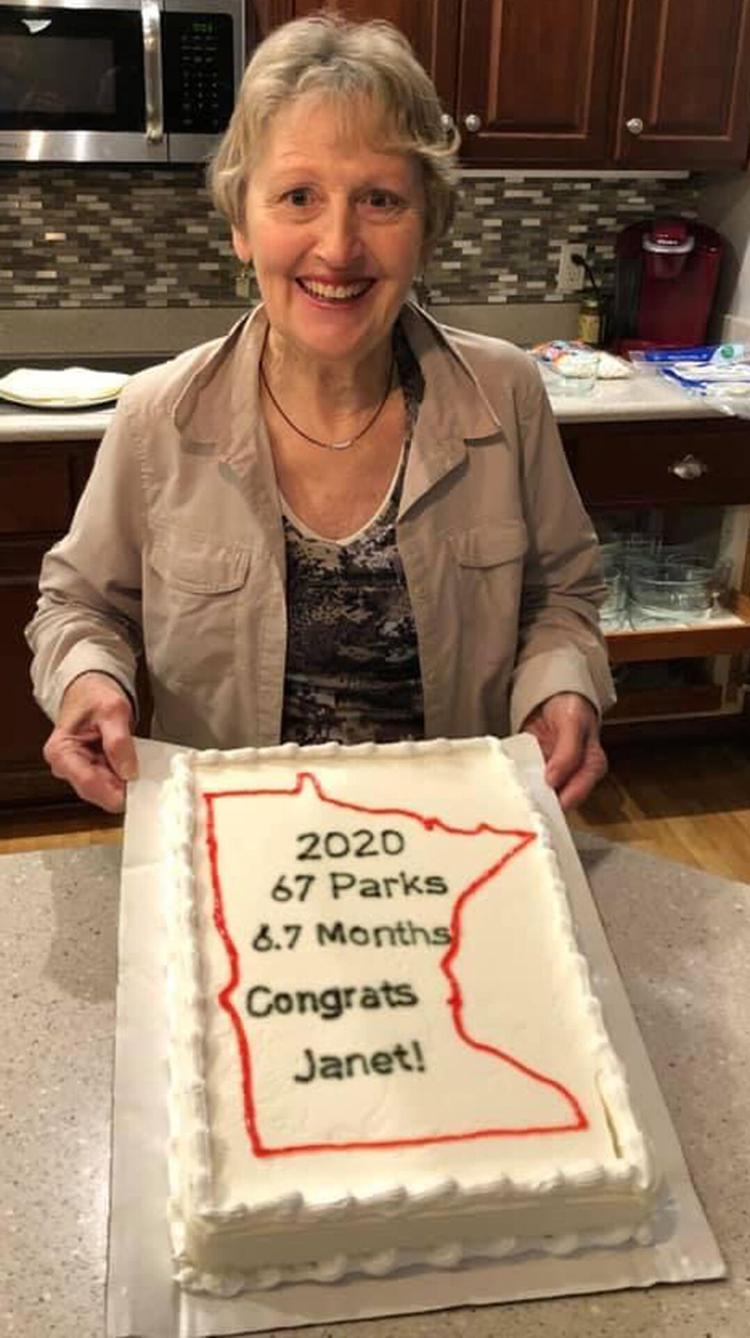 A recently retired Neubert, who was married to Miller's late brother, opened her home and cabin to her traveling relative. She also was Miller's companion on three trips.
The sisters-in-law were en route Lake Bronson State Park in northwestern Minnesota when Miller's car collided with a deer.
"We were near Baudette. We saw 14 along that same stretch of road and we only hit one," Neubert joked.
Miller said her not-much-fun 2020 adventures include being lost for about a half hour at Great River Bluff State Park along the Mississippi River near Winona.
"I didn't have a compass."
She considers that experience less frightening than her visit to Interstate State Park near Taylor Falls at the end of May. Having to drive in heavy traffic was stressful.
"Everyone was getting out of the Twin Cities and it seemed to take hours to move."
Miller usually traveled on weekdays when roads and parks were likely to be less crowded. She usually ate packed lunches from home.
Miller accelerated her tour schedule in August, spurred on to finish up by news of a cancer diagnosis of her daughter, Sonja Swenson.
Swenson, of Claremont, said her mom would stop by for socially distanced visits and bring pies during the tour.
By Sept. 29, there were no more boxes to check on Miller's state park list.
Now that her mission's accomplished, Miller has been sticking fairly close to home. She often grabs her pair of walking sticks and gets some outdoors exercise.
"Then I can go ahead, have some pie and not worry about getting a pandemic stomach."
While on these walks, she's had time to reflect on her tour experiences.
"I feel so good about having made connections with people who can't get out of the house much. We did a lot of talking about what is going on at this time, and we talked about their children.
"There was personal connection, but we stayed 6 feet apart."