MANKATO — Bike lanes, sidewalks, parks and trails: People exercise more when they have access to at least two of them, a new survey indicates. 
Nearly two-thirds of Minnesotans who live near two or more of those outdoor venues report exercising three or more days a week, according to a poll released today by the Center for Prevention at Blue Cross and Blue Shield of Minnesota.
That is significantly more than those (42 percent) who have access to fewer community features. 
"We really believe that people's surroundings, where they work, where they live, where they play, have a big impact on their health," Center for Prevention Director Janelle Waldock said. "I think the poll ... confirmed there is a relationship between the features in people's communities and their ability to exercise." 
Efforts made to increase access 
Local health advocates had come to the same conclusion but say the poll is an affirmation of their work in communities such as Mankato and New Ulm. 
Cindy Winters, project manager for The Heart of New Ulm, said while the group has pushed for features like bike lanes and new sidewalks, it has always been hard to gauge just how the community feels about such improvements. 
"It tells me that we're doing the right things, that we're going in the right direction," she said. "In New Ulm, there is a segment of the population that just doesn't say much at all, so it's hard to know if you're making the right decisions." 
The poll also found that 76 percent of Minnesotans agree or strongly agree that the way a community is built has an effect on how much physical activity people get, while only 4 percent disagreed or strongly disagreed. Twenty percent of those polled were uncertain.  
Eighty-three percent of respondents believe that future transportation projects should accommodate not only motorized vehicles but also walkers and cyclists. Likewise, 70 percent of respondents say that if they were deciding where to live today, places to take walks would be important features to them.
But "just putting in sidewalks isn't enough," Winters said. 
Cities must focus on making intersections safer as well. Even some of New Ulm's adults avoid crossing certain streets because they're too busy, according to the results of a recent community survey. 
Only about 9 percent of kids walk or bike to school in New Ulm. Parents have indicated that uncontrolled intersections are of major concern to them as well as the amount and speed of traffic. 
"Of course, when 60 percent of kids are being driven to school, parents are adding to that traffic problem," Winters said. 
(The Heart of New Ulm recently received funding from Blue Cross to help create an environment that encourages more kids to walk and bike to school. Among efforts was a weeklong demonstration that introduced parents and resident to various "traffic calming" measures.) 
Nationwide, the number of children to walk or bike to school has dropped from 50 percent in 1969 to less than 15 percent, according to Safe Routes to School. 
The number of people who walk or bike to work also has decreased. 
"We've pretty much engineered physical activity out of our lives," Winters said. "It's so easy to drive to everything. So the way we design our cities really impacts whether or not people walk." 
Even if residents live several miles outside of town, she said, they could drive almost all the way to work and walk the last mile. They could also bike — New Ulm has added 1.5 miles of bike lanes, and local cyclists have identified several routes that connect to another route that circles the town and connects to schools, local businesses and the New Ulm Medical Center. 
Governments play key role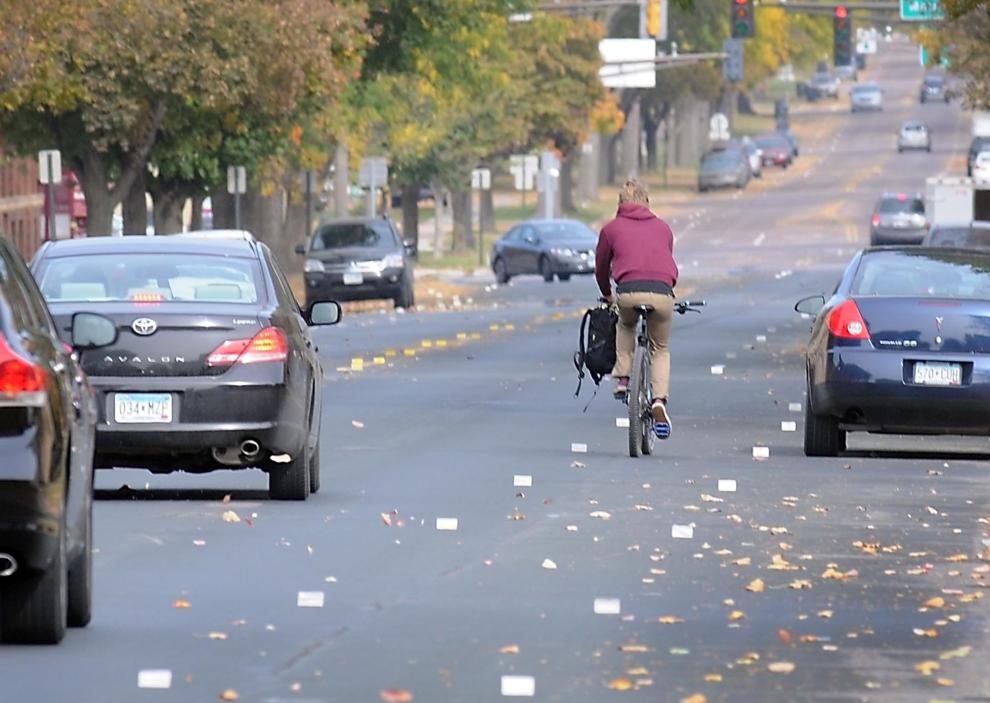 But once again infrastructure isn't enough. 
Using Mankato's new bike lanes as an example, Waldock said local governments have a role to play in increasing bikeability that goes beyond the act of physically separating them from traffic. 
"Once that paint goes on the street and somebody wants to bike on Riverfront, there is a role city government has to play in making sure people understand how the rules of operation work," Waldock said.
Equally, the city must work to ensure that bike lanes and paths are accessible yearlong by clearing of them leaves and snow. 
Winter should not be a deterrent to exercise. As Winters pointed out, "You have a tendency to remember the really bad weather, but a lot of time it's warm enough to walk or bike to work. You just have to dress for it." 
Speaking of Mankato, Lee Ganske, president of Greater Mankato Bike & Walk Advocates, was not surprised by the results of Blue Cross' survey. 
He wasn't sure if having enough paths and sidewalks really ensured a more active community — plenty of people go to the gym or exercise at home — but didn't think it could hurt either. 
"I do think it's a contributing factor for me," he said. "And I observe this among coworkers and friends. For example, if you want to get out and take a walk over the lunch hour at your workplace, the setting and the kind of facilities are going to make a huge difference. If you're in an area where it isn't convenient, or safe even, to walk, you're less likely to do it."
Greater Mankato Bike & Walk Advocates encourages residents to make biking and walking a part of their everyday lives, whether that means walking to work, biking to school or leaving the car behind when they go to the grocery store, he added. Mankato's commitment to providing safe routes for them has greatly contributed to residents' ability to exercise. 
"I do think Mankato has decent facilities for biking and walking as things stand now," he said. "I think that the cities of Mankato and North Mankato and county, as well, have all made good and are making good efforts to continue to build on that. We see sidewalk projects in neighborhoods that for many years did not have sidewalks, new developments, of course, have sidewalks, and paths are more routine for sure. Really just this year we're starting to see on street bike lanes on Broad and Popular and in North Mankato, as well, and by campus. All those thing contribute."