A mother-daughter sewing team expects to make more of their homemade masks for the Mankato area after the City Council passed a mask mandate Monday.
Through the Long Dog Apparel and Gifts brand, Tanya Brossard and her mother, Brenda Whitcomb, switched from screen printing to mask making in April. The tandem was on track to finish their 6,000th mask Tuesday.
Although they've shipped the masks all over the country, the mandate could lead to higher demand in Mankato.
A huge fan of dachshund dogs, Brossard, who owns a pack of them, typically makes clothing and other items for pet owners and shops. As with so many other sewers in the Mankato area this year, masks have been the focus of late.
"We're thankful that as a small business we've found something to keep us afloat during this," she said.
The pair estimated they complete about 100 to 150 masks per day. They ship out packages to buyers daily along with local mask sales at Pet Expo, River Bend Business Products and the North Mankato, St. Peter and New Ulm farmers markets.
The price for a single mask in about 156 designs ranges from $10-$12, while wholesale and bulk options are available as well. Their products — some but not all pet-themed — have a moisture barrier that they experimented with to make sure it offers more protection than more basic cloth masks.
For the mother and daughter, making the masks taps into their shared love of sewing. Brossard learned to sew from Whitcomb, who learned to sew from her mom.
"I was that kid in first grade who sewed Christmas presents for my teachers," Brossard said. "It's kind of been a lifelong hobby for me."
They work out of Brossard's house in Mankato. The workroom has a sewing machine in one corner, finished masks stacked up nearby, materials across the room and space in the middle to fill and organize outgoing packages.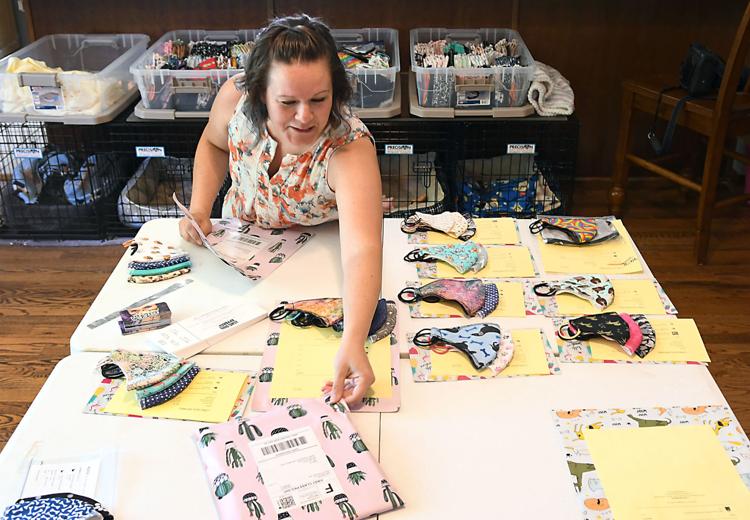 They don't take many days off, but they both said sewing is their "thing" and they enjoy working together.
"Sewing is my passion so this does not bother me at all," Whitcomb said. "I'm glad we have a talent and a skill that we can use to help."
She said she might be working longer hours now than she did before she retired from a bank. Her boss/daughter is tougher on her than her old boss, though, she joked.
The two thought they might have trouble with supplies when they started making the masks. Sewers in the Mankato area rushed to stockpile elastic and other materials once it became clear masks would be needed during the pandemic.
Groups like the Mankato Masked Moms Facebook page coordinated mask making projects and distributed their handiwork. Other crafty locals on social media have offered to provide masks to individuals for free if they can't find any.
By building up the apparel brand for pet owners over the years, Brossard said they've been able to weather any supply shortages. Elastic availability was one early concern they overcame by switching to hair bands, which they say is more comfortable anyway.
Being near lifelong sewers meant they also had ample fabric on hand to work with.
"We had a horde stash," Whitcomb said with a laugh. "I was able to get rid of my stash of fabric that I had for years."
With other states adopting mask ordinances due to spikes in COVID-19 cases, Brossard said the company's out-of-state business will likely remain in high demand.
Pet store owners, for instance, have been wanting larger volume orders at times because they know customers will be looking for masks.
With Mankato passing its own mask ordinance, now she thinks a greater percentage of masks could be sold locally. She hopes selling them both online at the Long Dog Apparel website and at the stores and farmers markets will ensure anyone who needs a mask will be able to get one.
"I don't necessarily think (demand) will drop anywhere else for shipping," she said. "I think it's just we'll have more in Mankato."