MANKATO — After 33 years of service, Jo Schultz is ready to hand her scissors over to a new history center volunteer.
Ideally, that person will share her passion for cutting out newspaper announcements of area residents' deaths and the written details about what they did while on earth.
"I thought it was time someone else learns to do this," said Schultz, who added that she's willing to train in a new clipper.
That person should have a knack for knowing what needs to be saved for posterity.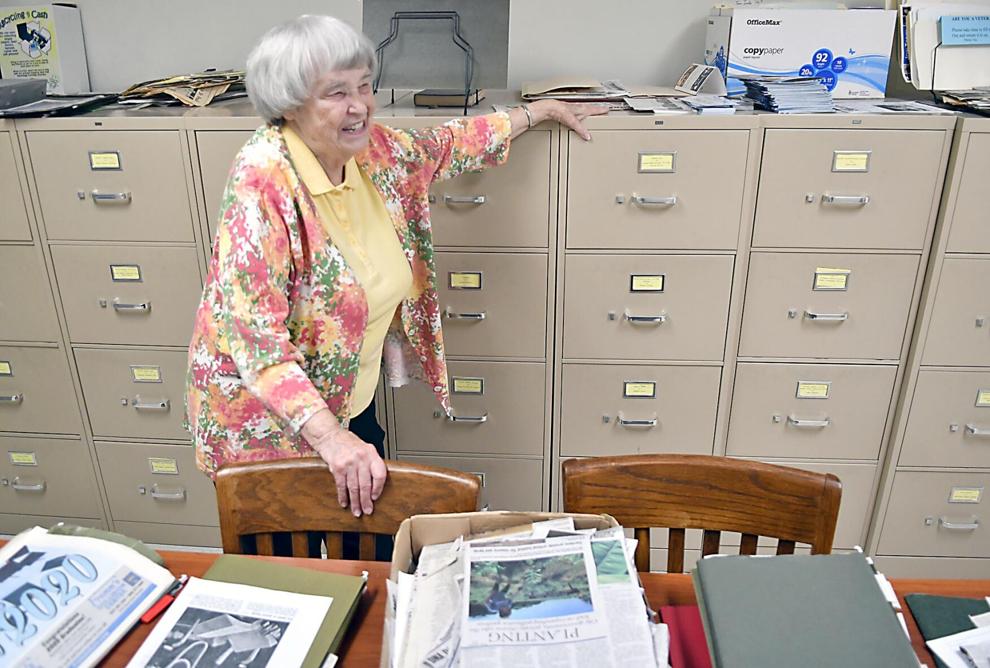 "It sounds like something easy — you just cut stuff out — but there's more to it. It comes down to do you know the county and do you know how to type?"
Schultz, aka BECHS' Obituary Lady, has spent countless hours compiling information about where locals were born, worked and died, and the cemeteries where their remains are buried.
And when she comes across interesting — "little snippets" of news — they also get saved.
"All of the clippings I do... they are about things pertaining to Mankato that might be of interest to people."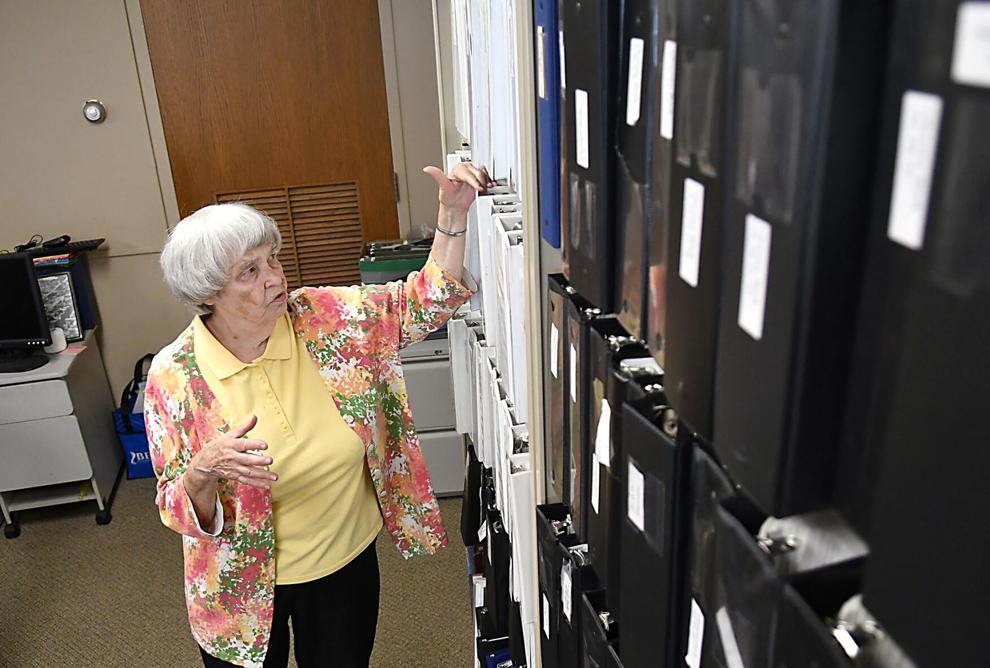 "Jo's the hardest working volunteer we have," said Shelley Harrison, BECHS curator/archivist.
"Almost every resource we have here has her 'fingerprints' on it. Every day, researchers come in and use resources Jo has helped us collect."
A variety of people, from professional historians to amateur genealogists, peruse the history center's clipping files.
Schultz also types information on the index cards used by researchers. The cards list names of the county's deceased and where their obituaries are stored in the center. If she finds information that may be of interest to future genealogists, Schultz will record that, too.
Not only does it save hours of time delving into family histories, it also makes for interesting reading and leads to other clues in family history, she said.
Schultz offered an example of how her volunteer work has helped others. One day a person who was researching family history stopped by the center to inquire about an ancestor. Little was known about the man, except that he drove a taxi. Schultz brought out the "taxis" file.
"We took a look and there he was."
Her volunteer efforts also make easier the jobs of reporters in need of historical background on a subject.
"Free Press staff writers working on stories also use these files," said Schultz while pointing to several cream-colored, jam-packed cabinets in a small room at the history center.
Most of Schultz's volunteer hours are now performed at her dining room table in a Mankato cooperative. Clipping duties have become part of a daily routine she sticks to even on her birthday. This year, her 89th fell on Wednesday, a day that began as usual before she celebrated her big day.
"In the morning, I picked up three papers total (for herself and a neighbor); I read the whole paper from front to back; then I marked the dates for vertical files; then I cut out the obituaries."
Sometimes, pages with good news stories and the obituary section are printed back-to-back. That's when she looks for a neighbor who will give her a third paper to clip apart.
"I also save clippings for my own files," said Schultz, who has bachelor's and master's degrees in history.
Her interest in history and her fondness for the history center have made the duties enjoyable, despite mostly working solo after being part of a three-member clipping team.
"It's the type of volunteering I love, and I can do it at home."
That flexibility was needed when her late husband, Bob, who suffered from Parkinson's disease, needed extra care and attention.
The Schultzes both grew up in Mankato. After their marriage, they worked in the metro area. On weekends, they returned here to work on their lake home. In December 1987, Jo retired from her human resources job and the couple's house near Madison Lake became their permanent residence.
About a month after the move, she wrote to the society inquiring if she could donate some time to the nonprofit. The letter was opened at BECHS' offices that, at the time, were cramped into the historic R.D. Hubbard House on Broad Street.
"We've got a live one here," was Susan Monk-Kjos' announcement to other staff members, Schultz said.
Throughout her decades of service to BECHS, she's participated in its Ghosts of the Past series, served as a Hubbard House tour guide and greeted Blue Earth County fairgoers who stopped by the society's booth.
Schultz considers recording obituary information as her primary duty. Her biggest task has been working on the center's obituary books — a project started by other BECHS volunteers.
"My first obituary book was No. 11; I'm about to start working on No. 120."
Schultz clips obituaries along with other pertinent information about the county's deceased that she finds in Mankato, Mapleton, Lake Crystal, Madison Lake newspapers. The items are then pasted into large notebooks that are shelved at the history center.
Years ago Schultz, along with Win Grundmeier and Edith Hopman, worked for 15 years to read each edition of a donated collection of Mankato Free Presses published between 1900 to 1946. Mankato's library microfilmed the newspapers before they were turned over the historical society, which was concerned about the amount of space needed to store the bound volumes. A decision was made to have the trio of volunteers cut out the pertinent historical information from the old newspapers; what remained would be destroyed.
As they worked, Schultz, Grundmeier and Hopman marked dates on the articles they saved.
"I was designated as the person who would cut articles out of the old newspapers," Schultz said.
Besides obituaries, the items she saved include weekly social columns by residents of Blue Earth County's towns and townships and news nuggets about towns, churches, schools and parks, as well as human interest stories. The news clippings now fill several file cabinets kept at the history center.
Schultz's duties get messy if there's smeary ink on the newsprint she's clipping. And she can recall one volunteer job that, although necessary, taxed her emotions.
"The first time I cut up a 1880 newspaper I was almost in tears," Schultz said.