Zulelka Abdi, a Somali woman new to town and the state, was adamant about getting involved with her community upon arriving in St. Peter.
For three years, Abdi lived in Nashville, Tennessee. Prior, she lived in Africa. Moving overseas and then across the country can get lonely, so Abdi didn't just want to know her new neighbors, she wanted to have a real connection with them.
"It's very important for the community to know each other since we go to the same schools, same hospitals, same places at the same time," Abdi said. "We need to connect."
When she stumbled upon information regarding the St. Peter Good Neighbor Diversity Council's first event, she decided to attend in hopes of making those connections.
And that's exactly what she got.
The newly recognized nonprofit's laidback community get-together at the St. Peter Community Center in early May brought her new friends and even new perspectives on life.
Forty individuals of different racial, ethnic and religious backgrounds gathered around tables and shared stories with one another regarding their experiences. No agenda, no rules. Just open, honest conversations to get to know one another as neighbors.
"I made a lot of friends," Abdi said. "I met community leaders and a lot of different people. I was so excited about it."
Diversity Council board member Sandi Francis was also pleased with the event.
"It was fabulous. I was walking on cloud nine," she said. "When you get an opportunity to sit and visit with people, you find out that we have so much more in common rather than differences. We just need to sit down and break bread."
Other attendees like Stella Meixner, an Asian-American immigrant, said she felt so good during the event that she couldn't stop smiling on the way home.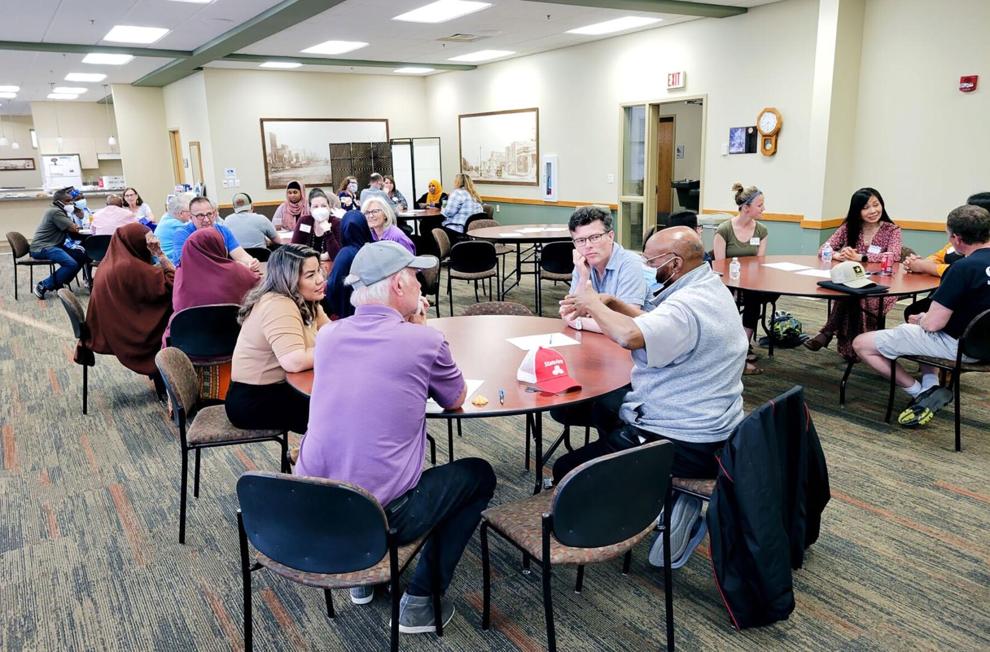 Needless to say, the event was a success. William Nelsen, one of the organization's co-presidents, was thrilled. The results of the event were exactly what he and his colleagues at the organization were going for.
"More than a couple told me afterwards that it was a beautiful evening," he said. "There were new friendships made between people of different backgrounds, colors and ethnic groups."
For Nelsen, diversity isn't just something he accepts, but rather, embraces.
The St. Peter man has even co-authored a book on the matter with his colleague and professor emeritus of religion at Gustavus Adolphus College, Darrell Jodock. Their book, "Embracing Diversity: Faith, Vocation and the Promise of America," challenges everyone — especially those in Christian communities — to stand up for all that consider America home, regardless of their racial and ethnic backgrounds.
"Embracing diversity is very much a part of our own faith," said Nelsen, who is ordained with the Evangelical Lutheran Church. "We're called to love our neighbor as ourselves. In the book, we're calling to love our neighbor without exception. In the history of the country, people have said, 'We'll love our neighbor but maybe not those folks,' and that's not enough."
After the release of his book, Nelsen continued to embrace diversity by accepting the role of co-president of the organization with Mohamed Abdulkadir, the leader of St. Peter's Muslim mosque.
The two religious leaders were elected by 20 council members to bring the St. Peter community together through their shared love of diversity.
The organization plans to one day host sponsorship events, educational programs and even break out into small groups in order to host more events for the community.
On Monday, the organization participated in the St. Peter Fourth of July parade. Community members of different racial backgrounds — dressed in their culture's ethnic attire — marched in front of a pickup hauling a creatively decorated float to represent the organization and what it stands for.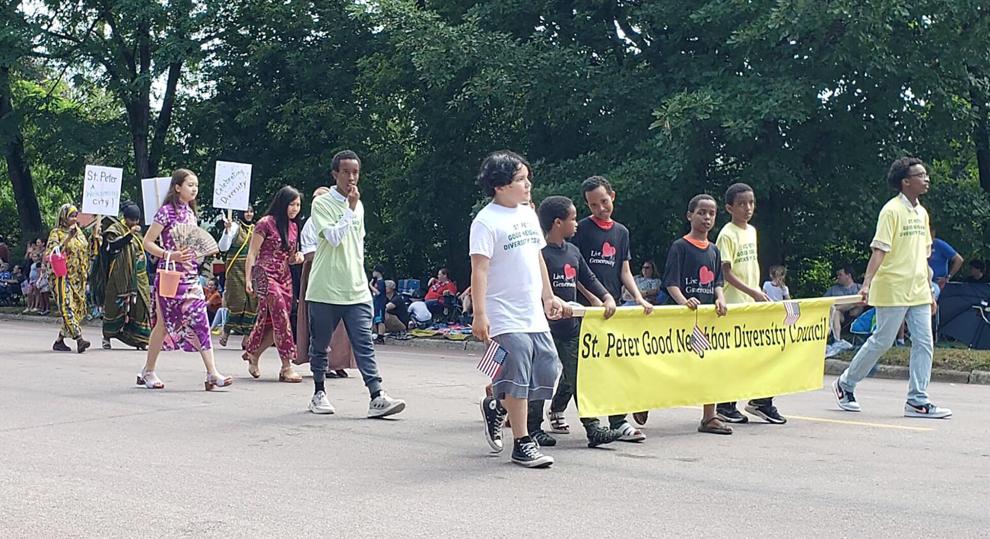 Children held the ends of a banner with the organization's name, while others held signs that read "Celebrating Diversity," "St. Peter: A Welcoming City," "America: Diverse and Beautiful," and "Good Neighbors, Good Friends."
The signs were a hit with the parade watchers, Nelsen said.
"We were encouraged by the applause we received at various times along the route in response to our organization and the signs our folks carried."
Creation of the nonprofit
Roughly three years ago, 34 prominent community members in St. Peter were selected for a Leadership in Ethnically Diverse Communities training program sponsored by the Blandin Foundation. Headquartered in Grand Rapids, the nonprofit seeks to create inclusive communities while tackling racial injustice in rural Minnesota.
St. Peter went from 9% people of color in 2010 to 13.1% in 2020. With diversity steadily increasing in town, St. Peter made it on the foundation's radar and was selected for the program that consisted of monthly group gatherings at the St. Peter Community Center.
When the pandemic hit, the program got cut short. But that didn't stop those involved in the program from starting their own and opening up involvement to the community.
After a few informal meetings with a small group of individuals, they decided to create their own nonprofit revolving around diversity in hopes of making St. Peter a "caring, supportive, and welcoming community for people of all racial and religious backgrounds," as their mission statement says.
The group went through the lengthy process of getting the nonprofit approved by the state and, once it was, they organized their first official council board meeting and scheduled their first event.
The organization now has 20 council members and about 100 people signed up for its mailing list to be kept up to date on current happenings and future events.
It's also endorsed by the St. Peter Chamber of Commerce, congregations and other organizations in town and surrounding areas.
On top of regularly organizing activities and events for the community, the council will meet three to four times annually and more if needed, all to ensure that diversity is welcomed with open arms in St. Peter.