MANKATO — After hearing about mask shortages from relatives in the medical field, Greg Wheelock figured his resourcefulness could be put to good use during the COVID-19 pandemic.
The Mankato man likes to problem solve, after all, from finding do-it-yourself ways to rehabilitate aging cemeteries to working on classic cars.
Realizing the masks he uses for the latter were needed more elsewhere, he donated them. He then collected more masks from a local auto shop, while calling on his buddies and fellow car enthusiasts to do the same.
And while sewing isn't his forte, he found a way to supply materials for those crafting masks at home.
Wheelock found out craft stores were in short supply of a thin elastic used by local sewing groups to make protective masks. In response, he bought up thicker elastic spools and started cutting them down to the preferred width at his Mankato home.
"It's basically about trying to get the word out and get people to think outside the box," he said of his project. "Even if they're in a small town not being affected, others are in a very bad situation."
His first drop-off happened Wednesday after stops at several craft stores to pick up more supplies. Abbie Anderson happily accepted the thin elastic after seeing Wheelock post about it on the Mankato Masked Moms Facebook group. She estimated the elastic could be used for between 150 and 200 masks.
Anderson runs a weighted blanket business called Balanced Blankets out of her Mankato home. Her huge supply of flannel normally used for the blankets came in handy when she started sewing masks, but the thinner elastic was getting harder to find.
When she and Wheelock met Wednesday, he suggested filters be added to the masks. Joel Anderson, her husband who works in plumbing and heating, contacted a wholesaler and got enough material to make about 1,000 filters, Abbie said.
"You help where you can and do what you can," she said of the work. "Every little bit helps."
Wheelock spent much of last year rehabbing a largely forgotten cemetery near St. Clair. His mask material project started in a similar way, with him hearing about or noticing a problem and putting his ingenuity to work.
His niece, Sarah Albers, an emergency room surgeon in Michigan, alerted him to the great need for masks and other personal protective equipment among medical workers. Her story, along with her firefighter husband and Wheelock's other health-worker relatives, spurred him to find ways to help.
"It started to hit close to home with a niece and nephew in dire need," he said. "Now it's about how can I help others and use my talent and resources for the greater good."
Spare masks in his garage made for an easy donation, and he suspected many other classic car enthusiasts would have some stashed around. He posted a request on a vintage car Facebook page, had a friend who sells car parts send out mass emails, and started making calls to local auto shops.
Some shops had already donated extra masks. Snell Motors donated him a box of 17 high-quality masks used for painting and bodywork, which he arranged to donate to Mankato Clinic.
Josh Blickem, Snell Motors' fixed operations manager, called Wheelock's project a great way to get extra masks to the people who most need them.
"I'm sure they can be used in other places," he said. "We can get by without them."
Mankato Clinic and Mayo Clinic Health System in Mankato both have processes in place to accept donated materials. Both ensure donations meet Food and Drug Administration and Centers for Disease Control and Prevention guidelines.
Even if hand-sewn masks don't meet the guidelines for clinical staff, they can help patients or workers in other fields, said Mankato Clinic Community Relations Manager Ceceli Polzin in a statement.
"At this time, we don't foresee using home-sewn masks for clinical staff based on CDC guidelines, but we know there are many patients and organizations in the community who can use these facemasks," she wrote. "We are currently working to identify groups and organizations in need of facemasks."
Wheelock expected to deliver more elastic material to sewers by the end of this week. From his basement Thursday, he demonstrated the process he came up with to cut the elastic into thinner strips — he posted videos on the Mankato Masked Moms page in case anyone wanted to do it themselves.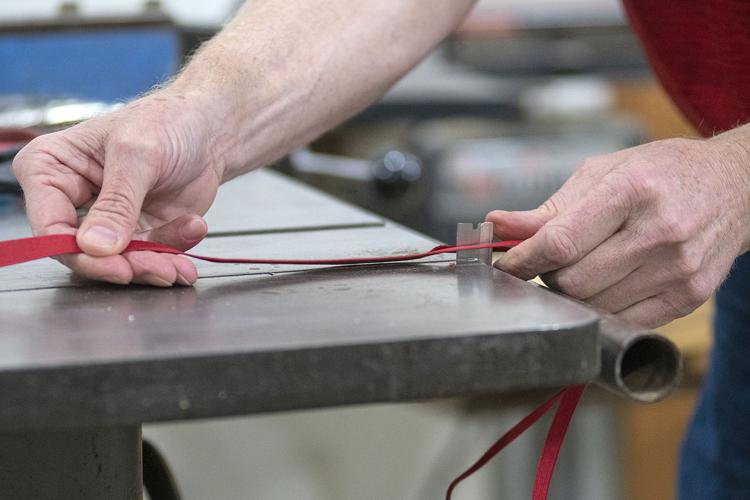 He begins by positioning a razor on the edge of a workbench. The one-inch elastic is then fed along the blade, cutting it down to half-inch width and then again down to quarter-inch width.
Wheelock calculated the latest bunch adds up to about 400 feet of material for sewers. He encouraged others to use whatever skills they have to help during the pandemic.
People may not have masks lying around, but they might have other useful materials. They might not be expert sewers, but as Wheelock realized, they can get the materials to where people are.
"They have the talent and ability to sew," he said. "I can do stuff like this."
Free Press Reporter Kristine Goodrich contributed to this report