MANKATO — Dan Lee once paddleboarded all the way down the Mississippi River, but on Monday he got to complete a personal goal close to home.
The Mankato man's arrival at Riverfront Park signaled the end of a journey he started Thursday at Big Stone Lake. The stretch was the only remaining portion of the Minnesota River he hadn't paddled, after completing the Mankato to St. Paul segment years back.
Lee said he was determined to fully cross the Minnesota River off his list ever since.
"I needed to finish what I started, so I decided I needed to go up and paddle it out," he said after pulling his board on shore.
From Big Stone Lake, Lee broke up the trip at Marsh Lake, Granite Falls and New Ulm before making it to Mankato ahead of schedule Monday. He set out from New Ulm at dawn and touched down at Riverfront Park around 11:50 a.m.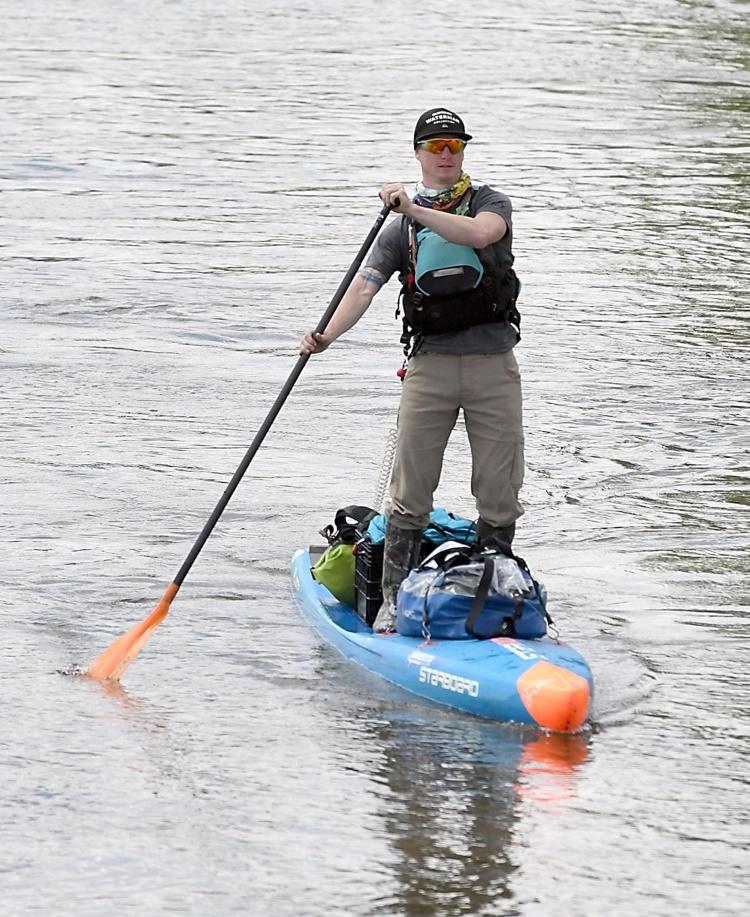 The river spans 318 miles from Ortonville to St. Paul. Mankato, where the river bends, served as Lee's start and end point for his trips.
Lee went solo for most of his latest trip, sleeping in a hammock along the way. He said wind made the first day difficult, but it was otherwise smooth paddling afterward. He even managed to balance a pizza on his board at one point. 
He had company for the final leg. His friend, Colin Brower, kayaked alongside him and said conditions were just about perfect on the homestretch.
"(Dan) said it was nice to talk to someone other than himself," Brower said with a laugh.
Lee's Mississippi River trip started in August 2017 and lasted more than 55 days. Along the way he raised more than $6,000 for Camp Lincoln and Camp Lake Hubert for boys and girls near Nisswa.
He said he next wants to paddle the Missouri River. More immediately, he planned to have a proper meal and cold beverage to celebrate conquering his latest river.