Keep your big fish wish specific when you throw a line in the Minnesota River above a deep spot near the Highway 99 bridge. The whopper you haul in well might be one of Minnesota's largest native fish, a paddlefish.
"It was not my intention to catch one; I wanted to catch walleyes," said Jared Holland, of St. Peter, who snagged an 80-pound paddlefish last week near the bridge on the east edge of town.
Holland was seated in a boat Nov. 23, trolling the river's waters, when he felt a strong pull on his line. His first thought is that he'd snagged a submerged tree log. Then the boat began to move slightly as his catch tried to swim away.
"I knew I had something huge on the line."
Paddlefish are listed as a threatened species in Minnesota so the one Holland caught was soon released back into the river. Another fisherman snapped a couple of photographs before its release. The images of the long-snouted fish held by the 5-foot, 11-inch-tall man who caught it made for lively conversation at Holland's family Thanksgiving gathering.
"I've never seen him so animated," said Holland's aunt, Darla Gebhardt, of New Ulm.
Her nephew learned how to fish from his father, Gebhardt said when she reported the paddlefish news to The Free Press.
"My dad never caught one," Holland said.
Bringing a paddlefish out of the water was an unusual experience for Holland, who fishes two or three times a week when the weather allows. He said although the species is not extremely rare, paddlefish are brought to shore only when a hook grabs them by the skin or jaw.
"You can't actually 'catch' one. They don't bite on traditional fish bait — paddlefish are filter feeders," said Department of Natural Resources Minnesota River Fisheries Specialist Tony Sindt.
The species, which has been around since prehistoric times, uses gill appendages called rakers when feeding.
"They swim around with their big mouths open and strain zooplankton out of the water," Sindt said.
"It's illegal for fishermen to keep a paddlefish when one is snagged because that style of fishing is banned in Minnesota. They might be the only fish species that there's no open season for — year-round."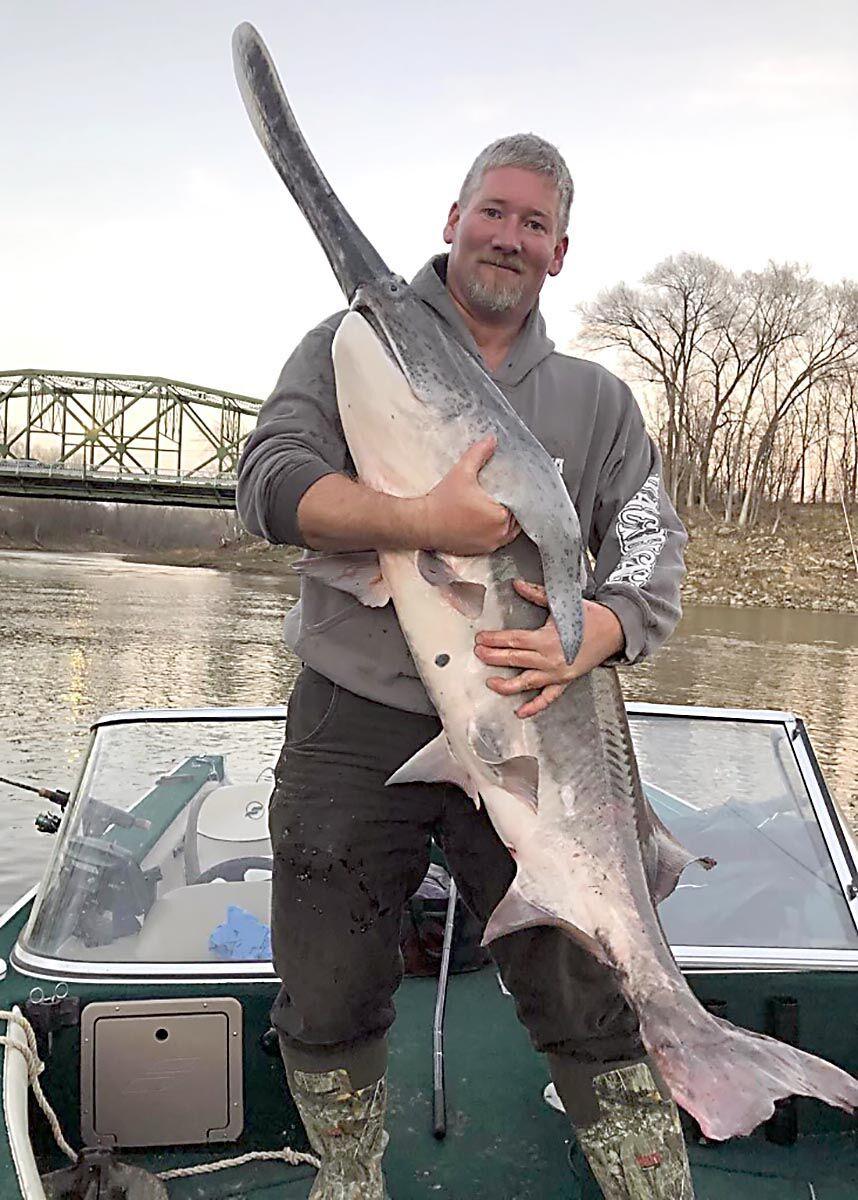 According to an article in the DNR's publication Minnesota Conservation Volunteer, an adult paddlefish in the state is typically 50 inches long and weighs about 40 pounds. They can be found in streams from Minnesota to the Gulf of Mexico as well as river drainages as far west as Montana and as far east as Pennsylvania.
Minnesota's paddlefish are primarily found in two rivers, the Mississippi and the Minnesota. The fish prefer deep areas where the current is sluggish. Adult paddlefish have no predators, so they usually live for more than 20 years.
DNR researchers have used implantable ultrasonic transmitters to track paddlefish's movements.
"We don't know where they are minute by minute; we track large-scale, long movements," Sindt said.
He said if the fish Holland snagged was carrying a transmitter, it would not have been visible. The battery-operated devices are implanted into the body cavities of fish.
Paddlefish populations are on the increase after declining throughout the last century, due to factors such as habitat loss and overharvest.
Sindt said recent research indicates the Minnesota River again has a "fairly abundant population" of the species. The waters near the Highway 99 bridge are proving to be a popular paddlefish hangout.
"We did a little bit of sampling (of the Minnesota) this year in October and November. Of the 14 paddlefish we found, half were caught in the St. Peter area," Sindt said.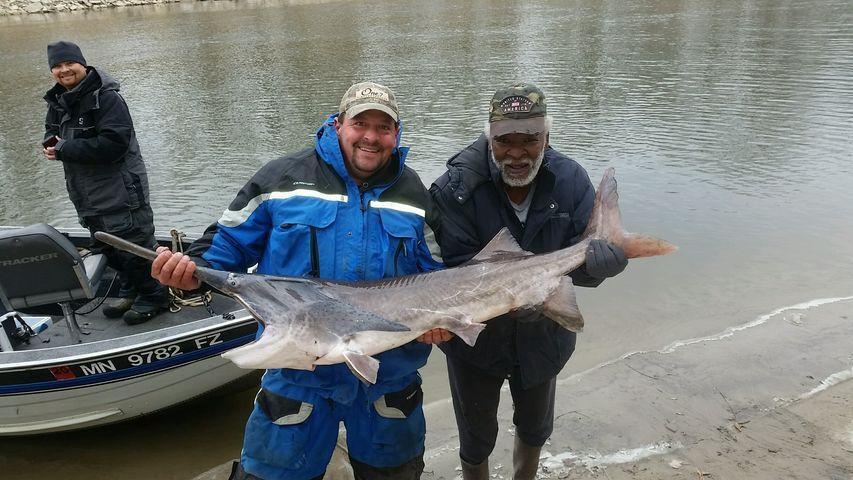 Last December, near the same St. Peter spot where Holland brought in a whopper, Johnny Boutchee pulled out a 45-inch paddlefish that was too big for a 40-pound scale.
"It took almost an hour to get it to shore," said Boutchee, a retired maintenance worker who'd been trying to get in some fishing before he had to pick up his granddaughters — not planning to snag a giant.
"It went up the river, down the river. My spool was half-empty so I was trying to retrieve some line. I just got lucky. If those guys hadn't been there, I probably would have lost it."