WASECA — Mark Worke was just 20 years old when he bought the Pheasant Cafe.
His parents, who had brought him up in the restaurant business, advised him not to do it.
It's too much work, they warned.
And they would know. They owned but had recently sold a restaurant in Minnesota Lake.
But Mark, who had worked for his parents and later in other restaurants, had decided it was the business for him and he was willing to put in the long hours.
"I've been lucky," he said. "When you love what you're doing, it's not work."
After 45 years, Mark, 66, finally has had enough of working 10 hour days, six days a week. So too has his brother Dean, 65, who became a co-owner decades back.
They've put the Pheasant Cafe building on the market and intend to retire once they find a buyer.
They hope to find someone who wants to keep their cafe going. But if the only offer comes from someone planning to convert their State Street building into a different use, the Pheasant Cafe's nearly 80-year run in Waseca could come to an end.
The cafe opened in 1942 and had a few different owners before Mark took the helm, he said. Mark planned to stay for only a few years and move on to something grander. But business was good and he grew fond of Waseca.
Dean too came to work at the cafe intent on it being a temporary stop, but decided to stay.
The customers — and the positive feedback that they provide — are what has kept them going, Mark said.
Waseca resident Gary Bohm said the Pheasant Cafe has been a favorite gathering place for many of the locals.
"It's the hub of Main Street," Bohm said.
The Worke brothers and their staff welcome customers to stay awhile, even if they only have a cup of coffee, Bohm said, although he recommends the food as well.
"It's the best hash browns in town," Bohm said.
Mark said the hash browns are a customer favorite and he has no idea why.
"There's something about our big, seasoned grill, I guess," he said.
The cafe's most famous customer was Gov. Rudy Perpich. The governor would on occasion sneak out of the capitol and drive all the way to Waseca for a meal and some respite, Mark said.
Perpich was congenial even when fleeing the bustle, Mark said, recalling once informing a customer that the man the customer had been chatting with in the next booth was the governor.
Two commercials have been filmed in the cafe by producers who were looking for a small-town diner setting.
Booths and tables have been quietly replaced over the years as needed, but when customers who have moved away come back for a visit, Mark said they almost always comment about how "nothing has changed."
The walls are adorned with an eclectic mix of pheasant artwork and gifts from customers.
Open for breakfast and lunch, the menu offers typical diner fare. The most expensive option is a chicken strip dinner for $9.75. A French toast breakfast goes for just $5.50.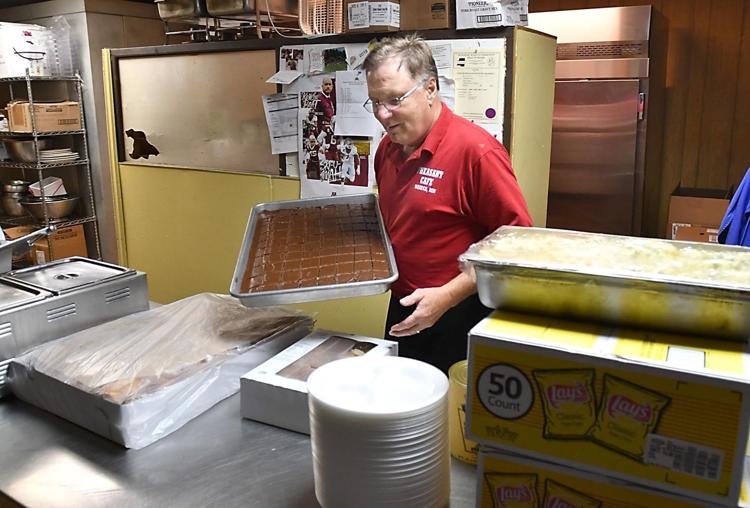 Dean does most of the cooking. Mark oversees the bookkeeping, hiring and catering.
Mark said the only part of the job he has not enjoyed has been having to search for employees. It's a task he must undertake all too often these days, he said, in a society when workers don't tend to stay in one place long.
Deb Nygaard has worked at the cafe as a waitress and occasional cook for three years. In addition to the locals, Nygaard said she enjoys meeting people from all around the country who stop in while camping at the two area campgrounds.
Nygaard hopes a new owner will keep the restaurant going because she would like to stay.
Mark had just one simple piece of advice for someone thinking about taking over the Pheasant Cafe or any other restaurant: "If you don't love it, don't do it."