MANKATO — It might sound like a place in Amish country to buy salt-and-vinegar preserves, but the planned Picklebarn in Mankato is focused on another close-knit community.
Construction on the Picklebarn on Mankato's hilltop is expected to begin this summer, creating an indoor facility dedicated to the fast-growing sport of pickleball.
The two-story structure will include eight courts with a mezzanine level for players to snack and socialize between games while overlooking play on the courts below.
Pre-sales of memberships will begin soon for avid pickleballers, leagues are planned for various age groups and skill levels, and beginner classes will be offered for newcomers to the sport, according Sidney and Mitch Elofson, of Byron.
"Once you try it, it's really hard not to do it again," Mitch said of pickleball, which combines elements of tennis, pingpong and badminton.
The couple, 27 years old, picked Mankato for the business for a couple of reasons. The Mankato Area Pickleball Association has more than 200 members, even though the area has no indoor courts dedicated to the sport. They play outdoors, primarily at Tourtellotte Park, or on basketball courts and in other gymnasium space.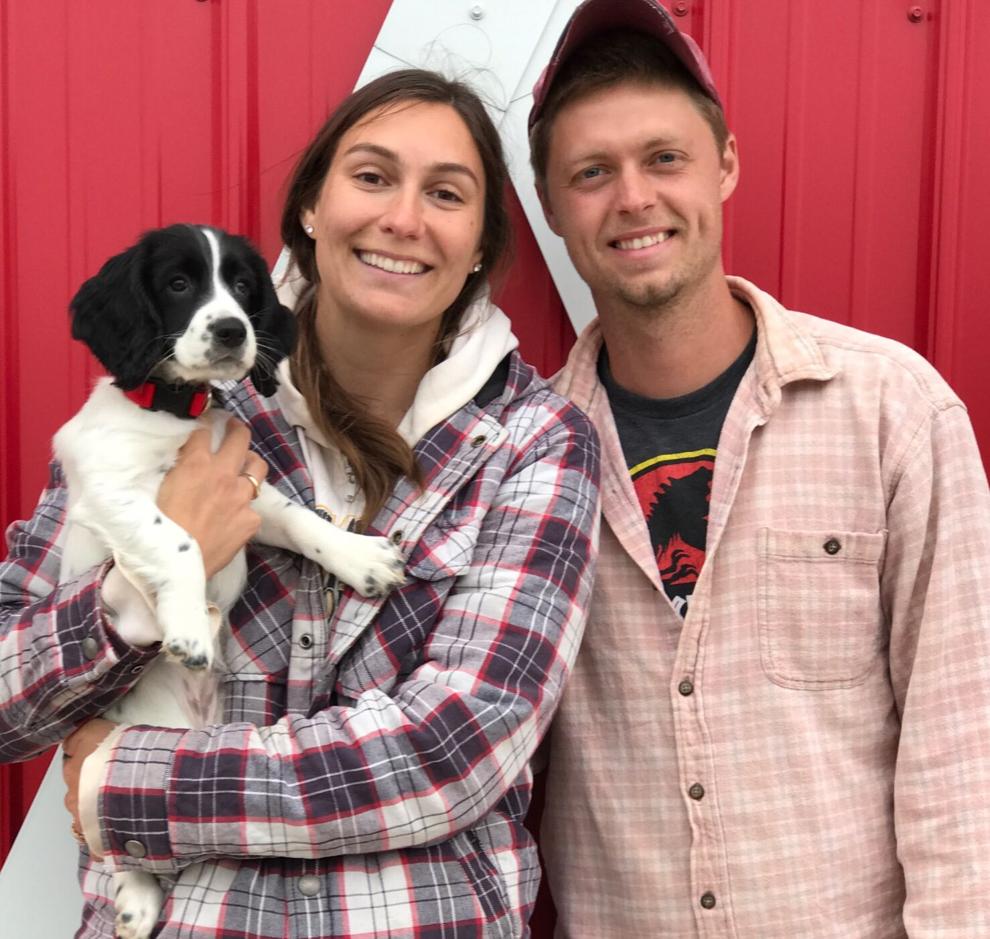 Secondly, the Elofsons have lifelong roots in the area — growing up in St. Peter, playing tennis in high school and college, earning bachelor's degrees at Gustavus Adolphus College and master's degrees from Minnesota State University, getting married on Sidney's sister's organic farm between Mankato and St. Peter ... .
"We love the area of Mankato, St. Peter and southern Minnesota in general," said Mitch, the tennis pro for the Rochester Athletic Club. "We knew even when we were heading out to Rochester we would come back to Mankato or St. Peter."
Sidney, an athletic trainer at the Rochester Athletic Club, said their gratitude for the support they received growing up is motivation for creating a family-friendly facility for people of all ages.
"Sports have just always been a huge part of our lives," she said. "We really believe in the life lessons sports can provide you."
The Picklebarn, though, is also intended to be a for-profit business — not a hobby.
"It'll be our full focus pretty much for the rest of our lives," she said.
While the couple is teasing the Picklebarn on social media (www.facebook.com/picklebarnmn/), the location of the new building is a secret being saved for a formal announcement, possibly in July.
The Elofsons say it will be new construction — not a remodel of an existing building — on a hilltop Mankato site that has room for future expansion.
The Facebook page describes a building that will include locker rooms and a players' lounge and "plenty of space for social gatherings and games."
The focus, of course, is the eight "tournament-grade" pickleball courts. The couple is expecting players to come from near and far.
"Our facility will bring people in from all over the area and the Midwest and even possibly the country," Sidney said.
They expect multi-day tournaments to be a tourism boost to Mankato, particularly hotels and restaurants. And the initial plan is to work with local restaurants to provide food options in the Picklebarn mezzanine.
"We're excited about what we think this can potentially do for the community, local businesses," Mitch said.
The business plan, though, goes well beyond avid players. The Picklebarn will offer classes to novices, providing paddles to the beginners so they don't have to make an investment in equipment until they decide if they like the sport. And there will be outreach to young people, possibly through school physical education classes, and leagues for school-age players.
The Elofsons are confident pickleball can avoid the plunge in popularity that struck other previously hot sports, including tennis — which once had a dedicated building in Mankato with multiple courts but went out of business and was converted to a gymnastics center.
Although pickleball came to Mankato largely through the enthusiasm of snowbirds who were introduced to the sport at their wintertime homes, pickleball tends to be popular with all age groups once people try it, according to the Elofsons. It's a sport that can offer more fun and less frustration, even during the early learning stage, than other sports. And a unique feature of pickleball s that it can be played by people of widely varying ages and athletic ability.
"The thing about pickleball, it's a multi-generational sport," Sidney said. "You can have grandkids playing with grandparents. ... Pickleball, you can just sort of pick up the paddle and have fun with some buddies or family."
Their confidence in the viability of the business also comes from a lot of research and from a commitment to making it work.
"We are going to live and breathe the Picklebarn," Sidney said. "We're young entrepreneurs, and this will definitely be our baby."