Mankato's historic downtown post office building apparently has been sold.
The U.S. Postal Service put the building up for sale nearly four years ago with a price tag of $1.6 million. A couple of months ago the building was no longer being listed for sale online.
The buyer has not yet been made public but a redevelopment plan for the site is expected to be forwarded in coming months.
The two-story 61,555-square-foot building sits on 1.5 acres, taking up much of a city block on Second Street. There is a large parking lot in the rear of the building and some parking to the side.
The 1896 Kasota stone building is on the National Register of Historic Places. That designation does not put any restrictions on what is done to it after it is bought. The only exception would be if the future owner received any federal funds, such as grants for the project.
Possible reuses that have been floated for the building have included a boutique hotel with other mixed-use space.
Sota Sisters Boutique
Amber Bannerman had an entrepreneurial urge to own a clothing shop even as a youngster.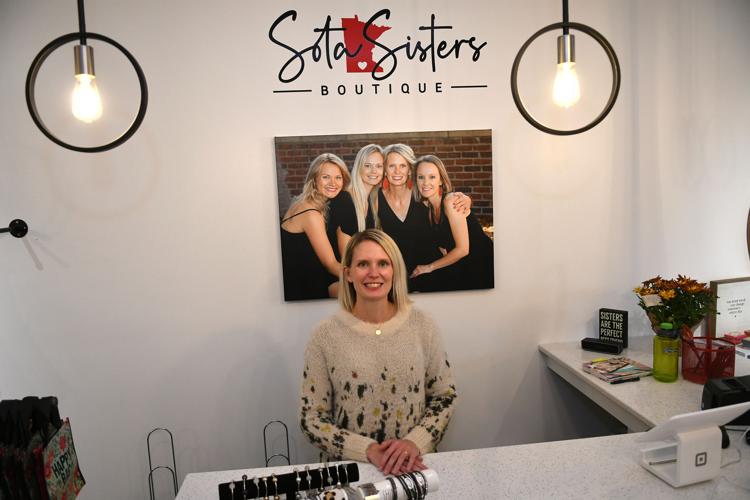 Her great aunt owned BeVan's clothing store in St. James and Bannerman went there with her grandma who worked in the store.
"I was 5 or 6 and I'd pretend I owned the store. I guess I had that passion early on."
Last month Bannerman opened Sota Sisters Boutique at 1754 Commerce Drive in North Mankato.
"I've always wanted to open a business. I always had that passion."
She had been serving as the part-time executive director of One Bright Star and when her youngest child started kindergarten this year, she decided it was time to take the plunge into business ownership.
She, her husband and kids live in upper North Mankato and she wanted to have her business there. She said the space she found is just what she was looking for and the soon-to-be-completed Commerce Drive reconstruction project will add a lot to the commercial strip.
"I felt North Mankato could use something like this, especially in upper North."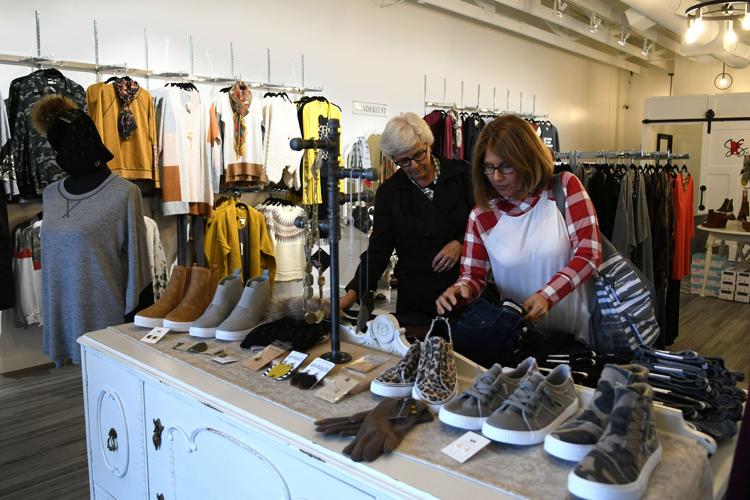 She sells women's clothing, accessories, scarves, purses, jewelry and gift items. Bannerman said her store caters to teens on up. "A grandmother and granddaughter can shop here together."
The Sota Sisters name was inspired by her three younger sisters.
"We're from Minnesota so that's the Sota part. They're part of my inspiration for opening a store. And they'll be involved, some working here part time and we will go on market trips together. There's a 15-year gap between me and my youngest sister, so we have different styles and can pick different things for different age ranges at markets."
And the grandmother Bannerman used to go to the store in St. James with is also helping out at Sota Sisters. "There's a lot of family connection."
Bridge Plaza
After a decadelong process of developing the vacant lot between the Veterans Memorial Bridge and Old Town, the land has been staged for the start of construction on the $16 million Bridge Plaza building.
A groundbreaking ceremony will be held at the site 10 a.m. Wednesday and is open to the public.
Mike Brennan and his wife, Catherine, bought the former Ember's site in 2009 and this summer finalized plans for construction of the five-story building that will be home to accountants, architects, developers and a communications firm.
The building will have 26,000 square feet of Class A commercial space and six luxury apartments on the top floor. There are plans for a first-floor restaurant, a fitness center and a corporate training/conference room with an outdoor terrace.
In the past week the property has been surrounded by chain-link fence and heavy equipment and other construction gear has been moved in to begin work. The building is expected to open late next year.
Old Town building
A three-story mixed-use building is planned in Old Town with two commercial spaces on the ground floor and 17 residential units on the upper two floors.
The project, named Studio Five, would be built at 507 and 515 N. Riverfront Drive, which were the previous locations of Stephen dry cleaner and a grocery store and is next door to the Wooden Spoon bakery and cafe.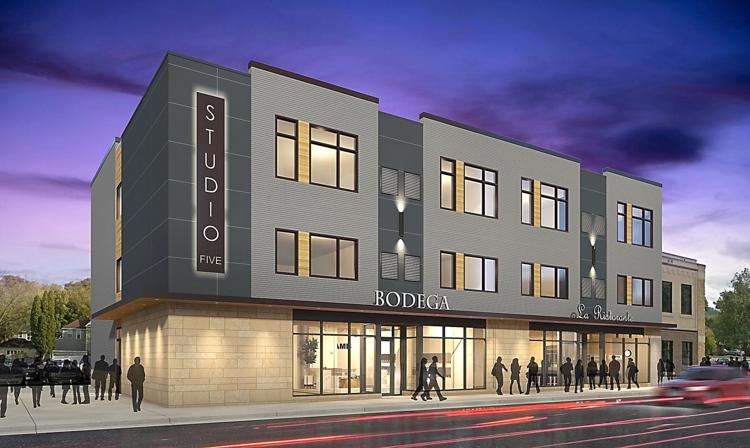 An architect's drawing of the building has signs that lists Bodega and La Ristorante as the two commercial buildings. The city said based on the building's use the developers would have to provide 74 off-street parking stalls.
Old Town Development Group is leading the project.