MANKATO — The South Central Minnesota Pride parade and celebration this year became a march and a rally supporting members of all marginalized communities.
"We are proud and stronger together," Jasmine D'Avilar told hundreds of members of the Mankato area LGBTQ community and supporters gathered outside the Mankato Intergovernmental Center Saturday afternoon.
The pandemic, civil unrest across the country and an uptick in murders of transgender people across the country led South Central Minnesota Pride leaders to re-imagine their 19th annual celebration.
Instead of a parade with colorful floats, people marched down Riverfront Drive with signs. Instead of a festival with performances, organization booths and more, their was a rally with Black and transgender speakers.
"Today is about lifting up Black, brown and trans voices in the LGBTQ community," said South Central Minnesota Pride Executive Director Jeni Kolstad.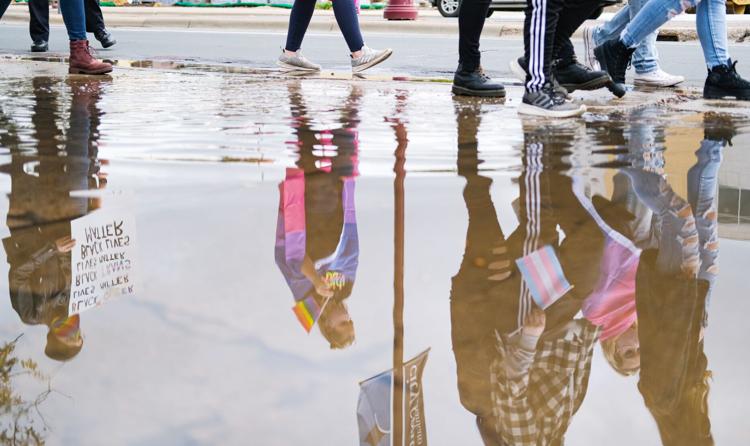 D'Avilar, who identifies as a Black queer woman and is the organizer of recent racial justice protests in Mankato, called this period in history a "pivotal moment."
"This is our time," she said. "Freedom is never given. It is taken. And we need to take it."
Minnesota State University Director of African American Affairs Kenneth Reid said he is both a proud gay man and a saddened Black man.
"While I stand proud in front of you today, I also am hurt, saddened and angry because we still have to scream 'Black Lives Matter,'" he said.
MSU student Margarita Ruiz, who identifies as a bisexual Latina woman, asked people to take time to talk and listen to people who face a struggle different than their own.
"When our communities uplift one another, we're all stronger together," she said.
MSU graduate student Shadow Rolan, who identifies as a bisexual woman, also encouraged people to surround themselves with and get to know people who are different from themselves.
"Have a conversation. Educate yourself," she said. "It's OK to sit in discomfort. It's OK to ask embarrassing questions."
Nurse Jazmen Henderson, who identifies as a Black queer woman, noted that over half of LGBTQ people have had a mental illness.
"We need to get rid of the stigma about mental health," she said. "We need to take care of each other. It's OK to not be OK. It's OK to ask for help."
As a nonbinary and trans person, Drake Burke said they is more likely to be assaulted or murdered and less likely to be hired or receive proper medical care.
People can support nonbinary people in a multitude of small ways, Burke said, such as voting, signing petitions and objecting to bigoted comments.
"I need to see your support," Burke said. "Because to be silent is to unintentionally support the status quo."
Kolstad closed the rally with another appeal to LGBTQ allies.
"We need you to stand up even if it's scary," she said. "We need you to be vocal. We need you to take action even if it's uncomfortable. We need you to amplify LGBTQ voices. And if you see injustices happen, you need to do something."