With a fist clenched tightly around the grip of a bullhorn, Jim Dimock paces like a lion across the sidewalks of Veterans Memorial Bridge Friday.
He shouts, "Show 'em what democracy looks like!"
The crowd, spanning the full length of the bridge, shouts back, "This is what democracy looks like!"
Moments later …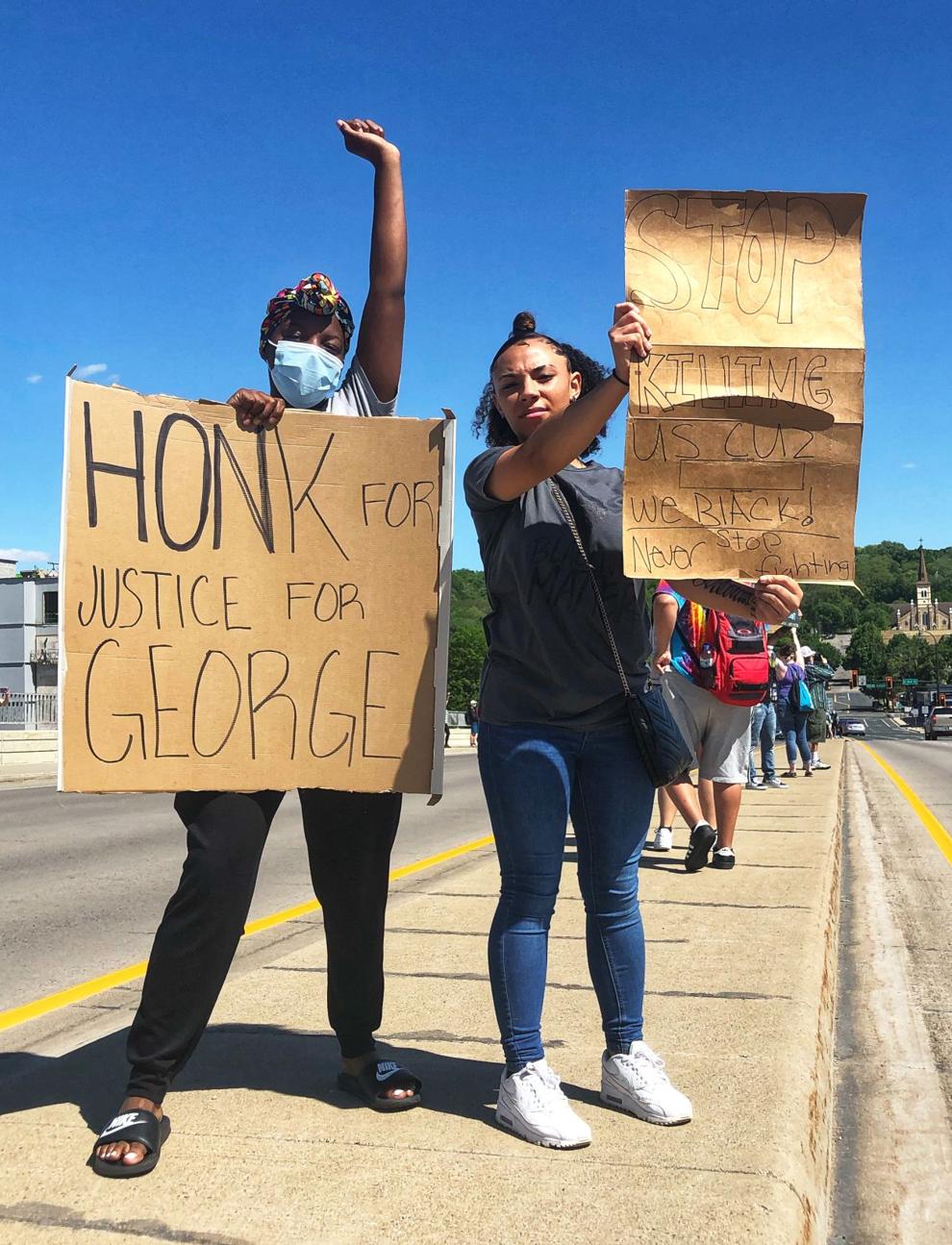 "Every one of you folks remember, democracy's not just about showing up once a year on a Tuesday in November casting your ballot for somebody that somebody else picked," he said. "Show 'em what democracy looks like!!!"
Several hundred protesters on Friday afternoon lined both sides of Veterans Memorial Bridge. Later, they moved over to Washington Park, and then on to the Law Enforcement Center and Madison Avenue. Many carried signs. Many wore hastily made T-shirts. And all were angry about a black man they say was murdered by a police officer in Minneapolis.
Portions of Riverfront Drive from Sibley Parkway to Stoltzman Road were closed to traffic, but later reopened, as protesters marched to other sites. Front Street was also closed from Warren Street to Marshall Street; and Liberty Street from Broad Street to Riverfront Drive.
As violent and damaging protests continued in Minneapolis over the death of George Floyd at the hands of Minneapolis police officer, smaller protests have erupted around the state and around the country.
Those gathered are angry about the senseless death of yet another black man. And coming together en masse is among the ways they can show support.
Dimock is no stranger to such actions. A member of the activist group Indivisible, he's been among the protesters outside the Mankato office of U.S. Rep. Jim Hagedorn, a Republican. Dimock's days of protesting, he said, go back to the 1980s.
Protesting works, he said.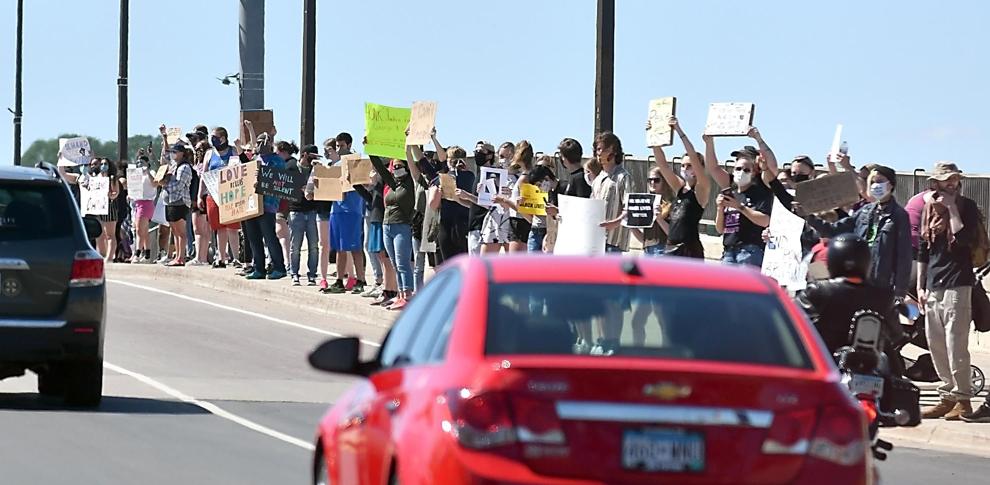 "Nixon, back in the late '60s or '70s, said he doesn't listen to protesters," he said. "But when the tapes came out, it showed he was scared of the protesters! Those protesters kept that war from escalating in Vietnam, kept us from invading North Vietnam, kept us from flooding their area. Those demonstrators had a real impact.
"And as powerful as Martin Luther King's voice at the Lincoln Memorial was, the fact that he had a million people willing to lay down on the runways and roadways of Washington, D.C., and shut that city down if they didn't get heard — that's what got him the audience with LBJ. That's what got him into the White House."
Kalen Austin, a 15-year-old student at Minnesota New Country School, held a sign that read simply, "ACAB," short for "all cops are bad."
"I'm mostly here because it's absolutely ridiculous, the whole state of the justice system," he said. "It's really stupid that this had to happen at all. I find it very egregious that police officers would act this way."
The irony of his statement — and his sign — is that Austin wants to be a police officer someday.
"This basically makes me hate the profession I want to go into," he said. "I want to try to make it better from the inside."
As for standing on a bridge and repeating chants, he's pretty sure it won't change much. But at least it's something, he said.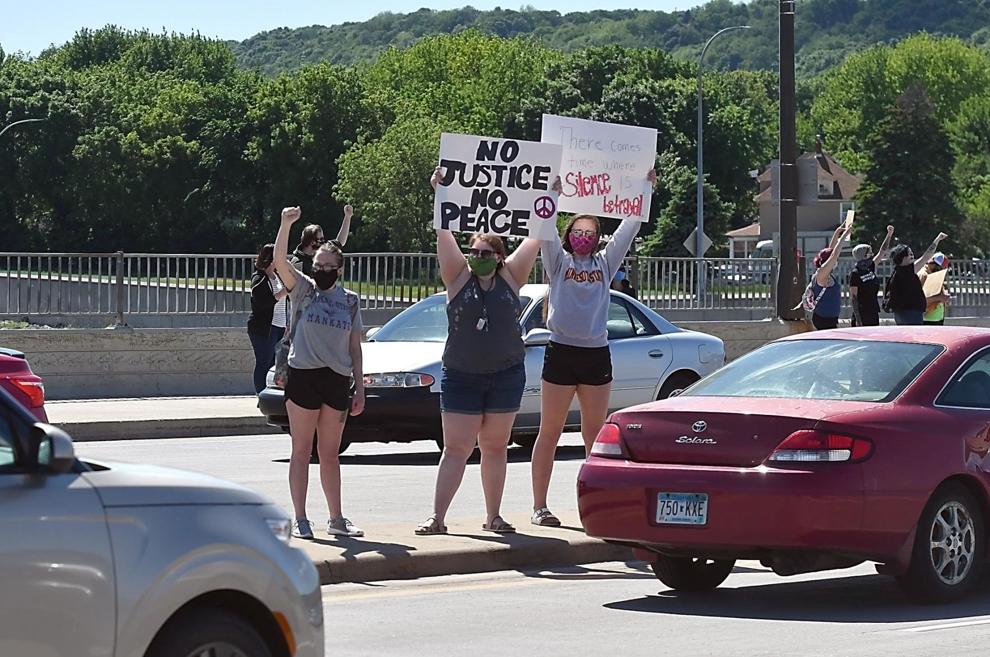 "It's what I think I can do to help. And you're here and you're hopefully going to publish some of this and that would at least spread some awareness of some of the problems in America and Minnesota. I'm just trying to do what I think I can to help, basically."
Dylan Drager, of St. Peter, grew up in Mankato. He came to the bridge Friday in a "Hate Trump" shirt and holding a sign that read, "Stop police tyranny."
He said Floyd's killing and the unrest have taken a toll on his psyche.
"I'm pretty much overwhelmed with the emotion of what's going on," he said. "I have a minority family. I have a fear that they're going to have to deal with this when they get older, and if we can at least fix it now, it'll be a little bit better for them."
Unlike Austin, Drager said protesting on a bridge can, in fact, can do some good. All the protests taking place across the country mean something, he said, and he's hopeful people being oppressed will be uplifted, at least a little bit, by what they're seeing.
Having said that, he concedes we have a long way to go.
"I woke up today and saw the news, and I saw the CNN thing happening … and I just couldn't believe that," he said, referring to the arrest of a team of black CNN journalists covering the unrest in Minneapolis. "That they would arrest reporters. Reporters can sit down with drug kingpins, they can sit down with warlords and have no issues. But they're getting arrested here? It blew my mind. And I think my mind is sick of being blown right now."
Maggie Dimock, daughter of Jim Dimock, had a sign that read, "Justice for George." When asked about the violence taking place in Minneapolis she, like her father, invoked the memory of Martin Luther King Jr.
"MLK said violence is often the language of the oppressed and the unheard. And I will always support their right to speak," she said.
She said that, while she doesn't condone property damage, she understands why the unrest and rioting are happening. She just wishes people wouldn't lump peaceful protesters with criminals.
"To conflate protesters with criminals," she said, "is I think going to be a slippery slope to try to reduce our First Amendment rights, and I'm very concerned about what's happening up there."
As for what happens in the future, Maggie Dimock said change can only come when people engage with the process.
"I want to see everyone here actually voting, and making a concerted effort to see who our police chiefs are," she said. "And I want them to call Hennepin County police. I want them to call Tim Walz. I want them to call (Minnesota Attorney General) Keith Ellison to demand investigations into all cases of police brutality so that they actually just stop. I want the violent police to just stop."
Bre Altenburg held a unique sign. It contained the names of more than a dozen black men killed by police in recent years.
When asked why she came, she pointed to her friend, Brian Phiri, who was born in Kenya but now lives in Mankato. He's going to be the best man in her upcoming wedding and is her best friend.
She worries about him, she said, because the situation in Minneapolis could happen to any black man.
"I'm sick of it. You can't even go to the grocery story anymore. I mean the guy was literally writing a check that someone thought was fake, and then he got killed because of it. I don't understand," she said. "I worry for his sake, I worry for all my friends' sake."
Added Phiri, "To be honest, racism is still here. When a black person is stopped by a cop, you fear for your life. This shouldn't have happened. He was screaming the whole time, 'I can't breathe.' For a man like that to scream, 'I need my mom' … He (the cop) should have been charged the same day."
"Right, not after millions of dollars of property damage," interjected Alterburg. "Police should be held to a higher standard than the regular people."
The protests are good, she said, but she's not thrilled with the vandalism. But as she explained how peacefully protesting is the right way to do it, a man wearing a mask, dark sunglasses and a baseball hat turned to her and said, "Everybody's got their own job, and everybody's doing the right thing. This was necessary, burning the cop shop down was necessary. … Everything has to be destroyed so you can make it new again. Everything's wrong. Everything is (expletive) wrong. So everything has to go so we can build it again. We can't live like this."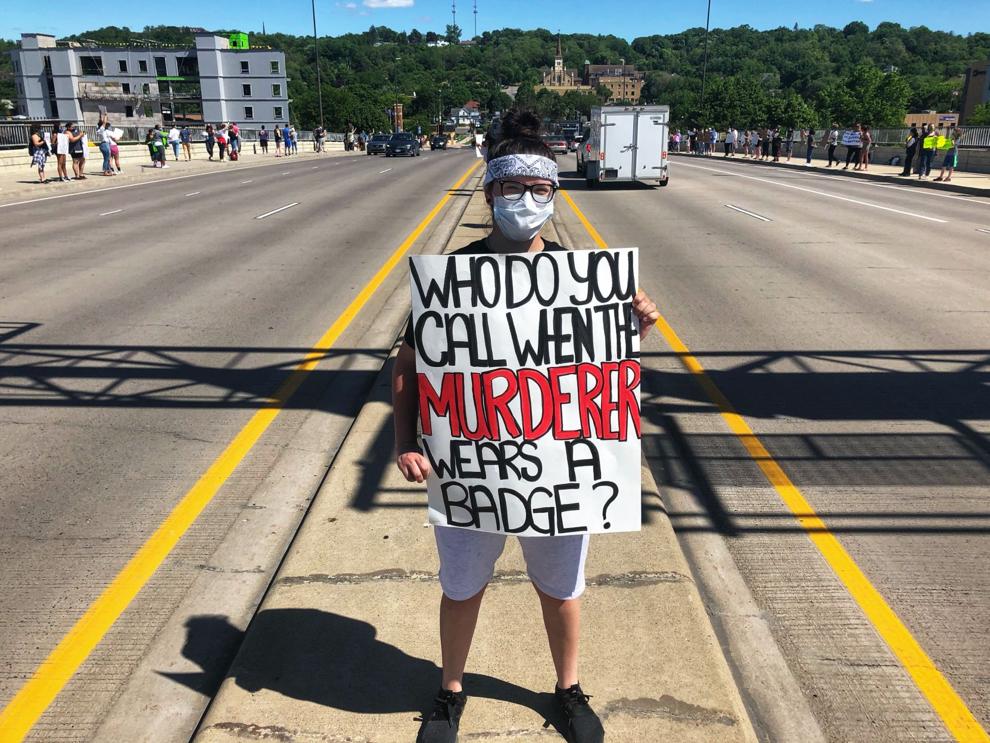 Phiri said speaking out when injustices happen is a necessity.
"If we don't speak, nothing will happen," he said. "If a child does something wrong and you don't speak, he'll just continue doing it, right? Speak it out. The only thing we can do is you have to speak it out and hope for change. But we won't sit down and just watch it happen."