Will Purvis has spent more than 45 years in public service, but he's looking forward to doing something different at the end of this year.
The Blue Earth County commissioner said this week he will not run for re-election in November, making him the first board member to publicly announce campaign plans.
"I'm a firm believer in term limits, and so I'm going to practice what I preach," he said.
Purvis, 66, will retire after 14 years on the Blue Earth County Board, and after 31 years in law enforcement in Blue Earth County and parts of Iowa. Purvis' district encompasses much of the rural parts of Blue Earth County, including the outskirts of Mankato, Lake Crystal, Vernon Center, Amboy and Good Thunder.
He grew up in Vernon Center and has remained in the area for a majority of his life. He and his wife, Paula, live in his childhood home, which was rebuilt after a fire in 1964 and an extensive remodel in recent years.
He was a deputy sheriff in Osceola County in Iowa for a few years before he returned to Blue Earth County, where he completed a bachelor's degree in law enforcement at Minnesota State University. From there, he joined the Blue Earth County Sheriff's Department, where he worked for 23 years before he retired in 2006 and ran for his current seat.
Purvis said he's always had a strong interest in helping out in the community, from his time helping out local Boy Scouts chapters to taking in foster children and working on the Blue Earth County Fair Board. But he never had an interest in elected office until he decided he was ready to leave the county.
Only he didn't.
"I always knew what a well-run place this was, and I decided I wanted to be a part of it," he laughed.
The Vernon Center native won a special election in July 2006 after his predecessor was involved in a fatal hit-and-run accident. Purvis won another election that fall, and has remained in office ever since.
Purvis' experience in county public safety was a boon during his transition. He said he had already established a good reputation with many of his coworkers, and as a former union steward for the sheriff's department, had a good — if at times strained — relationship with county administration.
Despite his experience, nothing quite prepares an elected official like the job at hand.
"There are always surprises in government," he said.
One of his first surprises was the Dodd Ford Bridge near Amboy. Then-Public Works Director Al Forsberg had told Purvis the historic bridge was slated to be replaced as it had long outlived its usefulness. Yet Forsberg expected the project to be controversial as the bridge was more than 100 years old.
"I thought, 'Well, let's see about that,' so I went down there and asked around," Purvis said.
After a door-to-door canvassing, Purvis found about half the town favored replacing the bridge while the other half wanted to preserve it. A few years (and many discussions) later, the bridge was replaced with a heavy-duty one-lane structure, while the original bridge was placed on top of it.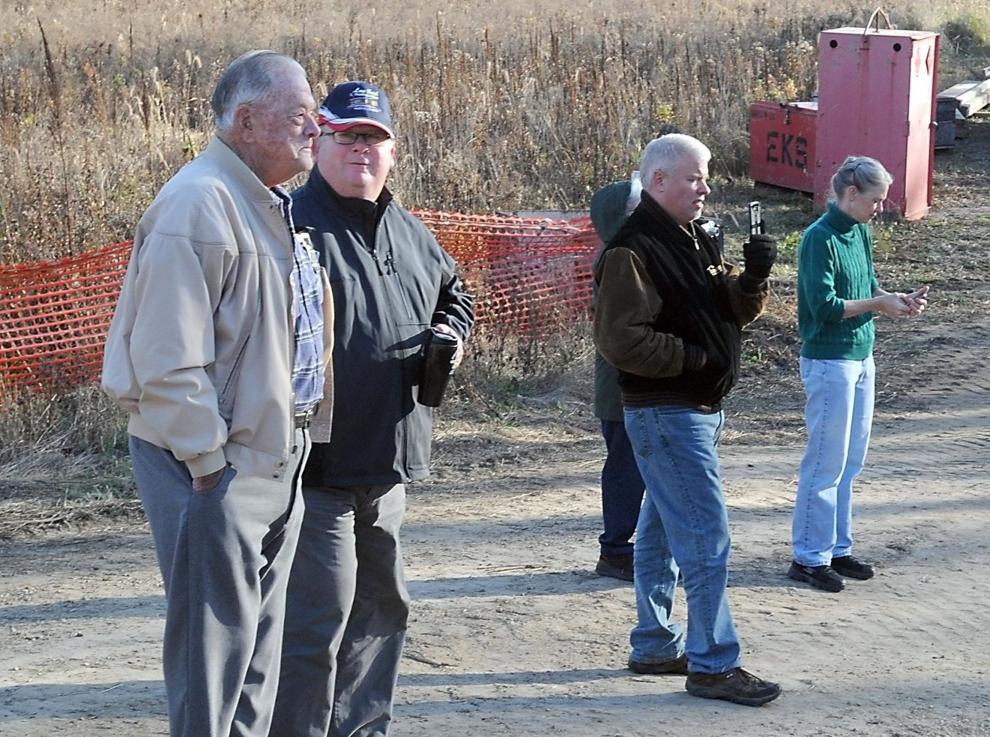 "I never imagined it was that complicated to replace a bridge," Purvis said. "Once I got into it, it certainly made sense that there was people passionate on both sides, but it was one of those things I guess I hadn't really thought about."
Purvis remembers and is proud of many smaller projects throughout the county, such as getting a nice canoe landing built along the Blue Earth River near County Road 90. And his colleagues remember him as a fair-minded board member.
"You can't find a more professional person than Will Purvis," Commissioner Vance Stuehrenberg said.
Stuehrenberg has known Purvis for more than 40 years — Stuehrenberg was a police officer, while Purvis worked as a deputy — and said he's still learning from Purvis as a commissioner.
"He really thinks things over before he makes decisions," Stuehrenberg said. "He doesn't come to decisions lightly; he makes sure he always got the information first and then made a decision."
Commissioner Kip Bruender said he admired Purvis' deep knowledge of county affairs, especially concerning rural issues such as drainage ditches.
"Just to have his expertise and his knowledge of all that was incredibly helpful," Bruender said. "He's just been a good leader."
And Purvis has contributed to the board's positive working relationship, as conservatives like Purvis and Mark Piepho have worked well with liberals like Stuehrenberg and Colleen Landkamer without inserting politics into county affairs.
"We all come from different perspectives, and that's part of what makes our board so great," Landkamer said. "It's great to have those different perspectives and life experiences, and he will be sorely missed."
That doesn't mean Purvis hasn't rankled his coworkers a time or two. He often reminds his colleagues he's the only Blue Earth County commissioner to have a gravel driveway and a septic tank, and Purvis still crows about being the only commissioner in the county not to have a roundabout in his district — though Landkamer's district is also free of roundabouts.
Purvis advises anyone who replaces him on the board to brush up on their customer service. He makes a habit of having face-to-face meetings with people whenever possible, which is why he's had memorable encounters with his constituents.
One time a woman called him early in the morning complaining her yard smelled like pig manure. She wasn't a farmer, but the board had recently approved a hog barn permit near her home.
"I drove out there and I was just going to let her have a pound of me," Purvis said. "She opened the door and I said, 'You're absolutely right, it smells like hog manure, I don't blame you for being upset.' And we had a nice conversation. There really wasn't a lot I could do about it, but nonetheless."
Purvis doesn't plan to retire quietly once he's done with his term at the end of the year. He expects to continue volunteering throughout the community and at St. Peter Lutheran Church in Vernon Center. And he now has five grandchildren who live within four miles.
Still, it's anyone's guess whether he gets another job before long.
"I may even go into the private sector," he said with a laugh. "I always wanted to be a salesman."