MANKATO — Mary Kosberg referred to an adage as she showed off the garden space she established three years ago to help feed bees and butterflies: "The first year, plants sleep; the second year, they creep; and the third year, they leap!"
Her pollinator garden is now well-established and in peak bloom this summer. And there's lots of buzzing and fluttering going on amid the Russian sage, coneflowers and butterfly bushes growing in her front yard and in an area along their property line.
The now lush spot is on land city crews had to dig up in 2019 to complete a project near Woodhaven Lane.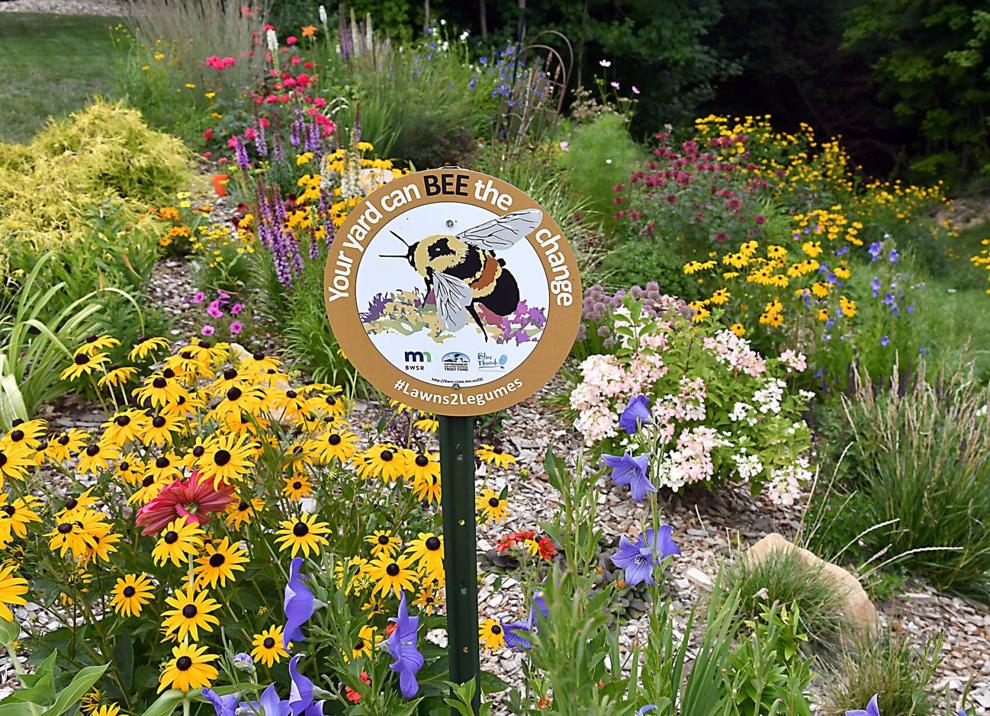 "It's beautiful, it's great," said two Woodhaven Lane neighbors who stopped to admire the flowers Monday afternoon.
"We've received no negative comments," Mary said, describing the reception for her blossoming garden.
Friends and neighbors provided for free most of the pollinator-friendly plants used in the green space. Mary also tapped $350 in assistance designed to help an endangered bumblebee species through the Minnesota Board of Water and Soil Resources' Lawns to Legumes program.
When she and her husband, the Rev. Steve Kosberg, purchased their three-story townhome, they were unaware that below the property's small hillside was a ravine that had begun to show signs of erosion.
It was evening when they first looked at the house they bought in 2014 because of its "good bones." A short time later, they left on an extended trip to Korean where Steve was assigned to help jumpstart a tiny Lutheran congregation in Seoul.
When they returned to Mankato, they began to enjoy peaceful moments of sitting on their home's upper-level deck and watching for woodchucks and deer to pass through in search of water. The couple's serenity was interrupted when heavy rains would overwhelm the small, rusty drainage pipe that had been installed many years ago throughout the ravine.
"The water would rise way up to here," Mary said, as she indicated a point on the embankment.
Erosion in the ravine is no longer a pending danger to the Woodhaven neighborhood, thanks to Mankato's water mitigation project that included the installation of an underground drainage system to efficiently carry away rain runoff.
"We installed new pipe and an energy dissipation structure — a drop manhole," said Assistant City Engineer Michael McCarty.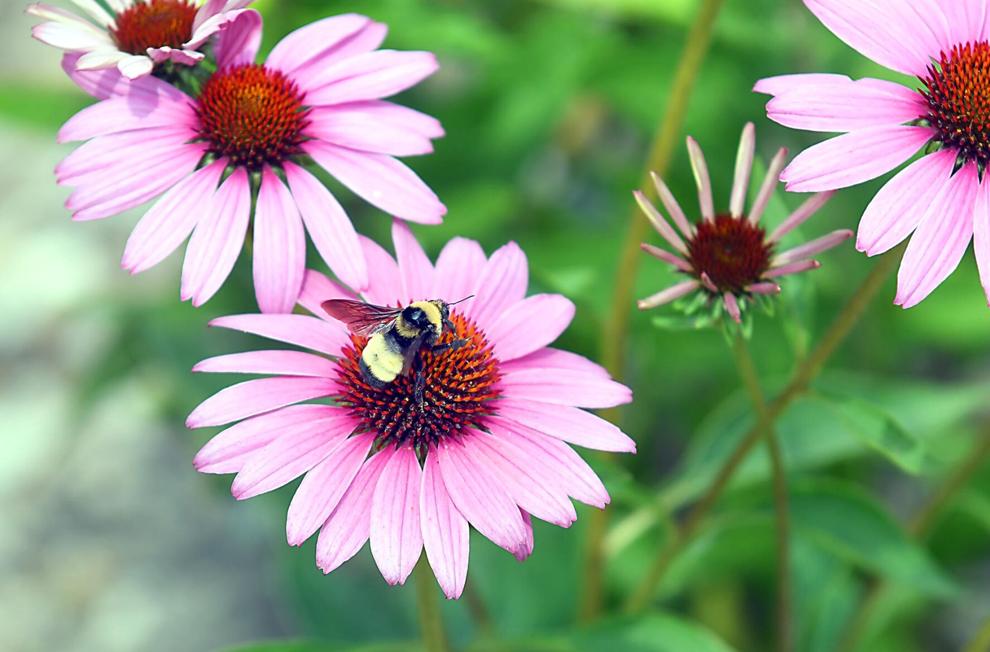 When the project was finished, crews covered with bare earth that remained with grass to stabilize the soil. Beauty and bees were not priorities.
Around that time, Mary was paging through a newspaper when she came across an article about a pilot program to help nourish migrating pollinators as they make their way through Minnesota. The program provides up to $350 to establish green spaces to help pollinators, especially the rusty patched bumblebee.
The endangered insect is Minnesota's state bee, said Dan Shaw, BWSR senior ecologist. 
The Kosbergs are among the 850 recipients, who over three years, were chosen by lottery for assistance through the program. Shaw said Lawns to Legumes is one way Minnesotans may help establish a network of habitat along migration corridors used by pollinators.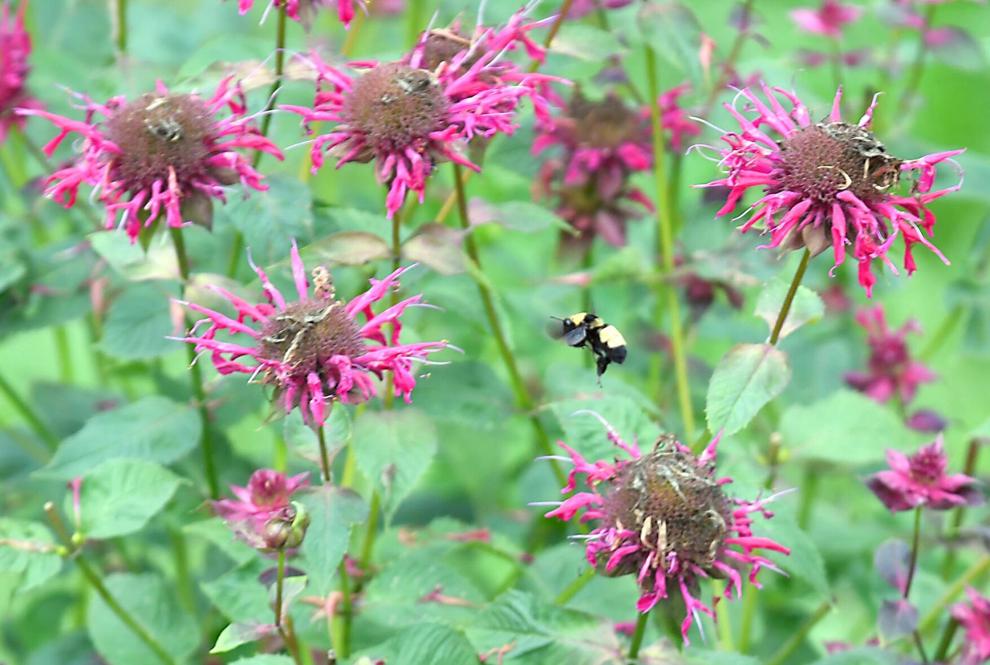 "Even small plantings can have a big benefit," he said.
Shaw then offered the logic that when multiple residents participate, the benefit for pollinators will increase.
New funding recently was approved for Lawns to Legumes. The new round of grants is likely to begin this winter.
Shaw recommended gardeners watch for updates at: bwsr.state.mn.us/bwsr-accepting-applications-lawns-legumes-grants.
Area residents seeking advice on how to establish pollinator gardens on their properties may join in garden tours Saturday at three Mankato locations.
Pollinator Paradise tours led by University of Minnesota Extension Services Master Gardeners begin 9 a.m. at the Glenwood Demonstration Garden, near the corner of Glenwood Avenue and Locust Street.
Tour participants will receive directions to two nearby pollinator gardens owned by Master Gardeners Barb Maher and Barb Lamson. Tours of those gardens conclude around 1 p.m. Saturday.
Residents with properties that don't provide full sun should not be discouraged from helping establish pollinator corridor. There are several shade-tolerant plants that attract bees.
"My property looks like a park," Maher said. The trillium, wild geraniums and golden rod growing near the white pine in her backyard are "wonderful examples" of what can be grown in shady areas for the benefit of pollinator insects.