The young woman staring at the faces of court clerks, a judge and her landlord's lawyer on Zoom did not start crying because she failed to grasp what was happening.
Arnavee Maltare, a fifth-year senior at Minnesota State University, knew all too well the implications of her predicament. Management at Highland Hills Apartments near campus had filed Oct. 12 to evict her from her unit for nonpayment of $1,828.53 in past-due rent, alleging also that she "has repeatedly failed to pay rent in a timely manner."
They wanted her out, and Mankato attorney Silas Danielson meant to make it happen.
She cried because, after efforts to pay what she could and an application for rental aid from a state program, she didn't know why the Oct. 27 hearing and potential homelessness had become her reality.
"I just started thinking about like, if the court decides that I am homeless, I have nowhere — really nowhere to go, when I think about it," Maltare, an international student from India, said several days after the court hearing.
"There will be friends for a few weeks, but then what? Your record is damaged, you don't know what to do. Other than that, you're in a foreign country."
As of Oct. 12, Highland Hills had the right to file to evict Maltare and other tenants for nonpayment of rent if they did not have pending applications to RentHelpMN, according to Minnesota's eviction moratorium rules.
Maltare had applied for financial help from the statewide program, which has distributed hundreds of millions of dollars in rent money to landlords on behalf of tenants. But a pending application prevents lawyers from filing for eviction only if the tenant shows documentation.
Before the sheriff's office posted an eviction notice on her apartment door a few days after Oct. 12, she had submitted a request. But her landlord was unaware of her taking that step. Maltare didn't have paperwork to prove it until a representative of RentHelp sent it to her the night before her hearing.
"She was an angel," she said of Crystal Shields, a RentHelp staffer who advocates for tenants during court hearings in Minnesota's 5th District. "I cried that night because she was just there. I cried that night."
But Danielson told the judge that he still wished to pursue eviction because of the allegation Maltare made late payments.
Judge Richard Perkins disagreed: "That's just another way of saying that she's not paying rent."
Perkins stayed the proceedings until a January hearing, as the moratorium phase-out law requires when aid is shown to be pending. The other Highland Hills tenants with hearings that morning, however, agreed to settlements with Danielson.
Those three students had to leave their apartments within the next seven days.
Dispute over RentHelpMN's role
Through its Eviction Diversion Project, the Minnesota Housing Finance Agency sends staffers to court hearings in each of the state's 10 judicial districts either to inform tenants of their eligibility for rental aid or to verify the pending application that guarantees their right to shelter.
The role has expanded so that now employees reach out to renters with eviction hearings, who are most vulnerable to homelessness, to remind them they must show up and to ensure they have the required paperwork.
"As of the end of October, we have helped about 250 households either by giving them information about their pending application or directing them to submit an application," said Lael Robertson, policy attorney for MHFA. "We're assisting people and the hope is that … eventually they'll get their back rent paid.
"Minnesota Housing is really dedicated to helping tenants stay in their homes and helping landlords have their bills paid," she said. "RentHelpMN is a win-win for tenants and for landlords."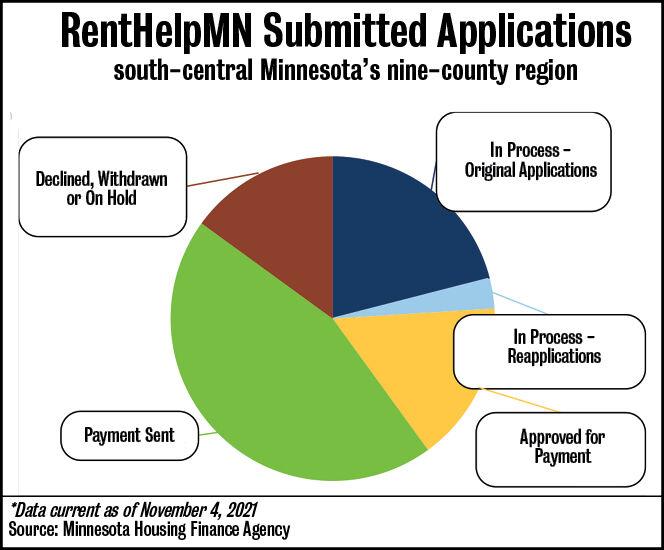 In south-central Minnesota's nine counties, more than 1,800 people have requested nearly $9.4 million in aid, with $8.8 million going toward rent. Over half of that amount has been paid or approved for payment to the region's landlords.
The state at large paid out $101 million to property owners in October, Robertson said, nearly half of the total amount distributed.
Danielson, the Blethen Berens attorney who works on behalf of many area landlords, knows that RentHelpMN could ultimately mean more money to his clients. He knows of tenants who are six to eight months behind on rent — one who recently agreed to leave her Beaver Avenue unit owed over $10,000 in past-due payments, court documents show — for whom rental aid is both parties' only hope.
But he takes issue with state employees who aren't parties to the case prompting judges to stay the proceedings. Landlords who come to him are at their "wit's end," he says, having tried and failed to get money from renters.
Robertson said her agency aims for as many eligible renters as possible to submit applications for money. Danielson's goal, conversely, is to avoid a two-month postponement and remove people whom landlords have deemed lost causes.
"These landlords that I'm representing, they've already given them many chances to apply for RentHelp. I mean, they want them to because it means money. When they've given them notice … and then the tenants just blow them off and don't do it, then they say, 'Hey Silas, will you evict them now? They're just ignoring us,'" he said.
"And then I start that, and then I get stopped because the RentHelp person shows up to the hearing — it is frustrating."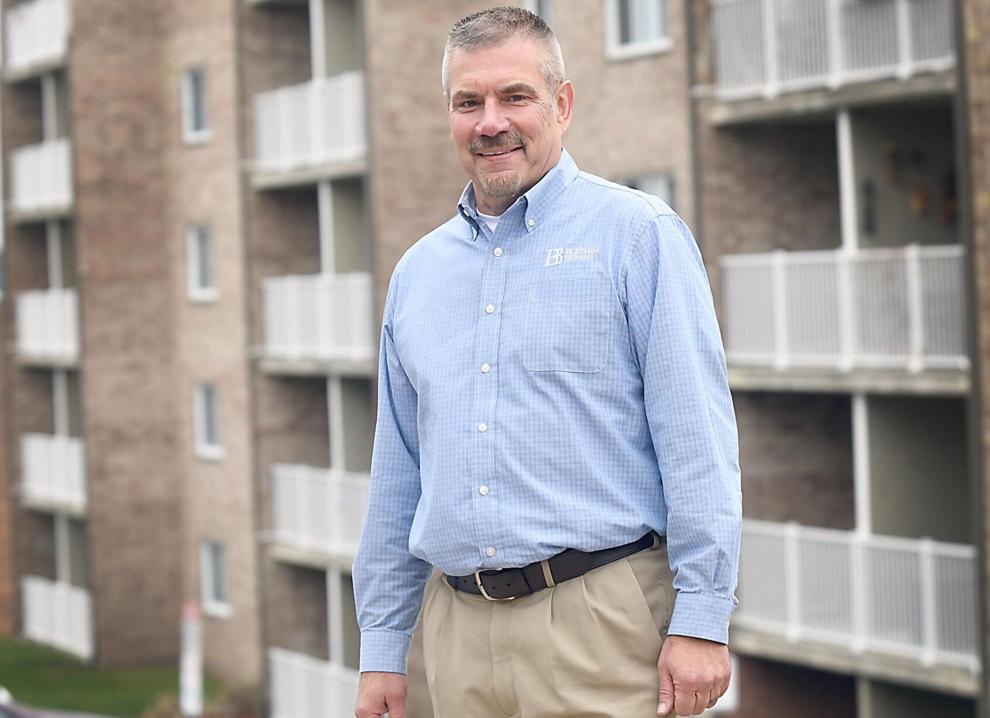 In a hearing directly before Maltare's, another Highland Hills tenant and young international student seemed confused about his options. Unlike Maltare, this tenant had not submitted a RentHelp application.
Though Shields was present, the renter spoke with both her and Danielson in a private "breakout room" to learn his options. What happened during the talk is unclear. But when the group emerged, Danielson announced the renter had agreed to leave the property in seven days.
The judge asked the man if that description seemed accurate.
"I'm not from here, so I'm not really sure — I'm not aware about the whole system here," he replied. "But, like, I have to leave after seven days, because what I understand is there's no choice of payment deal. Is that right? There's no choice for me to pay the rent?"
He asked the judge whether he could talk to his landlord about a payment plan.
"At this point there's a substantial balance and they just want the space back," Danielson told the judge.
Perkins signed an order for the man to leave by Nov. 2 or else a Blue Earth County sheriff's deputy would forcibly remove him.
It's not clear whether he was eligible to apply to RentHelpMN or another aid provider, which would have halted the proceedings. But Shields made a telling request to the judge afterward.
"If there's any way I can speak to the tenants one on one prior to them speaking to the landlord's attorney," she said, "I would appreciate that."
A 'sea' of debt
Maltare said that factors largely beyond her control led to the phone call from a friend informing her of an eviction notice on her front door.
Before this fall she had been able to keep up on rent payments, with help from her family in central India. She works an IT support job on campus but can't exceed 20 hours a week because of restrictions on international students, so her income alone is insufficient to meet her $900 monthly rent.
But after working about 80 hours early this summer, she learned her work authorization form had expired. She was set to be a fifth-year senior, so she had anticipated this issue, she said. But her attempt to renew the license took longer than expected.
She was no longer eligible to log hours and lost her income stream until recently.
Further depleting the money she had was the rampant spread of COVID-19 in India, which complicated her parents' ability to support her. An average of nearly 400,000 daily cases were reported in early May, and many businesses were closed.
"There was a point during all of this situation where I was like, I'm not even bothered by it," she said. "At the same time I'm so disturbed that I don't wanna say anything out loud."
She applied for four months' worth of assistance from RentHelpMN — from September to December. She has since begun working and taken out loans from friends to pay rent in the interim, a system she says is common among international students who lack the safety net their domestic peers enjoy.
A sum from one of the loans went toward her landlord to zero out her past-due payments, a fact that may complicate RentHelpMN's ability to pay Highland Hills on her behalf. She did it in a rush, she said, thinking if she owed back rent going into the hearing she might leave homeless.
Half of the money she paid days ago for November's rent came from a friend who was waiting in another room of her apartment during the eviction hearing. Between debt to peers and remaining tuition expenses, she estimates she owes about $8,000.
"Yeah, I'm trying to work. The thing is you have to pay off a sea, that's how it feels like right now. And what I have is a little waterfall just going and I can accumulate like this much," she said, moving her hands close together to represent a trickle.
Her lease runs until August of next year, but she is set to graduate in December and hopes to find a job to ease her financial woes.
"If they help me until December, and hopefully I find a job by December, we should be good," she said of RentHelpMN. "Because I wanna be secure and safe.
"I wanna be so financially stable that I wouldn't have to worry about things like these."
More evictions may come
Though the number of evictions filed this fall is lower than before the pandemic because of moratorium protections, Southern Minnesota Regional Legal Services attorney Peter Hemberger said precursors to formal eviction — notices to vacate, notices of lease termination or notices of non-renewal — are elevated.
"We may see an increase in evictions in the coming months in cases where tenants' month-to-month leases are not renewed but they are unable to find replacement housing," Hemberger said in an email.
He expects in December an increase in the number of these so-called "holdover evictions," which are brought by landlords against tenants who have stayed beyond the end of their lease. Property owners could choose not to renew leases with them for fear of future missed rent payments.
"People may need to move and want to move but have nowhere to go," he said. "This bottleneck in housing availability is concerning and could lead to housing instability for some in our region."
Danielson said he has filed for more evictions since the protection for nonpayment of rent was lifted in mid-October. His argument is that if they didn't find RentHelpMN or other financial aid by that time, over three months after the moratorium phase-out legislation passed, then landlords deserve the space back.
If he talks to tenants first during hearings, he usually can persuade them to leave through a settlement agreement, which can keep an eviction off their rental history record. They then have an unblemished opportunity to apply to live elsewhere and landlords get a vacant unit.
If the "RentHelp people" are involved, however, the proceedings are often postponed because judges cannot by law allow them to continue once an application is filed.
"And, you know, that could be a good thing — that could mean that the landlord gets all of his rent money," Danielson concedes. "And hopefully that's the case.
"It is certainly a more challenging time for processing evictions for landlords right now. Which some people would say that's a good thing — everybody has their opinions, right?"