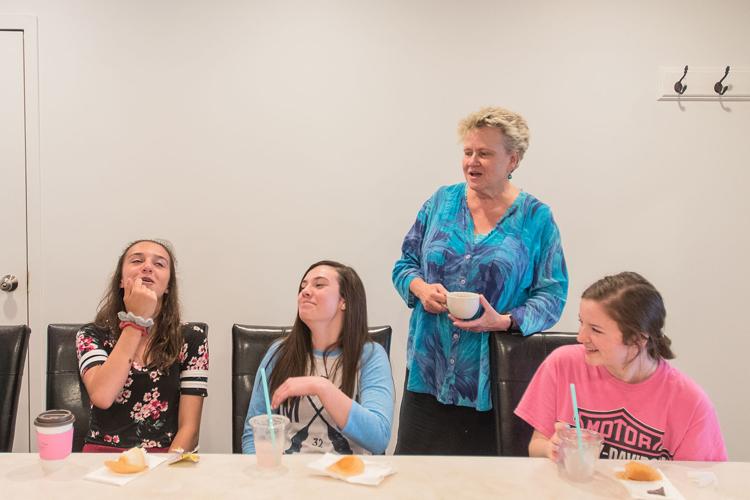 ST. PETER — After a fresh snowfall each year, St. Peter teacher Mary Behrends brought her French pupils outside for a treat.
They made maple syrup snow cones while they learn French phrases such as: "Ne mangez pas la neige jaune."
In English that means "Don't eat yellow snow."
The tradition was started years ago when a student teacher reminisced about enjoying syrup over snow — a popular sweet in her home country of Canada.
Behrends, who received St. Peter Public School's 2019 Distinguished Service Award, took students out of the classroom as often as she could to immerse them in French culture.
Outdoor adventures and short trips to destinations such as the local bakery for a French treat were common in her middle and high school classes.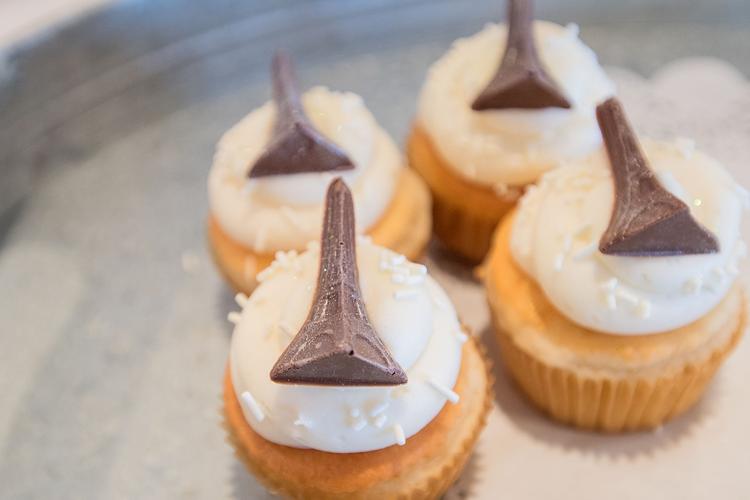 Twice a year she took pupils to a French camp in northern Minnesota and every other year she organized a trip to France, both without any extra compensation.
Even after she retires at the end of the week, Behrends said she plans to continue organizing and chaperoning the trips to camp and to France.
Behrends is retiring after 42 years of teaching French. She taught at Mankato East High School, Gustavus Adolphus College and Loyola Catholic School before settling in at St. Peter Public Schools in 1990.
She is St. Peter's only French teacher, dividing her time between the middle school and high school.
Teaching a world language actually means teaching a lot more than French phonics, she said. French history, music, cuisine and culture are embedded into her classes.
"You really get to teach a nice variety," she said.
St. Peter High School student Grace Werner and former student Aidan Bistrup said Behrends set high expectations and helps students reach them.
"She gives you all the resources you need to succeed," Werner said.
"She would constantly go out of her way to make sure every student was the best version of themselves," Bistrup said. "Her class may have been one of the more difficult ones, but it was one of the most rewarding."
Behrends, or "Madame" as she is known to her students, has taken students to France 14 times. She sometimes is the only chaperone when the group is small.
"I've had really good luck with really good kids," she said of the trips typically held every other summer.
Behrends also annually gives her students as well as younger students who are interested in taking French a get a taste of France without leaving the state. She takes youngsters to the Concordia Language Village's Lac Du Bois camp in northern Minnesota.
"Her commitment to authentic learning experiences both in France and at Lac du Bois has benefited so many students," Supt. Paul Peterson said as Behrends received the district's Distinguished Service Award earlier this month. The honor is given to one or two outstanding educators each year.
Another tradition for Behrends' students is an annual festival at the University of Minnesota that invites students to perform skits, poetry, songs or other forms of spoken art in French.
There also were many other field trips, such as to art museums to view French masterpieces or to theaters to see productions of "Les Miserables."
When she wasn't taking students on adventures, Behrends often used music to engage students.
"Songs and the music of the Francophone world helped make learning French enjoyable and opened doors to new cultures and ways of life," Bistrup said.
Student Sarah Busse said Behrends also used engaging games and "goes with the flow" by turning student questions and current events into learning opportunities.
Her students said "Madame" always had an open door before and after school and was their go-to person whenever they needed advice, a letter of recommendation or other support.
"She puts a lot of personal investment into every one of her students," Werner said.
Behrends also coached the high school's Academic Decathlon team for many years, leading multiple teams to state championships.
"It's taught me useful ways to study, how to balance my workload and how to prioritize," Busse said.
"Madame made sure that the team always had a great time together but that we had our focus on what really mattered," Bistrup said.
Bistrup says he probably wouldn't have graduated from St. Peter High School last year if Behrends hadn't been his teacher and coach. She helped him persevere through a medical issue.
"She showed me the benefits of hard work and to never give up no matter the situation or circumstance," he said.