Julie Rosen stood before a crowded room of journalists and lobbyists Thursday to pitch a bill that would force pharmaceutical companies to publicly reveal reasons why their drug prices change in a given year. By her side was a Democrat, freshman lawmaker Rep. Kelly Morrison of Deephaven, and several advocates who shared their stories on why drug companies need to be held accountable.
The bipartisan message was clear and it was Rosen who delivered it: "Drug prices as we know are out of control and this is unsustainable."
The unspoken truth behind the press conference was Rosen's support is key for a measure like this to get the necessary votes from the Minnesota Legislature. The Republican from Vernon Center is the Senate Finance Committee chair, the most powerful chairperson short of the majority GOP leadership.
In her 17th year at the Capitol, Rosen is acknowledged by her colleagues as one of the most effective legislators in Minnesota.
She's made a name for herself tackling complicated and at times controversial issues, from illegal drug initiatives to tobacco and child protection proposals to pensions and public infrastructure. Despite her success, Rosen manages to fly under the political radar and works behind the scenes to accomplish her goals.
She's been on the forefront of GOP budget discussions during the past two years as one of the end-of-session negotiators. And the south-central Minnesota lawmaker will be an important voice in the next few months as Gov. Tim Walz and a new DFL House majority wrangle a $50 billion state budget with the Republican-controlled Senate.
"She knows how to get things done," Senate Majority Leader Paul Gazelka said. "She has a proven track record and is able to build bridges across the aisle as well. It's really important, especially with divided government."
Though Rosen has excelled in state government, she initially didn't want a career at the Capitol.
Rosen, 61, grew up in the suburbs of Denver. She graduated from Colorado State University with a bachelor's degree in agronomy and worked in marketing for several agricultural companies over the years. She followed her then-husband Tom Rosen to Minnesota and settled in Fairmont.
The Rosens had three children and grew Tom's family's livestock business into Rosen's Diversified, one of the largest beef-processing companies in the U.S. along with other agricultural-related ventures. Forbes listed Rosen's as the 144th largest private company in the U.S. in 2018 with $3.1 billion in revenue.
The couple was involved in county Republican politics in the 1990s and 2000s, but Rosen never had any political aspirations herself before then-state Sen. Dick Day, R-Owatonna, came to Fairmont to convince her to run for a Senate seat.
"I told him, 'I can try to find somebody for you, and Dick's like, 'No, I want you!'" Rosen said.
She had some misgivings at first. Her children were in middle school and high school at the time and she didn't want to miss out on their accomplishments. Yet after talks with her family and former Senate Minority Leader Duane Benson, Rosen thought she could help her district.
"I swore if I was going to do this job, I was going to do it really well," she said.
Rosen has represented all or part of Blue Earth, Waseca, Watonwan, Faribault, Martin, Le Sueur and Jackson counties since she was elected in 2002. And despite her status as a rural lawmaker in a metro-dominated Capitol, she's been successful with a variety of statewide measures.
She was put into the Senate health and human services committee in 2004 during her freshman term, where she managed to pass significant methamphetamine-related legislation that put Sudafed and other pseudoephedrine drugs behind the counter in stores across the state. That bill, which also tackled drug treatment and funding for various meth-related enforcement ventures, crippled Minnesota's home-grown meth industry almost overnight and earned Rosen the nickname "Senator Meth."
It was the first big success for Rosen and established a pattern in her legislative career. Before the bill, Rosen knew little about methamphetamine or its effects on health and human services. But advocates, law enforcement and even other legislators noted meth production had grown along Minnesota's southern border, which caused out-of-home placements for children to skyrocket. Somebody needed to sponsor legislation, and Rosen volunteered.
"She takes on tough issues and she goes about it in a way of trying to bring people to the table and having a discussion," Senate President Jeremy Miller said. "Trying to find the best outcomes for those issues that she's working on."
Miller, a former GOP deputy majority leader, credits Rosen as a mentor who taught him how to be an effective lawmaker after he was elected in 2010. He and others credit her ability to work across the aisle and her persistence as key reasons why she has become a GOP leader. Rosen believes it may have more to do with her willingness to take on almost any issue.
That's how she found herself carrying a bill to give $400 million in public subsidies to the Minnesota Vikings in 2011 for what would become the U.S. Bank Stadium. Rosen said no one else in the Senate wanted the bill, which is why she volunteered to carry it and work with former Gov. Mark Dayton.
It wasn't an easy task. Publicly funded stadiums have become a tough sell in recent years as hundreds of millions of dollars go to sports teams with little to no guarantee those teams will offer the same benefits to an area's economy. Yet the Vikings have long been a staple of Minnesota sports, and owner Zygi Wilf could have moved the team to Los Angeles if he couldn't get out of the Metrodome.
Rosen recalls NFL Commissioner Roger Goodell's visit in 2012 during the NFL's draft week. Goodell, along with Pittsburgh Steelers owner Art Rooney, came to Minnesota to chew out Dayton and House and Senate leaders after the stadium bill failed in a House committee hearing.
"He said, 'Do you think I want to be here?'" Rosen recalls. "'It is draft week! Do you really think we want to be here?'"
Goodell told state leaders there was nothing he could do to keep Wilf, who was spotted at the same time in southern California, from moving the team if lawmakers didn't sign off on the bill.
That bill did eventually pass, as do many of the difficult bills Rosen gets behind. Her latest big success came last year after she shepherded a pension plan bill that slightly increased funding for state pensions and cut a few benefits. Both parties supported the bill, which took three years of effort.
She may be known for her bipartisan work, but Rosen has stuck with her caucus on several key issues in the past. She's a fiscal hawk who opposes tax increases and looks for waste in government departments. She ardently opposes legalizing recreational marijuana. And she made several controversial votes against gay marriage in the early 2010s before Minnesota legalized it.
Rosen said she voted against gay marriage because that was what her district wanted. She cites a survey that showed 70 percent of voters in District 23 were against gay marriage. Yet she opposes recreational marijuana for personal reasons — she's concerned Minnesota will experience an increase in homelessness and drug treatment costs if the state legalizes cannabis use, similar to some of the issues she's seen when she goes back to Colorado.
Rosen has been asked to run for higher office several times in the past; while she's never publicly announced a run, she's considered a perennial candidate for governor and was approached to run against Tina Smith for the open U.S. Senate seat last year.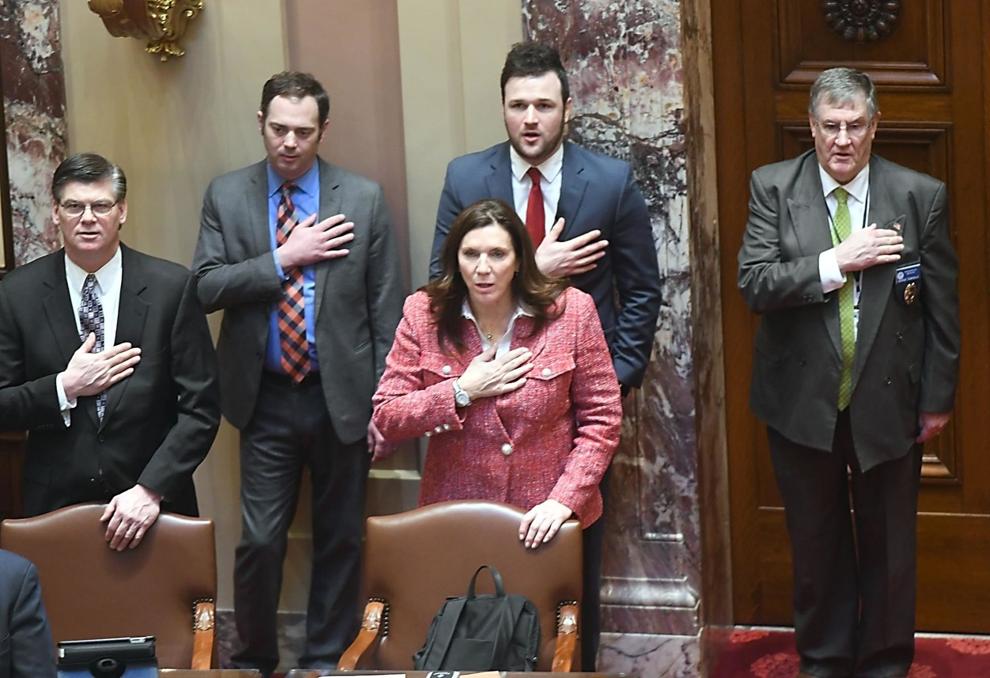 While she hasn't ruled out a future run for governor, she's never been interested in party leadership positions or working in D.C. She thinks she can get more done as a finance chair and bill author on issues such as her latest push to make drug companies chip in $20 million for opioid treatment programs.
"For some members of my caucus, this is very, very difficult," she said. "If I was on leadership, I don't know if I'd be able to get this done."
Despite her hectic schedule, Rosen makes time to swim, visit family across the U.S, and work with business partners to breed and sell bulls for the Professional Bull Riders circuit. She owned a famous bull, Cooper, whose head she has mounted on her wall inside her office, and she recently purchased Legit, one of the two 2018 Bull of the Finals winners during the PBR World Finals.
She'll have few opportunities for downtime for the rest of the session. Walz will release his budget proposal this week and state officials will unveil Minnesota's latest economic forecast later this month, which will set the stage for an upcoming budget battle. As finance chair, Rosen is one of the lead budget negotiators toward the end of session and she already has directed other Senate committee chairs to find ways to trim from their own budget targets.
She's not sure how budget discussions will go this year, as a new governor and the DFL House majority means Republicans won't have as much sway in shaping the budget as they did in recent times.
In 2017, the GOP-led Legislature found itself at odds with Dayton, which resulted in a five-day special session to hammer out more agreements. In 2018, a GOP-led effort to pack hundreds of different issues into a supplemental budget bill was stymied when Dayton vetoed the bill, as well as a tax bill, citing dozens of proposals he took issue with that weren't worked out in time. It's unclear how Walz, who was a congressman up until last year and who never played a role in state politics before, will negotiate with state lawmakers on both sides.
Though end-of-session discussions often get mired by partisan arguments, DFLers who've worked with Rosen say she'll be a good check on the Legislature's priorities. Former Sen. Kathy Sheran, a Mankato Democrat, remembers working closely with Rosen on legislation to ban smoking in restaurants and public places in 2007, as well as on health and human services issues and child protection. Despite their political disagreements, Sheran remembers Rosen as a thorough lawmaker who cares for people more than politics.
"You can lose track of your constituency and get caught up in leadership roles at the Capitol, but I don't think she does that," Sheran said.