With a band on hand to mark the occasion, the Salvation Army kicked off its annual red kettle campaign Monday.
The nonprofit aims to raise $525,000 by Christmas.
Red kettles and bell ringers arrived at area stores Monday morning ahead of the kickoff outside Salvation Army headquarters, where the Maverick Machine performed before opening remarks.
After ringing a bell on stage, Salvation Army Lt. Andy Wheeler said donations leading up to Christmas are the best way the community can support the nonprofit's programs.
"We're hanging our hat on this one to make a difference for the whole year," he said. "It's a five-week period, so us being out there every day ringing the bell is of the greatest importance."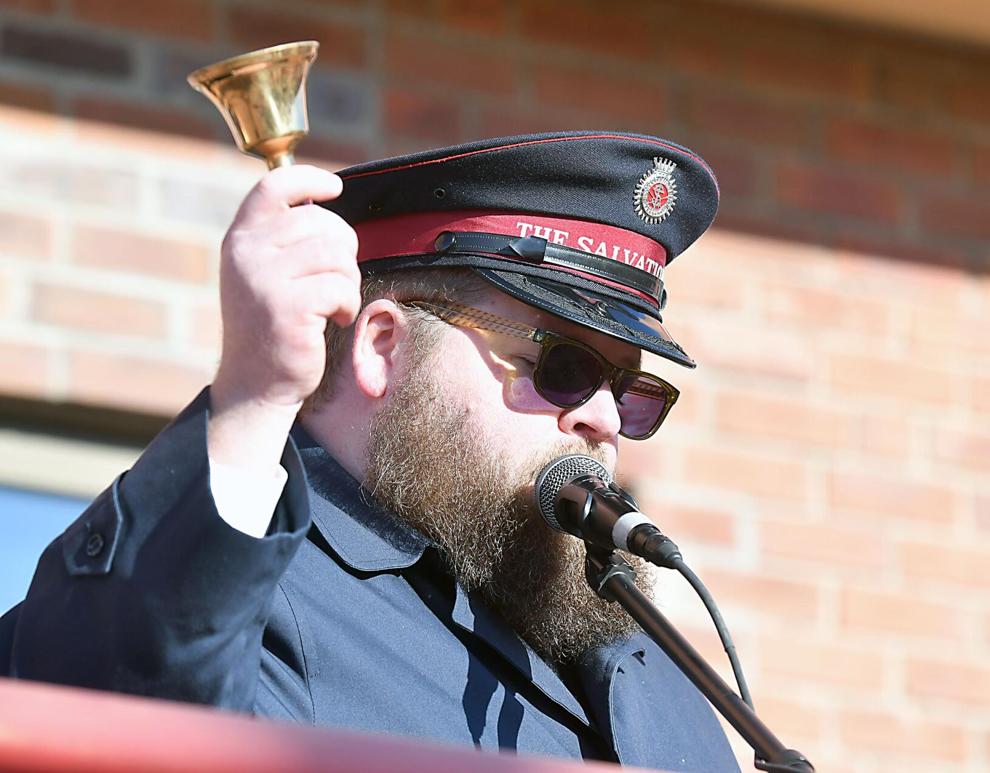 The red kettle tradition began in 1891 when Salvation Army Capt. Joseph McFee came up with the idea as a way to offer free Christmas meals to people in need in San Francisco. Wheeler shared the history Monday before encouraging Mankatoans to show their generosity again this year.
"I've been so impressed with this community," he said. "Being affiliated with the Salvation Army as long as I have (more than 40 years), and as many different communities as I've been in, this is by far my favorite."
Coin and dollar drops at the kettles along with online and text donations will all contribute to the campaign. Community members or groups can also help out by volunteering to ring bells or host kettles at their sites.
The fundraiser, said advisory board chair Josh Vanderberg, drives all the nonprofit's programming. Salvation Army programs range from free community meals to a day shelter to warm-clothing drives, along with social services and housing assistance.
"This is mission critical," Vanderberg said. "The shelter, the feeding program, all operate because of this."
One new program this year will help connect the Salvation Army's guests with their families for the holidays. The nonprofit can provide transportation to their families, plus transportation back if they can't remain with family, Wheeler said.
"It's giving them the opportunity to be with loved ones," he said.
Wheeler recently spoke to the Rotary Club of Greater Mankato, sharing how volunteer bell ringers help bring in more donations at red kettles. Past Rotary Club president Cuong Huynh of Discover Chiropractic emceed the kickoff event, saying: "Without programs like this, kids like me would've grown up hungry."
Fleet Farm is again one of the locations with red kettles this year. From his 36 years at Fleet Farm, general manager Bernie Wehseler said red kettles and bell-ringing have been staples at the Mankato store for as long as he can remember.
"It's an honor" to help out, he said, adding the campaign draws good support during the busiest shopping season of the year.
For more information on donating and volunteering, visit centralusa.salvationarmy.org/northern/Mankato/