NORTH MANKATO — While running one of the 30 marathons he has finished throughout his 61 years, Joe Broze knew the first 20 miles were only a precursor to the last 6.2.
The body can handle 20 miles, he says. The mind can handle 20 miles. But the last half-dozen determine whether you will successfully complete the race or underperform or, worse, drop out before the finish line.
"However long it's gonna take you after two hours is gonna be rough. You either wanna run another one, or you never wanna run," Broze said.
The former Loyola Catholic School and Mankato West cross country coach has been running for almost half a century, he said, since he was 12.
He set a longstanding school record for the 10,000-meter run while he was an All American at the University of St. Thomas, finishing in just over 30 minutes. (It was finally broken this spring, having stood for 39 years.)
He ran his fastest marathon in January 1984, crossing the line in 2 hours and 18 minutes, a pace of 5:17 per mile. The run qualified Broze for the U.S. Olympic Marathon Trials four months later, where he finished 80th of 172 runners.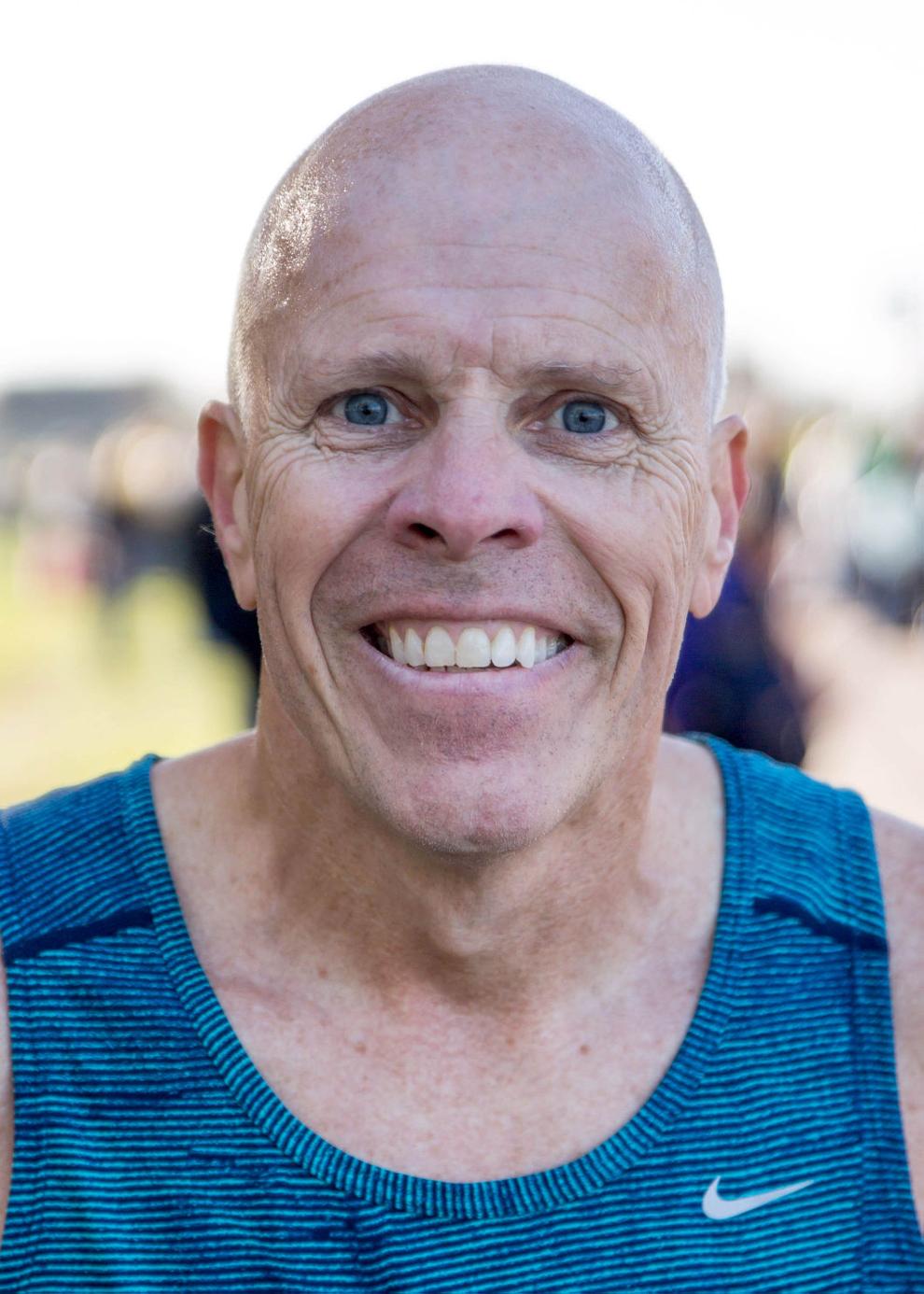 And he has been a local staple at the Mankato Marathon 5K race since its origin, beating every other contender several times in the past decade. His best time came in 2012, when Broze, then 52, closed the race five seconds before the 17-minute mark.
He will run again today. But after a life-threatening incident, the storied runner says his main goal is merely to finish.
'Scary, scary gray'
Broze had felt unusual pressure in his chest for several weeks before he saw himself in the oblong mirror in his daughter's room the morning of Feb. 8.
His sweat-covered skin was a spectral shade of gray.
The chest pain first worried him last fall, when he ran the virtual 5K race because the in-person event was canceled.
"I was kind of wondering why I felt so rotten," Broze said in his North Mankato home Monday.
"The speed just wasn't there. And I thought OK, I'm 60. I thought this was gonna be really fun, this new age group. So I ran the race and just never felt real good about it. It was work."
He continued training with his son, Ben, also an avid runner who won 2019's Mankato 5K, throughout the winter. But the tightness continued. He downplayed the symptom at the time, thinking perhaps he was just aging or had strained himself shoveling snow.
Often he would stop and tell Ben to go on without him, breaking from his philosophy to always finish a run.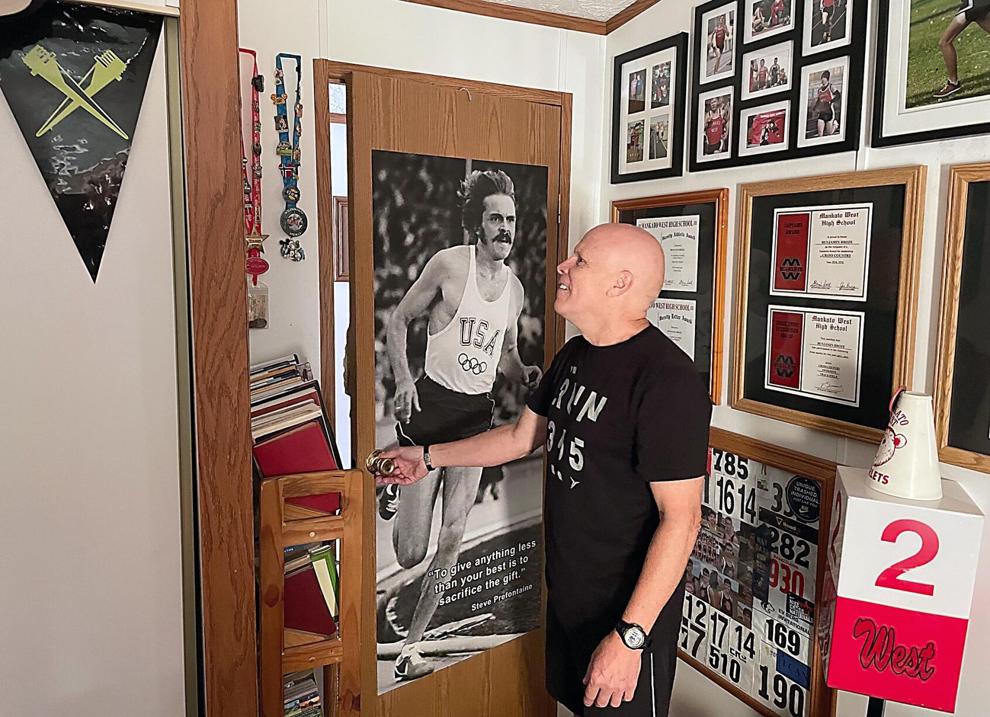 By Feb. 8, Ben, 24, had been living and working in his father's home for nearly a year. He used his dad's room as a workspace because the Wi-Fi connection was strongest there. That morning, Broze left his room and went to nap on the living room couch.
When he woke up a couple of hours later, his shirt was drenched in sweat.
His son told him he looked ill and should call a doctor, but Broze dismissed his worries. As a physically fit long-distance runner, with toned legs and a muscular chest to this day, he figured he never could get severely sick.
He sent Ben to the store to buy aspirin and Pedialyte and moved to his daughter's room to nap it off.
"I woke up an hour later — I was so gray, so white," Broze said. "It was scary, scary gray. And (Ben) said, 'Oh my God, Dad, we need to take you to see (the) doctor."
Within 10 minutes of his arrival, 10 doctors crowded the foot of his bed. Having taught for two decades at Dakota Meadows Middle School, Broze recognized the cardiologist who would deliver his diagnosis as the father of two brilliant girls who had gone through his class.
"He said, 'Joe,'" he recalled. Broze paused, his voice choking. "This was hard. He said, 'You're having a heart attack.'"
Blood flow in three of his coronary arteries was severely restricted. Although Broze never hit the floor and even showered before heading to the emergency room, according to his son, he soon learned one was 100% blocked and the other two were 70% restricted.
Doctors put stents in to allow for blood flow and told Broze he would need triple bypass surgery, scheduled for March 5 at a Mayo Clinic hospital in Rochester.
Ben Broze doesn't quite believe in fate, he said, but he feels fortunate not only to have landed a job in North Mankato but to have been working from home while living with his father.
His dad said if Ben had not been there to urge him to the hospital, he might have lay back down and never risen.
After doctors called Ben to tell him his father had suffered a heart attack, he went to the hospital. There he locked eyes with his running coach, friend and father. He saw deep fear.
Fear that he could die, but also that he would leave behind his students, athletes, friends and family.
"That's what hit me a few days later, was that he could have — he could have been gone," Ben said. "And that was so hard to make that realization."
People couldn't believe it when Broze told them in later months that he had experienced a heart attack. But you're so healthy, they'd say. What does that mean for us?
The cause of his ailment was genetic, however. He had grandparents who died from heart attacks. His mother had one at age 60 — the same age as Broze in February — but survived.
His only hope was that his fitness might lend itself to a speedy recovery.
"When I turned 60, I wasn't thinking about having a heart attack. I thought all this running might keep me from that. But it didn't."
Stay in motion
As a runner and a former coach, Joe Broze knows one thing to be true about racing: It's easy to start walking, but once you do, you're done.
"I've always told my kids that: If you don't have to, don't walk, because then in the next race you're gonna wanna walk. And don't drop out. Cause if you drop out of one race, then the next race when the pain comes you're going, 'Oh, I could end this pretty quickly by just stopping.'"
After doctors split his chest open March 5, his drive to persist while running evolved into an aim to make it one more hour. If he could endure the tear-jerking pain of recovery until 11 o'clock, he thought while in his hospital bed, then he could make it to noon.
A triple bypass surgery is a life-saving but brutal, hourslong operation.
Broze remembers the breathing tube of a ventilator in his throat. While he was under anesthesia, a surgeon sawed through his breastbone and spread open his ribcage to expose his heart.
Lifting up his shirt Monday, he revealed a foot-long, light pink scar that begins near his collarbone and runs down to the middle of his torso.
"I can't even feel what I'm touching right now," he said as he ran his finger along the scar's nerve-damaged length.
After Broze's chest had been wired shut and he had risen from his hospital bed to walk around, another emergency happened. His heart rate jumped above 200 beats per minute, triggering a code blue.
He was again loaded onto a gurney and wheeled to the operating room several floors down from his hospital unit. Though his brain was murky, he was conscious of his surroundings — even when his oxygen source depleted and nurses hurried to get a replacement.
"I'm laying there going, this is not good. I thought I was gonna die," he said, quieting for a moment. "Next thing you know, it's two days later and I wake up."
The bypass grafts and stents were fine, doctors told him. They reckon a blood clot must have passed through and caused a spike in his heart rate.
From the hospital he went to his living room couch, planting himself there for most of the following eight weeks. A yearlong full recovery loomed ahead.
Initially Broze would lie down on the couch but struggle to lift or move his body. He rang a bell when he needed Ben's help sitting up; any sharp exhalations, such as raising his voice or coughing or sneezing, overwhelmed him with pain.
His son remembers sleeping with his head turned toward the hallway so he would hear the signal.
He and Ben would go for walks outside. The long-distance runner had gone from pounding through dozens of miles to leaning on his son while they hobbled the length of Broze's home.
"Ben would hold on to me, we'd go for a walk outside, and I'd be in tears because it just sucked," Broze said. It was not only painful but demoralizing. He was scared. "You reevaluate some things, that's for sure."
But Broze is an endurance runner, his son noted. Don't stop moving or you'll never want to start again, the coach would tell student-athletes.
Whatever you do, stay in motion.
"Knowing the timing of when the surgery was gonna happen and how long they estimated his recovery," Ben said, "I had no doubt in my mind that he was gonna run (the 5K)."
Fitness means faster recovery
In a video taken April 19, six weeks after his surgery, Broze takes small strides on a treadmill for the first time. Judging from his uncertain gait, a hybrid between speed walking and jogging, a viewer wouldn't think they were watching a stellar long-distance runner.
Just five weeks later, in a May 28 video, he's back on a treadmill, but his gait and pace have improved markedly. Broze's arms swing widely and his strides have lengthened, gaining his body the great momentum it possesses during one of his runs.
That day, Broze graduated early from cardiac rehabilitation.
Having worn a heart monitor for 100 days post-surgery and receiving the OK from his cardiologist, he soon began training for the 3.1-mile run happening today.
He has done four miles of walking and jogging every day in the leadup to the race. But he has yet to run the entire distance of a 5K without slowing to a walk.
"I'm still scared to do that. I'm scared to do a 5K without stopping."
The bulk of his training has happened in North Mankato's Benson Park around a quarter-mile paved loop that circles a small pond.
Running there Monday, he held a good pace for the first half of a lap. But his confident strides soon gave way to a half-minute of walking. He finished the lap running solid but laborious steps.
"You know what, it's interesting feeling" — he stopped talking, breathing heavily for a few seconds — "It's the lungs. I can tell when I've done too much."
In his back, he can feel where his ribs were pulled apart toward his partially deflated lungs during surgery. Whereas before he might have pushed through it, now he takes it as a sign to slow down.
And having coached for 34 total years, serving as head and assistant coach of wrestling and running at multiple schools, he decided in May it was time to walk away from his role at Mankato West.
"That was really hard. That was really hard. Because I love the kids, but there's stress involved for sure," he said.
Broze also left his three-decade career as a teacher last fall, with two of those happening at Dakota Meadows.
Throughout his early years coaching at Mankato West, Broze ran alongside top high-school athletes during practice. As Ben progressed through his dad's program, he said Broze's pace still kept him in line with the team's junior varsity runners.
Broze couldn't bear the thought of riding the bike to pace his top runners instead of striding along with them.
"So I thought, 'I think I need to just wrap it up,'" he said. "Coach one guy: That's myself. Get myself better."
Race day looms
Broze finds himself at a sort of mile 20 in the marathon of recovery.
Seven months ago he thought he might die. In a matter of hours he will run 3.1 miles among a crowd of hundreds, including his son, as he has done for years.
"I'm gonna start it and I'm gonna finish it, because seven months ago I couldn't even get out of the car," he said.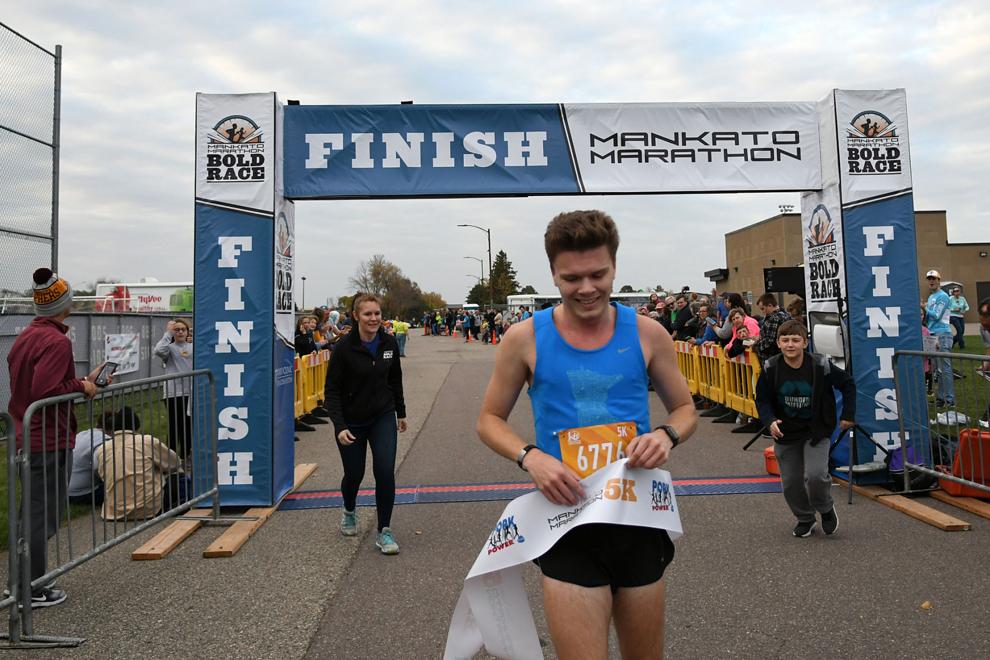 Finishing 4 miles these days takes Broze about 45 minutes, meaning his pace for 3.1 is more than twice his personal best in the Mankato 5K. He said it doesn't bother him that on this occasion he won't be leading the pack.
"To get to this point — my main goal is just to finish. I'm not even worried about my time."
His mission, in other words, is to keep moving.
He has no intention to leave the race course today without having crossed the finish line.
When the gun goes off, is Broze worried the rush of the race day will compel him to push himself and run the whole distance?
"Oh, I'm hoping it does."