The reference to "the sisters on the Hill" gains an entirely new meaning today.
The nuns belonging to the School Sisters of Notre Dame order have been isolating themselves on Good Counsel Hill on the north side of Mankato since March 13 when the novel coronavirus pandemic started to gain traction in Minnesota.
"It's been a long haul at times," Sister Mary Ann Kuhn said.
A COVID-19 outbreak at Good Counsel could be deadly. Many of the nuns are in their 90s, putting them at extremely high risk; the community plans to celebrate the eldest member's 100th birthday Tuesday.
"We closed the campus March 13 at 5 p.m. Since then we really haven't gone off the Hill," Kuhn said.
"We don't want the virus to come into our building," said Sister Irene Dohmen.
Good Counsel's main residence serves as living quarters for 106 women.
Sisters now pray in very small groups or alone, eat alone and enter their chapel alone.
Seven years ago, the campus experienced a quarantine of its 40-bed health care wing. That time of isolation was a shorter duration than today's COVID-19 situation, said Dohmen, pastoral care leader for the sisters in assisted living.
"During these times, I don't always know which hat I have on. We try to work together. I might be helping the activities director. I could be helping a sister to be more comfortable. Or I could be comforting someone, especially those with dementia."
As with most people, the coronavirus' threat to health has prompted many adaptations to the nuns' lifestyles. Used to worshiping as a group and sharing communal meals, sisters now are seated alone at tables in three dining rooms.
"We went from four chairs at a table to two chairs, and then went down again to one chair," Dohmen said.
Sisters who've required emergency care at local medical facilities go into quarantine when they return to campus. When members return from standard doctor appointments, they agree that for 14 days their face masks will be worn whenever there's a possibility of being in direct contact with another person.
Anyone in a service role — sisters as well as on-campus employees — is required to wear a mask that covers their mouth and nose while working at Good Counsel.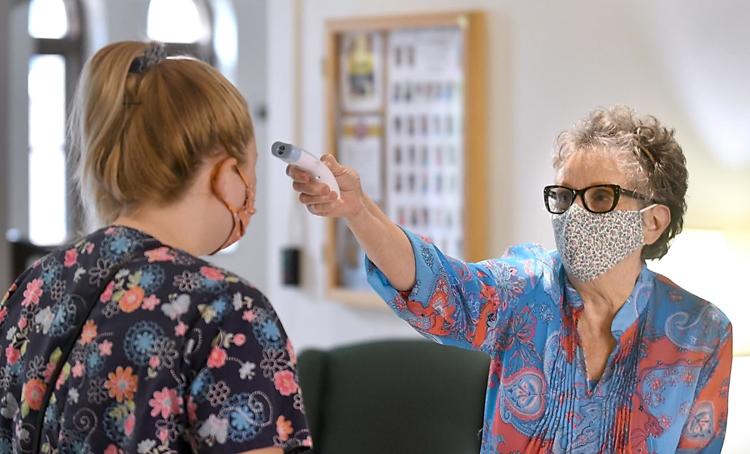 Members with seamstress skills have so far created about 900 cloth masks recommended for use as barriers to spreading the coronavirus.
"There's a variety, all different kinds. We've made them for here and for other organizations that need them," said Sister Mary Kay Gosch, campus director. "They (the nuns) are troopers. They've all been wonderful and cooperative with all these changes."
Sister Pat Frost moved to Good Counsel after retirement five years ago. "I feel very much at peace in many ways ... not threatened," she said about the current situation.
Frost credits her ability to be strong during the pandemic to her community. Her single-room living space, where lately she had to spend most of her time, is in the "big house" on campus.
Most of her social-distanced interactions have been within an eight-member group of nuns.
"I am part of a small prayer group and we share our thoughts on the meaning of life, scripture and what we've been going through now."
School Sisters devote time each day to prayer. However, theirs is not a contemplative religious order.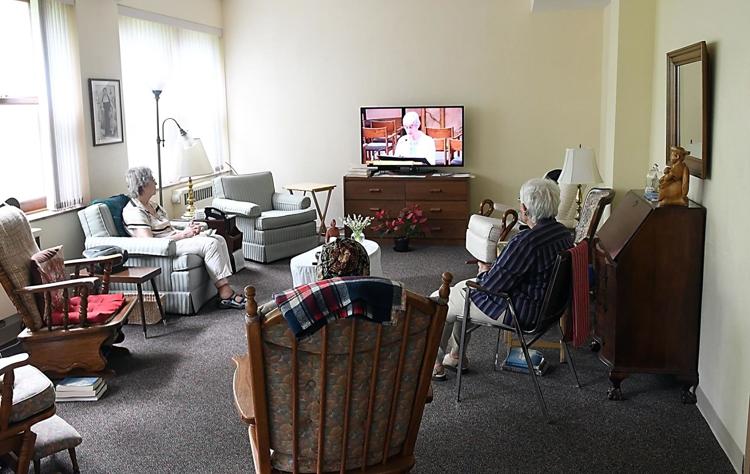 The Mankato sisters' ongoing missions of education and service had regularly brought them in contact with area residents. Safety concerns about contracting the virus have especially affected one education program that teaches English to refugee women.
Good Counsel's outreach program ended its school year early.
"We couldn't go to them and they couldn't come here," said program coordinator Sister Richardè Marie Wolf. "It's been very hard. I love teaching and so do the 11 tutors."
The one-on-one program's tutors visit students in their homes. Distance learning is not an option at this time because most of the students do not have access to computers.
Frost has been able to use social media to continue her connection with a group of laymen and laywomen who want to emulate the order's values.
"SSND Associates want to share our ministry and spirituality in their own lives," said Frost, a co-leader for the widespread membership.
Dee Czech, of Arlington, who has participated in the group since 2001, said associates traditionally meet at Good Counsel twice a year.
"In the spring we gather to do our recovenant and there's a fall retreat. At those times, we share meals and personal reflections with the sisters and we pray together," Czech said.
The group's gathering slated last month was canceled, but the pandemic has not severed ties between the associates and the nuns; they just transitioned to more use of social media platforms.
"We are finding ways to connect. Sister Pat and the other co-leaders send out things they think might inspire us as we walk in our journey of spirituality," Czech said.
"Out here, when my Zoom connection is sporadic, I just revert to using the phone," said associate Judy Schindler, of Hector.
Frost recently shared with the associates a poem written by Schindler. One excerpt is fitting at this time: "There is peace in coming to see; trials can be survived; tears cleanse, hearts mend and love grows."
SSND's mission has broadened since its origins in Germany during the 1830s — educating rural women, Frost said.
"It's about helping people reach their potential and teaching them to reach out with their gifts for the betterment of the world."
Dohmen cited Good Counsel's sustainable energy programs and members who advocate for social justice — missions that continue while the community is in isolation.
"We remain concerned about what is going on out there," she said.
In November 2001, Sister Gladys Schmitz, 94, co-founded a weekly peace vigil that's consistently met at noon Wednesdays in downtown Mankato.
She may be staying away from Jackson Park to maintain isolation, but Schmitz has not stopped speaking out against war and other issues.
After spending hours of reading emails about social justice, she gets on the phone with her legislators to discuss why she supports or opposes a bill.
"I spend a fair amount of time calling senators," she said.
Several sisters have been there to help out with one adaptation brought on by the pandemic — school-age youths' long-distance learning.
Members participated in a pen-pal program that helps elementary students with their writing skills.
"They received a number of letters from first, second, third and fourth graders," Dohmen said.
Good Counsel's youngest generation of nuns themselves are dealing with changes in their college classes.
"We are here for study and to practice our skills in nursing," said Sister Hong Bui, 36, one of six nuns originally from Vietnam who live at Good Counsel.
Bui, a laboratory technician student at South Central College, has found distance learning difficult.
"English is my second language ... I want to see my teachers in person so I can ask them questions."
Having the support of the Good Counsel community has helped the young nuns get through their challenges, said Sister Nga Tran, 32, who is in SCC's nursing program. "We know the sisters here love us."
Tran and Bui serve as nursing assistants in Good Counsel's health care wing on the weekends. They also hand out masks and take employee's temperatures at the beginning of work days.
In recent weeks, they've begun to help in the dining rooms with extra tasks required to prevent the spread of germs.
Tran relaxes during breaks by taking long walks on the hillside.
"It's such a pretty area, so many flowers."
The arts, along with educational programming, have long been reliable tools for lifting spirits and preventing boredom for the gregarious SSND members.
"We had to find new ways to get creative," Gosch said.
Brainstorming sisters are able to spend time together, while alone in their rooms, watching closed-circuit television.
"We've played bingo and we've had sing-a-longs. The doors to our rooms were kept open and singing could be heard all along the hallway," Dohmen said.
Friday night is Popcorn Night on the hill. Instead of sharing a big bowl, pre-packaged bags of munchies are available that sisters can enjoy while watching a movie or documentary.
Gosch said the sisters have watched videos of Andrew Lloyd Webber productions, Science Museum features and an original skit by people who live or work on Good Counsel Hill: "Sister Act Seven: The Pandemic."
"We need fun and laughter," said Dohmen, then noted "unexpected blessings" she's recently experienced. She's enjoying reconnecting with family over the phone and embroidering, a hobby she had set aside.
"I find I have a lot more time to just walk, to be more aware of nature and hear the birds," she said.
One of the paths she takes is near Living Earth Center's busy community garden and Loyola High School. That building has been closed throughout the pandemic.
"It's so much quieter without the sound of buses coming up the hill. I miss the kids a lot but not the traffic."