Matt Wolle and his dad, Harold, saw less than a half inch of rain fall on their farmland near St. James on Tuesday as areas to the east, including Mankato, got 1 to 2 inches and some areas even more. It's been the story for their region for much of the summer.
"It takes about 25 inches to make a good corn crop. It just didn't come at the right time this year," Matt said. "In the last few weeks the corn just pulled every drop out of the ground. This harvest will be a story of who got lucky and who didn't with the rain."
Harold said they've gotten just enough rain to help fill out the soybeans a little more, and the corn on good soil will benefit.
"But on the poorer ground, the corn and beans are pretty much done. When the corn ears are hanging down, they're done. I think we'll have an early harvest," Harold said.
Terry Wellmann, who farms near Hanska, said the rains that fell this week will help some and at least begin recharging dried soil, but he isn't expecting a great harvest.
"Over the last three weeks or month, we caught very few rains. Our crop has really gone downhill fast. Corn on sandy soil is drooped over and done. We should save the beans yet — this rain should be beneficial for beans," Wellmann said.
"The rains have really been spotty. We got close to three quarters of an inch just west of Hanska but just over by La Salle we got two-tenths."
Drought a big concern
The new Drought Monitor map released Thursday, with data through Tuesday, showed conditions in the region remained essentially unchanged from last week despite the recent rain.
Southwest Blue Earth County, southern Watonwan County, western Faribault County and all of Martin County have extreme drought conditions.
Extreme droughts are second only to exceptional droughts in intensity, with a band of land in northwest Minnesota being within the latter category.
Most or all of Blue Earth, Nicollet, Brown and Waseca counties are in severe drought conditions. A sliver of eastern Nicollet County joins most of Le Sueur County in the moderate drought zone.
Statewide, about 57.7% of Minnesota now has extreme drought conditions. The percentage rose from 49.8% last week.
More rain in the Mankato area's forecast could offer some relief. As with Tuesday's rain, though, it'll all depend on which farms get the needed moisture.
Crops spotty
Wellmann found just how dry the soil on his farm was at the end of July when he drilled a hole in his field for a post.
"It was dry even in the clay soil 3½ feet down. That's when the crops started giving up in our area. As of last week, we had about 7 inches of rain this year, about a third of what's normal. And the heat and wind was no good."
Wellmann has been installing more irrigation systems in recent years, with about 30% of his land on irrigation.
"It's definitely paid off. But even with that, it's hard to keep up on the sandy soils," he said. "It's frustrating. You spend all the money on the inputs in the spring, and then the faucet just shut off."
Harold Wolle said south-central Minnesota was fortunate to have a lot of subsoil moisture left over from last year.
"The corn went deep and sucked up that subsoil moisture, but a couple of weeks ago we ran out of subsoil moisture."
He said he still expects some decent yields on good soils that have some clay that held moisture longer.
"It'll be average or a little below on the good ground, and on the poorer ground it'll be worse," he said.
He said the St. James/Madelia area was fortunate to at least get some timely rains during the summer to keep things going. "When you get north and west of here, it really dries out."
He lives on the Watonwan River and said it shows the extent of the drought. "We were down there yesterday fishing and it's as low as I can remember it."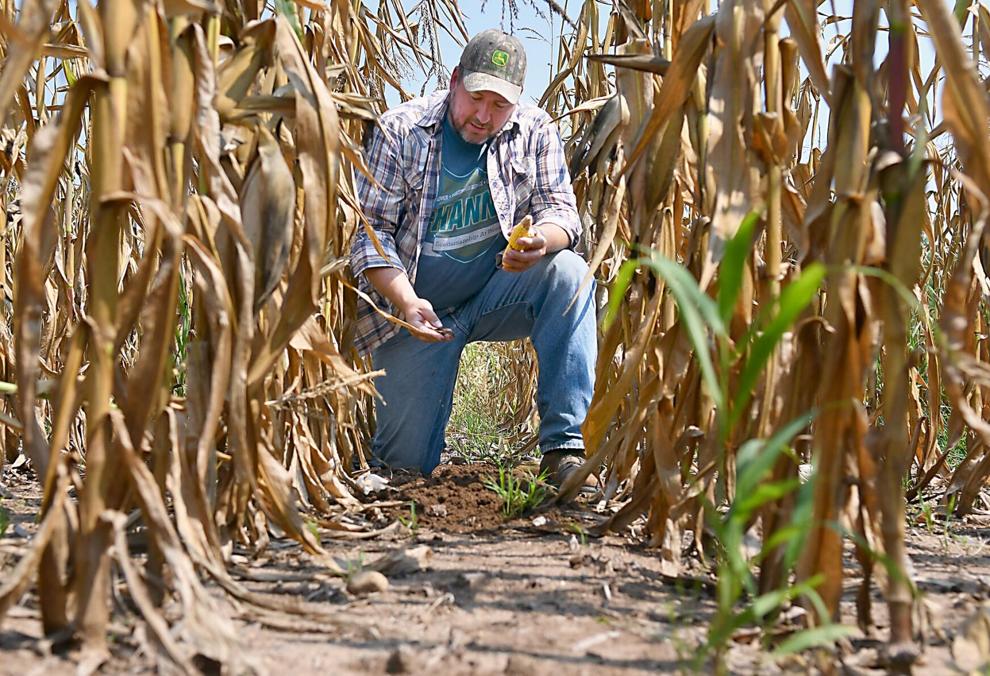 His son Matt said the potentially heavy rains in the forecast will at least help start recharging the subsoil.
"The ground will suck up a lot of rain pretty quickly if we get it."
Staff writer Brian Arola contributed to this story.