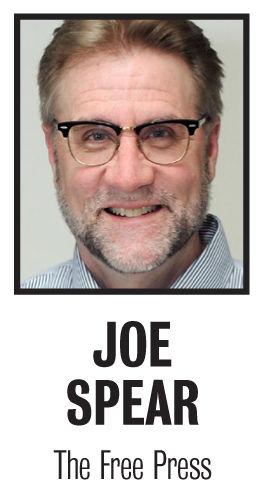 A recent assignment to describe Mankato to our newspaper investors led to some surprisingly impressive conclusions.
You can hear civic leaders or newcomers to Mankato speak anecdotally about what a great place it is to live, but we don't often see the facts. A narrative is necessary to set the scene, so the assignment forced me to describe the things we take for granted.
"Mankato sits in the Minnesota River Valley carved by glaciers and the River Warren hundreds of years ago. Its mostly deciduous tree-lined bluffs and myriad tributary rivers give way to plains and some of the most productive corn and soybean farmland in the world."
Our claims to fame came next.
"Minnesota's first "normal school" to train teachers was established here in 1868 and it has grown to Minnesota State University, the second largest four-year college in the state with 16,000 students and 1,457 faculty and staff. The region is home to two other private liberal arts colleges, a community college/trade school and a business college."
Our amenities are important to note, especially ones that involve world-renowned organizations.
"Mankato is home to a large regional hospital operated by the world-renowned Mayo Clinic, set on the Mankato hilltop just 35 miles south from where founder William Worrall Mayo set up his first practice in Le Sueur, Minnesota. The Mayo Clinic Health System hospital is the area's second largest employer with 1,871 employees."
Our history is not be to ignored, however dark it might have started out.
"The Mankato area made a mark in the nation's history during the U.S.-Dakota War of 1862 that resulted in the hanging by order of President Abraham Lincoln of 38 Dakota warriors on Dec. 26, 1862. It is the largest mass execution in our country's history. But reconciliation efforts since the 1970s have resulted in Mankato being the location for one of the largest Native American powwows in the United States."
And then there are the arts.
"Mankato is also rich in literary history. Sinclair Lewis, the first American to win the Nobel Prize for Literature, wrote his legendary novel 'Main Street' from a rooming house on Broad Street in 1920. Maud Hart Lovelace, author of the Betsy-Tacy series of children's books, also made Mankato her home setting scenes in her books from 'Deep Valley' using many local landmarks.
"The city features one of the few silo art projects in the country, with a Native American theme captured on 100-plus foot grain silos."
But what became more interesting and surprising was research on the people of the region and it's impressive growth.
The population of the Mankato metropolitan statistical area grew 7 percent from 2010 to 2020.
"The people of the Mankato area are well-educated professionals, technical experts and medical personnel who have high levels of civic engagement. Some 90 percent of the people in Blue Earth and Nicollet County voted in the last presidential election, ranking tops among the leading state in the country for voter turnout.
"About 95 percent of residents have some education beyond high school, and 40 percent have bachelor's degrees or higher.
"Another 95 percent of households have a computer, and 85 percent have a subscription to a broadband internet connection.
Median household income is about $62,000 a year and per capita income is about $31,500 a year."
We're not quite there for a Trader Joe's however, which looks for markets with $100,000 median household income.
And if the figurative and literal landscape of the area doesn't impress, the health of the business climate would fill the bill. My report offers details.
"Downtown Mankato is in the middle of a development boom not seen in recent history. In the last five years, four class A office buildings have taken hold in downtown. Two upscale apartment buildings and an affordable housing project will add 170 apartments to the City Center.
"Total wages in private and public employment grew 8 percent from 2017 to 2020, and the average weekly wage has grown 12.9 percent topping at $930 a week or $23 per hour."
The relatives high wages and wage growth is likely related to good-paying jobs at universities and health care institutions.
But key to our success may be our diversified economy. It's not reliant on one major industry and therefore, not subject to one industry's downturns.
"Some 22 percent of all wages paid come from medical and educational industries, 17 percent come from manufacturing and 16 percent come from trade, transportation and utilities."
And we have long known the value of our our regional retail trade center.
"Mankato is a regional trade center with $17,000 of retail sales per capita, compared to a statewide median of $10,000."
And we can't forget agriculture in this report to investors.
"The local farm economy has significant impact on the Mankato economy. Beyond corn and soybeans, Blue Earth County is the second largest hog-producing county in the state, with 2 million hogs sold per year."
The overall economy remains solid.
"Overall gross domestic product for Blue Earth and Nicollet counties reached $5.4 billion in 2019, a 5 percent gain from 2016."
The investors wanted to know how a newspaper might fit into this community and what role it plays.
My response: "The role of The Free Press in this market is one of community leadership to address problems like homelessness, infrastructure and the shortage of mental health care. A monthly business magazine gives focus to the economy and local companies. A monthly lifestyle magazine gives voice to the arts and culture that makes Mankato a vibrant place to live and do business."
Mankato may be a great market for a print and digital news operation, but, as one can see anecdotally from the changing skyline and the facts, it's good for a lot of other business too.
Joe Spear is editor of The Free Press. Contact him at 344-6382 or jspear@mankatofreepress.com Follow on Twitter @jfspear.