As special education funding gaps grow in many area districts, a push is on at the state Capitol to increase and equalize state aid.
Gov. Tim Walz, a former Mankato West High School teacher, is proposing new spending that would at least plug the funding gap so it doesn't grow larger.
Public schools are required to provide special education services for both their students as well as private and home-school students. But federal and state funding covers only a portion of those costs.
As the funding gap continues to widen, school districts are increasingly forced to use money intended for other programs to fund special education.
The federal government pledged decades ago to fund 40 percent of special education costs, but only is providing 8 percent for Minnesota schools, according to a Minnesota Department of Education analysis.
The state has stepped up its support and last year funded 62 percent of districts' costs.
That still leaves districts with picking up 30 percent of the tab.
Inequitable gaps
Schools across Minnesota spent nearly $708 million from other funds on special education last school year, according to the Department of Education. The funding gap has grown from $600 million in 2014-2015 and is projected to reach nearly $817 million in 2021-2022.
A convoluted funding formula leaves some districts with larger gaps than others.
The New Ulm School District faced a funding gap of $2.3 million last year. Divide that by the total number of students in the district, and it's over $1,000 per student. That's the largest per-student funding gap of districts with at least 1,000 students in The Free Press coverage area.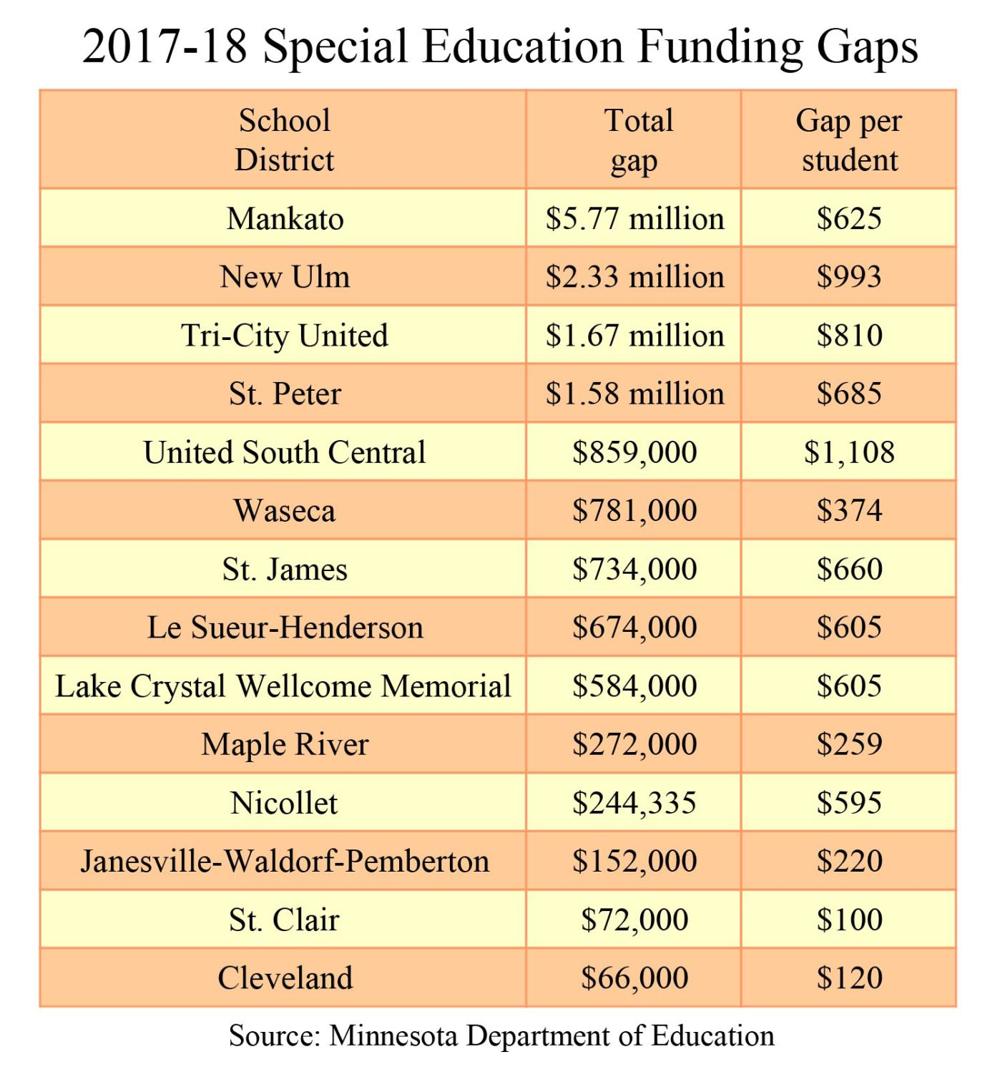 Mankato Area Public Schools had a funding gap of $5.8 million, or $625 per student.
Scott Hare, Mankato's director of student support services, said the gap is comparatively smaller in Mankato than in some districts in part because Mankato is gaining students.
The current funding formula is based in part on overall enrollment. This hurts districts that experience an increase in special education service needs but not an increase in enrollment.
The complicated formula also has a funding cap that affects some districts, including New Ulm, but not others, including Mankato.
Strict federal and state mandates leave little room to cut costs within special education programs.
"We try to be as efficient as we can, but we are going to meet all students' needs as best we can," Hare said.
Districts must draw from other funding sources to fill the gap in special education.
"It affects everybody because you have to take from the general fund," said New Ulm Supt. Jeff Bertrang.
In New Ulm the gap is equivalent to around 9 percent of the district's general fund operating budget. In Mankato it's less than 6 percent.
Both districts have been able to balance their budgets in recent years without laying off teachers or making other painful cuts. But not every district has been so lucky, Hare and Bertrang said.
Legislative push
Education officials long have been lobbying their congressmen and congresswomen to increase federal support, said Hare, who himself has paid visits to the U.S. Capitol.
A push to increase state funding also has been accelerating at the state Capitol, Hare said.
Last session a proposal to increase special education funding ended up in the omnibus budget bill that then-Gov. Mark Dayton vetoed for unrelated reasons.
Walz released a budget proposal last month that includes $77 million in additional special education funding over the next biennium.
The additional dollars wouldn't reduce the overall state gap but would avoid its projected increase.
"We will also invest in special education to stop the current gap from growing and prevent schools from being forced to divert general funding," Walz said in his budget address. "This is critical for local school districts to do their job, and do it well."
The governor's proposal includes some adjustments to the formula to make it more equitable. It also includes a new pot of funds to reimburse each district for a small percentage of their funding gap from the prior year.
St. Peter Supt. Paul Peterson called the governor's proposal "a really good start." His district had a funding gap of nearly $1.6 million last year.
"It has been a concern for a number of years and the gap continues to get wider," Peterson said.
Peterson and Bertrang, however, said their top wish is for a significant increase to the general education basic formula. That's the primary funding source for school districts and, unlike many other sources of funding, comes with no strings attached.
"It gives us flexibility to decide what we need most," Bertrang said.
Walz's proposal includes $523 million to increase the formula by 3 percent next year and 2 percent the following year.
The DFL governor's budget, which includes tax increases, faces an uphill battle in the Republican-controlled Senate.
Sen. Carla Nelson, chairwoman of the Senate E-12 Education Finance and Policy Committee, said increases in education funding "need to be sustainable."
"Over the last two years, my Senate colleagues and I crafted a sustainable education budget that increased funding across the board, both years, without raising taxes," she said in a statement.