With home-heating fuel prices projected to soar and remain high through the winter, Minnesota has expanded the number of people eligible for grants to pay utility and water bills while also promoting cost-saving weatherization and repair services for homeowners.
The state Department of Commerce is offering payments of up to $1,600 for energy bills and $1,200 for past-due bills to households earning 60% or less of Minnesota's median income level, the most inclusive range ever. For a family of four, $67,765 is the 60% mark.
Through the Energy Assistance Program, more than 600,000 Minnesotans are available for money sent directly to utility companies to pay for gas, electricity, propane, and repair or replacement of broken furnaces. Help with paying water bills is newly available, and by submitting an EAP application, households could qualify for weatherization aid.
But in typical years, only about a quarter of eligible recipients apply for money from the EAP, said Ross Corson of major natural gas provider CenterPoint Energy.
"There's a large group of Minnesotans who could get that assistance but they need to apply for it," Corson said.
The Minnesota Valley Action Council is the local agency responsible for distributing EAP money, along with providing weatherization services to low-income households. Housing Director Judd Schultz said he credits the state for adjusting to what will likely be more people in need of larger sums.
"People are gonna have bigger bills, their assistance is gonna run out a lot faster," Schultz said.
"Households should apply for energy assistance. They should not self-determine if they're eligible or not," he added. "That's our job. That's what the state pays us to do."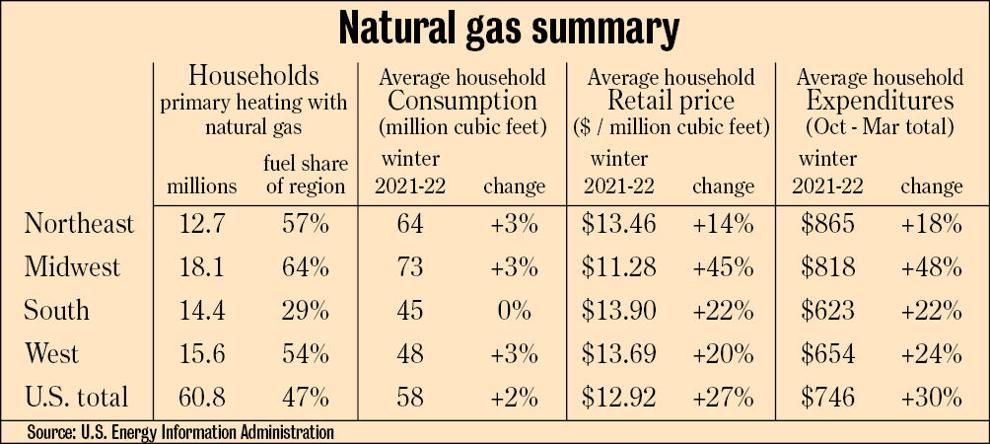 The U.S. Energy Information Administration predicted last month that from October to March 2022, Midwestern households could pay 48% more than last year for natural gas, bringing the average overall payment for that period to $818. The Midwest's estimated spike is more than 20 points higher than that of any other region.
The cost of propane, a significant fuel source in rural areas where natural gas is unavailable, is set to increase in the Midwest by an even higher amount. Forecast expenses are up 69% from 2020, reaching an average sum of $1,805 for the season.
Electricity expenses in the region are projected to be 5% higher.
A slight increase in projected heating degree days, a measure of heating demand, means the federal EIA expects a colder winter and increased fuel consumption from last year. That also is a factor in the higher payment forecasts.
Across the nation and world, "Energy prices have been really going up over the summer and have continued to be above levels that we saw last winter or in recent winters," Corson said. "It's hard to predict exactly what the cost impact is gonna be for customers this winter. Part of it is because we don't know how mild or cold the winter is gonna be."
CenterPoint and other utility companies typically buy fuel over the summer, when prices tend to be lower, in advance of the need to heat homes in cold-weather states. Corson said his company followed that practice this year, paying for over half of its natural gas at prices that were lower than this fall's, yet still higher than usual.
"We're concerned about the prices and the impact that'll have on customers' finances," he said. "That's why we really do encourage people to prepare now by making sure their home is as energy efficient as possible."
Rebecca and Bryan Nash, co-owners of Countryside Refrigeration & Heating in North Mankato, said an earlier cold snap this year has already prompted a number of "no-heat calls" from customers.
The company expects to install about 80 furnaces over the next two months. Countryside more often does annual maintenance, conducting nearly 75 service visits a week for an average price of $80 to $90.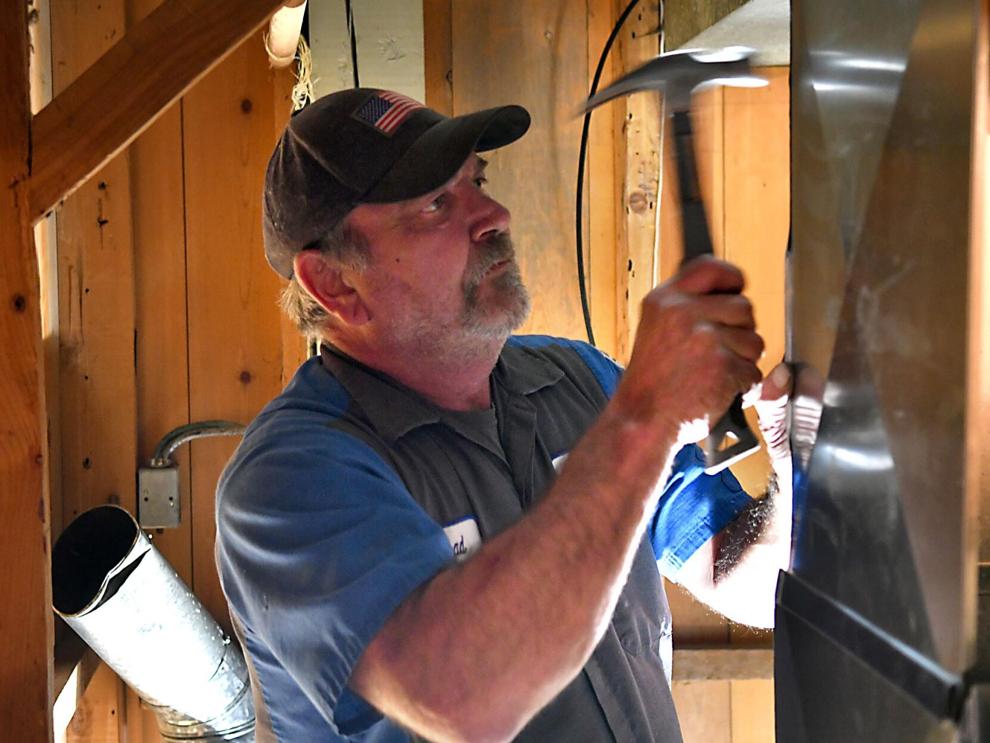 Regular repairs can ensure a furnace isn't wasting significant amounts of fuel, saving money and emissions.
The Nashes said if a furnace is working improperly, customers should first check the batteries in their thermostat, the cleanliness of their air filters and that their circuit breakers aren't tripped. If those steps are in order, substantive fixes are probably needed.
"Trying to catch it during the maintenance, that's always gonna be your better route to go," Bryan Nash said. "It's not as cold, you're not gonna have the issue with the system breaking down, not gonna have the issue with the possibility of companies being backed up because now everybody's calling."
Recognizing the cost-saving and emissions-reducing effects of weatherization, Gov. Tim Walz had declared Oct. 30 "Weatherization Day" in the state.
The Weatherization Assistance Program, through which MVAC helped 138 households in 2019, provides services for lower-income people that on average decrease energy costs by 15%.
A crew of workers adds insulation to walls and attics, seals doors and windows against drafts, and replaces inefficient furnaces.
The organization has about $1.2 million to spend on weatherization, Schultz said, a figure twice as big as normal.
"We're finding a lot of ways to save them money based on just getting rid of things that are inefficient," he said. "When you add all that up, the energy savings once we get done on that house are pretty tremendous."
In addition to expanding income eligibility, the state also extended the duration of its Cold Weather Rule, which prevents shutoffs as long as a customer has arranged a payment plan with their utility provider. Participating renters and homeowners are protected until April 30, 15 days later than normal.
"For anybody who thinks that they may have trouble paying their heating bills this winter, they should call us now to set up a payment plan," said Corson of CenterPoint, the top natural gas provider in Greater Mankato.