Day 1 of a two-day winter storm arrived on schedule Friday with a half-foot of snow.
Day 2 on Saturday is expected to be all about the high winds that are predicted to put the previous day's snow back in motion.
"The main concern by Saturday morning is the strength of the surface winds ... with blizzard conditions likely in western/southwest/south-central Minnesota," the National Weather Service in Chanhassen advised Friday afternoon.
Blizzard warnings were to be in effect in towns as near as Fairmont and New Ulm starting at 6 a.m. and continuing until 6 p.m. with wind gusts approaching 50 mph. East of there and throughout much of Minnesota, a winter storm warning that began Friday was to remain in place until 6 p.m.
The snow on Friday began falling in Mankato just before noon and was heavy through most of the afternoon before declining in the evening hours. As of 4:30 p.m., five inches had been measured in Mankato but light snow — and some drizzle — continued to fall into the evening, and the Weather Service predicted a couple of more inches would accumulate before the precipitation moved out of the area.
With the storm in long-range weather forecasts for nearly a week, area residents appeared to have been taking notice. School and extracurricular events were canceled, some businesses closed early, traffic was light by mid-afternoon, and the Minnesota State Patrol was reporting relatively few major crashes.
The only injury crash reported in the Mankato area as of 9 p.m. was a rollover on a snow-and-ice-covered Highway 169 about three miles north of St. Peter. Jena Kaylee Cardinal, 19, of Maple Grove was northbound in a 2005 GMC Yukon at 12:24 p.m. when she left the roadway and rolled. Cardinal, who was wearing a seat belt, was taken to the St. Peter hospital with non-life-threatening injuries.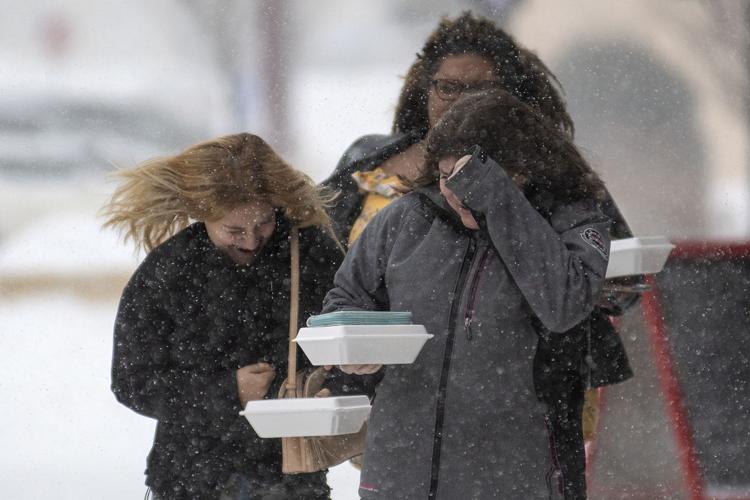 Enough snow fell Friday that Eagle Lake declared a snow emergency starting at 5 a.m. Sunday, which prohibits parking on city streets until the emergency is lifted.
Blue Earth County was recalling plows at 7 p.m., something Martin County had done at 4 p.m. as the storm moved from south to north.
Minnesota Department of Transportation plows continued to work deeper into the evening, but MnDOT was reporting that highways were either partially or completely covered with ice and snow throughout the region and across the state.