Teacher Joel Boehlke has a new ride to take ice fishing on his day off Friday thanks to a special student and many other supporters.
An all-terrain wheelchair, funded by an online campaign started by Cleveland High School junior Ryan Reineke, was delivered to Boehlke Tuesday.
The delivery was "even more overwhelming" than he imagined, Boehlke said as he tested out his new high-tech wheelchair outside the school.
"His willingness to give and to take the time to make a difference in my life is awesome," Boehlke said about the student who has helped him regain some of the mobility he lost in a sledding accident 12 years ago.
Reineke raised more than $20,000 in fewer than three weeks for his favorite teacher. Over 300 donors gave on a GoFundMe page.
Most of the funds went to getting Boehlke his first electric wheelchair, complete with a rubber tank-like tread system, a headlight, a plow attachment to remove snow and a carrier to attach to a vehicle to bring the wheelchair on trips.
Midwest Trackchair in Marshall waived the delivery fee. That left some funds to also help Boehlke pay the insurance deductible on a replacement manual wheelchair that Boehlke will use when he's indoors.
Reineke said he decided his teacher should have a better outdoor wheelchair after Boehlke hired him to help with some handyman jobs this summer. Boehlke sometimes got stuck on the uneven terrain on his St. Peter property and once nearly tipped over, Reineke said.
Boehlke became more than a teacher to him during those weeks of working together and Reineke said he wanted to do something to thank his mentor.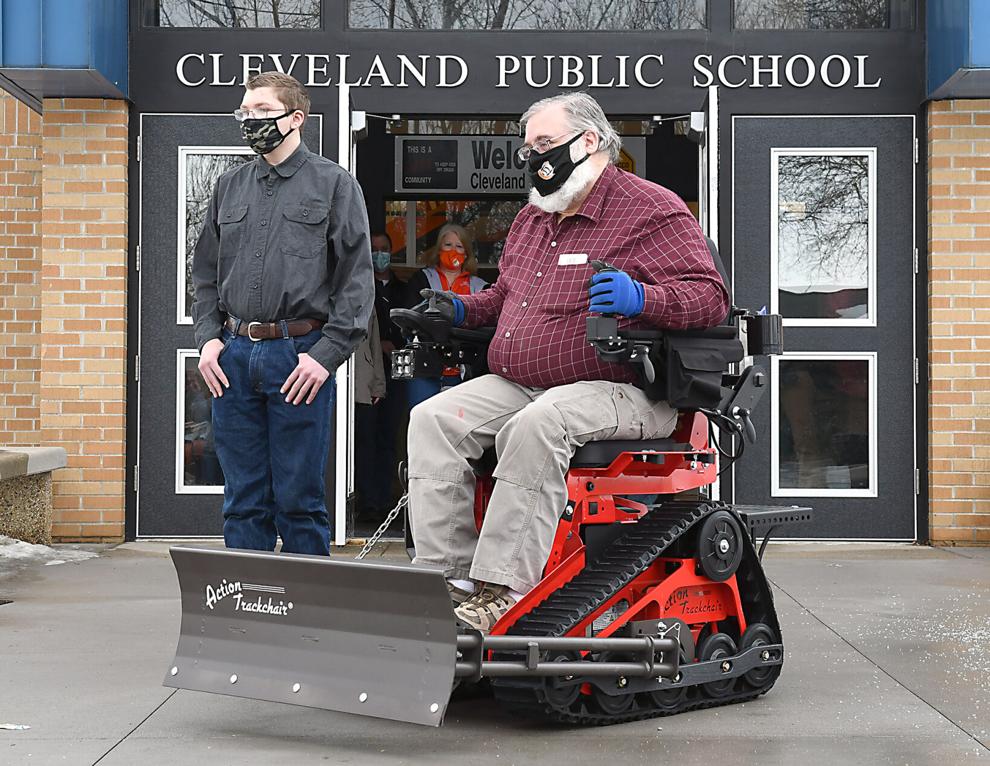 Boehlke said his new wheelchair will help him be more independent at home, including being able to plow the snow from his driveway and take his dog for walks in the winter.
"Going around the block won't seem as monumental of a task any more," he said.
Boehlke and his wife, Lisa, also are looking forward to getting back to some of their favorite former recreational activities, including camping and exploring state parks.
Reineke might have some more work ahead of him, helping the Boehlkes fix up their old camper.
But first on Boehlke's list is ice fishing — a favorite winter activity that for the last dozen years has been limited to when the ice is thick enough to drive onto with his van. Now he can leave the van on shore and extend his season.