Retirement from the St. Clair School District only lasted a few months for Sheila Opsal. The former business and technology teacher comes back to school a day or two a week when she's not traveling or looking after the grandchildren.
Being a substitute teacher offers the rewards of teaching with the flexibility to enjoy other retirement activities, she says.
But fewer people want to work as substitutes like Opsal these days. And more teachers are having to take time off of work during the pandemic. That combination of increased demand and reduced supply has exacerbated a preexisting substitute teacher shortage.
"We're all in the same boat. We're all struggling," said New Ulm Supt. Jeff Bertrang.
Paraprofessionals and principals sometimes are being called away from their regular duties and teachers are giving up prep time to fill in the gaps.
New Ulm Public Schools now has two full-time substitutes that go wherever they are needed each day. Mankato high schools are trying out a new system in which teachers are on call to supervise students in a study-hall-like setting.
School districts and a company that provides substitutes to several area school districts are asking parents and others to consider becoming subs, emphasizing that the only prerequisite is a four-year college degree in any subject.
Ongoing need
Schools have been struggling for years to maintain adequate substitute pools. And the pandemic has widened the gap.
"We've never been flush with substitutes to begin with," said Supt. Mark Westerburg of Lake Crystal Wellcome Memorial Schools.
Districts are equally challenged to find both short-term substitutes willing to fill in a day or two at a time and to find longer-term ones to take over for teachers on leave, said John Lustig, Mankato Area Public Schools director of administrative services.
The Mankato district usually has a roster of at least 115 available substitutes. Now it's down to a just over 100 names, Lustig said.
On average these days Lustig estimated there are about 45 teacher absences each day, 35 of which are filled by members of the substitute pool and 10 which must be filled by other means.
The Mankato, St. Peter, New Ulm and LCWM districts are among the districts that hire and manage substitute teachers themselves.
Maple River, St. Clair and Waseca are among the districts that contract with Teachers on Call — a Twin Cities company that employs and dispatches substitutes to schools and early learning centers.
The company also is experiencing more demand than it is able to fill, said Vice President Al Sowers. Requests are up about 10% compared to before the pandemic, he said. In the south-central Minnesota districts it serves, Teachers on Call is able to fill between around 60%-90% of requests.
Shortage compounded
The return of in-person learning during an ongoing pandemic has increased demand and reduced supply, school officials day.
More teachers are having to take time off, due to their own illness, sick children, quarantines and day cares closed due to quarantines.
And this school year students are back in the classroom full time and planned teacher absences for field trips, teacher trainings, and athletic and extracurricular activities are ramping back up to near pre-pandemic levels.
Meanwhile fewer people are working as subs.
Some former substitutes found other employment while schools were in distance learning. Some have been lured to non-teaching jobs that now offer better pay as employers across many sectors are raising wages to compete in a hot labor market.
Herb Kroon is among others who had been subbing but opted to stay home due to concern about coronavirus exposure.
"I miss it terribly," he said. "Especially the rambunctious middle schoolers at Dakota Meadows and Prairie Winds. I think about those kids every day."
The North Mankato resident stopped subbing as the pandemic struck and hasn't felt safe to return even after being vaccinated.
"I know of fully vaccinated people who have become quite ill from the virus," he said.
Winter always has been the height of the substitute scarcity even before the pandemic, Lustig said. More teachers are historically out sick with a variety of ailments. Meanwhile some of the many retired teachers who are part of the substitute pool have gone South for the winter.
The impact
The gap between absences and available substitutes leaves school principals scrambling to find solutions.
Multiple districts sometimes ask teachers who are at school to give up their prep time to spend the hour in another classroom in exchange for some extra compensation.
School paraprofessionals and other staff who have a college degree, including sometimes the principals themselves, are being tapped to fill in. But that takes staff away from their regular duties, district officials say. The greatest concern is not taking away too many paraprofessional hours from special education students who need extra individualized support.
The substitute shortage also might mean elementary pupils miss time with their music teacher or other specialist, and secondary students might be moved to a space with more students while they work on an assignment on their laptop.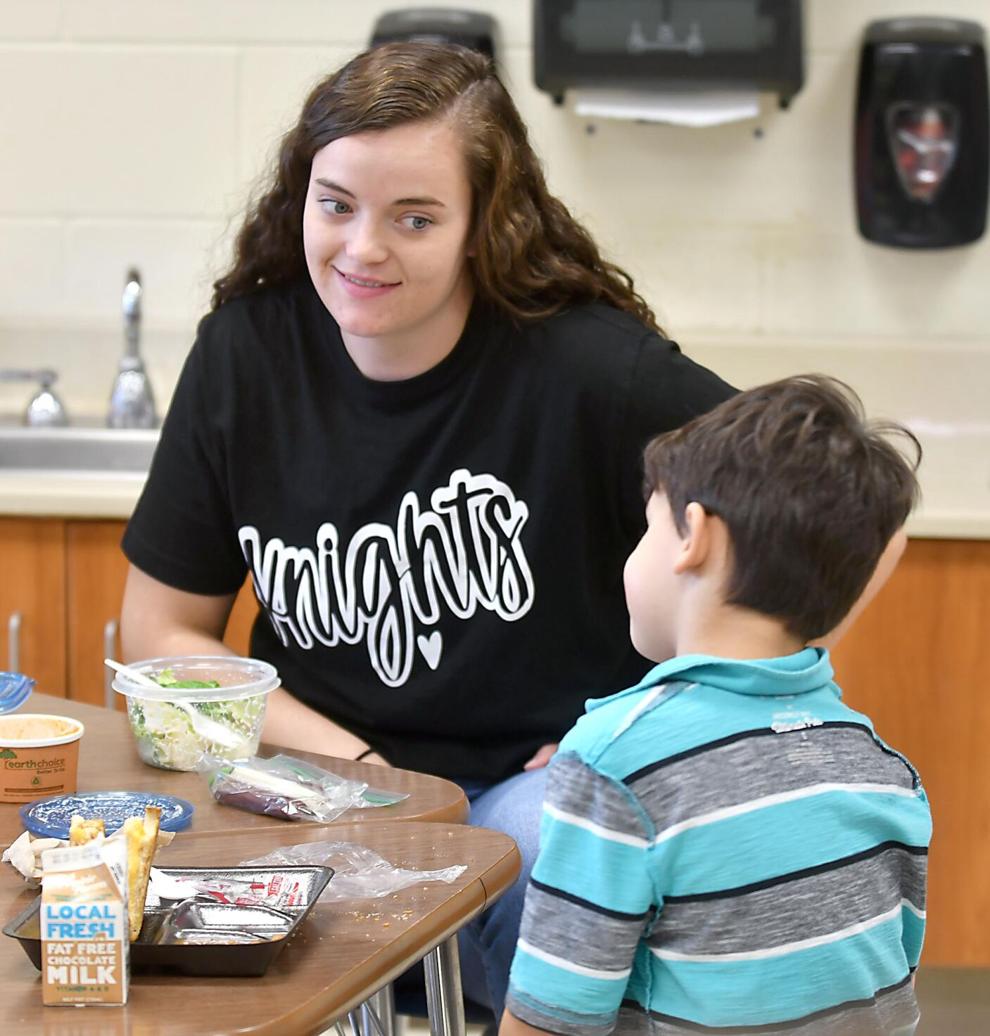 Elementary specialists — teaching subjects such as music and physical education — are especially difficult positions to fill, Lustig said. Other times a specialist may be pulled to fill in at another classroom.
At secondary schools, where students are supplied with a laptop, a class period with a sub often involves working independently on a digital assignment given by the absent teacher.
At New Ulm High School, Bertrang said two classes are sometimes moved to a space like the auditorium where one teacher can oversee all the students. At Mankato high schools, Lustig said a class without a teacher might be combined with a study hall.
Districts respond
Advertisements seeking substitute applications have been appearing on many districts' websites, parent newsletters and social media pages this fall.
Mankato and New Ulm are among the districts encouraging paraprofessionals and interested parents to get a substitute license.
"We're turning over every stone we can find," Bertrang said.
It typically takes at least a month before the state approves an application, Lustig said, but people can begin the separate district application process before they receive their license.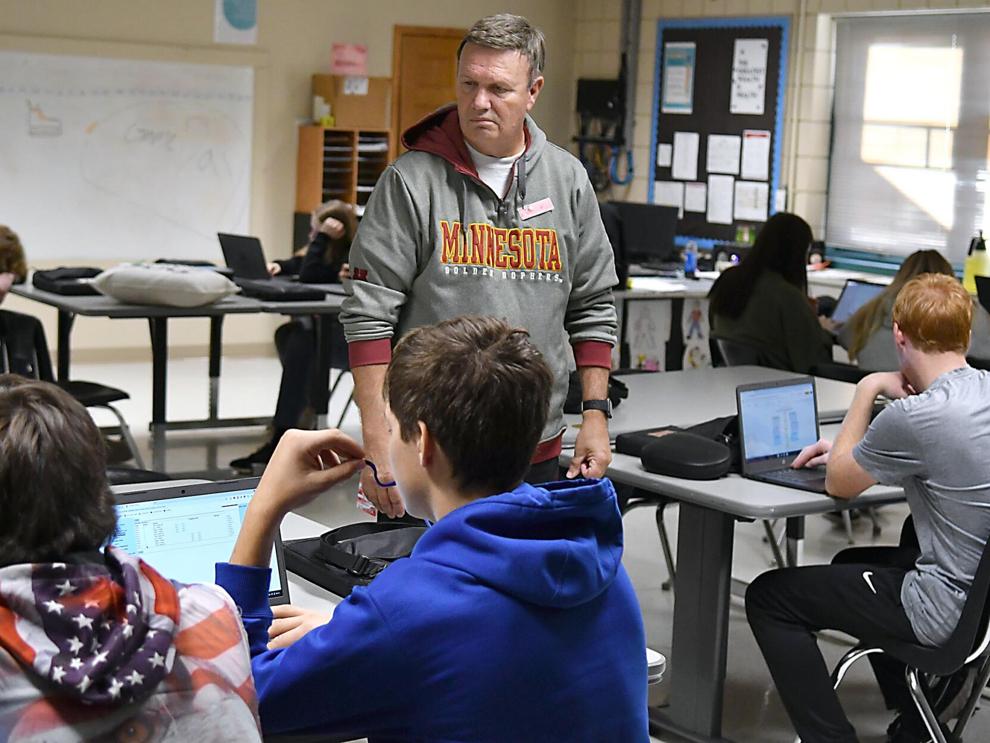 Teachers on Call also is "recruiting like crazy," Sowers said, with new referral bonuses and ads emphasizing that applicants need only a bachelor's degree in any subject. The company also will help applicants apply for their state license.
Last month the Mankato School Board approved a pay raise for substitute teachers, as well as other substitute staff. Fill-in teachers now make $150 per day. That's a $20 increase. If they work less than a full day, they receive $25 per hour with a two-hour minimum.
Westerburg said LCWM also took a look at its pay scale, saw it was in line with other area districts and decided a few extra dollars wouldn't likely be enough to entice new substitutes.
New Ulm Public Schools now has two full-time substitutes who report to a school every day and are assigned to replace an absent teacher. Bertrang said he'd prefer to have four such full-timers — one for each school — but there haven't been applicants for the other two openings.
Teachers on Call is recommending many districts get such full-time substitutes, and more are doing so this year, Sowers said.
Mankato high schools are trying out a new system this year that bears some similarities to study halls. Some teachers are assigned periods to be on call to supervise classes of students as they work independently.
The new system helps with the substitute shortage as well as creates a cost savings for the school district, Director of Business Services Tom Sager said. The "supervisors" receive less compensation than if they serve as a full substitute.
Degree required
The only prerequisite to become a short-term substitute teacher in Minnesota is a a four-year college degree. And the degree does not have to be education related.
Subs also must pass a background check and obtain a lowest-tier state teaching license. Some school districts will help an interested person apply for a license.
There are higher requirements for substitutes to be placed longer term in the same classroom, typically replacing a teacher on leave.
Some school officials would like to see the college degree requirement lifted, at least until the pandemic has largely ended.
Westerburg suggested two years of college as a minimum. He said he has paraprofessionals and others who then could step in.
"There's a lot of capable folks who can come in and deliver a lesson plan," he said.
Bills to reduce the education minimum to two years were introduced at the state Capitol last legislative session but did not make it out of committee.
Subbing rewards
Opsal and education leaders looking for substitutes say the best advantage of substitute teaching is the flexibility.
These days substitutes can log onto an online portal, see all the openings in the district or districts they work for and choose which jobs to take.
Ospal prefers to teach only secondary students and typically stays in St. Clair, with an occasional trip to Janesville-Waldorf-Pemberton.
The coronavirus has caused her some hesitation, she said, but she's been less worried since getting vaccinated and thinks she's needed now more than ever.
"I can help kids and districts keep more normalcy during COVID," she said.
For people looking for more hours, school officials say substitutes can usually find work five days a week when school is in session.
Teachers on Call offers health insurance and other benefits.
No end in sight
District officials aren't expecting the substitute shortage will end any time soon.
The trajectory of the pandemic and its impact on teacher absences is, of course, hard to predict, they said as a new coronavirus variant reached the U.S. and the state. Even once the pandemic subsides, it's likely to have a lasting impact on the job market.
Sowers said districts need to look at raising substitute wages to be more competitive.
Longer term the state also needs to find ways to attract and retain more educators at all levels, Sowers said. Fewer people are entering the profession and more are leaving it, and that has a trickle-down effect on substitute need and availability.
"There's a shortage of education talent across Minnesota and across the nation," he said.