Parents of picky eaters might want to send their children to school with bag lunches.
Schools here and across the country are dealing with pandemic-related food supply chain issues.
Area school food services leaders say students are still getting nutritious breakfasts and lunches. But what gets served on their plate doesn't always match what was on the menu.
More than occasional menu substitutions have become a necessity in at least two area school districts.
"We're doing the best we can," said Darcy Steuber, director of nutrition services for Mankato Area Public Schools. "We've learned we have to be flexible and creative during the pandemic."
"I was anticipating it would be worse," said Ross Larson, food service director for Waseca Public Schools.
The vendors that supply food to the school districts are running out of some of their products, forcing school lunch planners to look for alternatives.
Steuber and Larson said school vendors operated at reduced capacity last year due to reduced need with many students still learning at home, and it's taking time for them to gear back up again. And some of their vendors are having difficulty obtaining food products and packaging from their manufacturers and producers due to supply chain issues of their own or worker shortages.
Chicken tenders were originally planned to be served at many Mankato schools this Friday, Steuber said. But only some schools received their orders. Others have had to find another entree to serve.
Chicken products are among the hardest to acquire these days, Steuber said. Hamburger patties, pasta, frozen vegetables and canned fruit are among other often hard-to-find items,
Steuber said she's tried contacting other vendors; they're all dealing with shortages and not taking on new clients.
Steuber said she's heard from other school districts facing identical challenges.
"We're all in the same boat," she said.
The menu calendars posted online for Mankato district families are now much less specific than they once were due to frequent substitutions. Wednesday's elementary menu is now listed as "pasta and meat sauce, garlic bread, vegetable and fruit." Friday's says "cook's choice."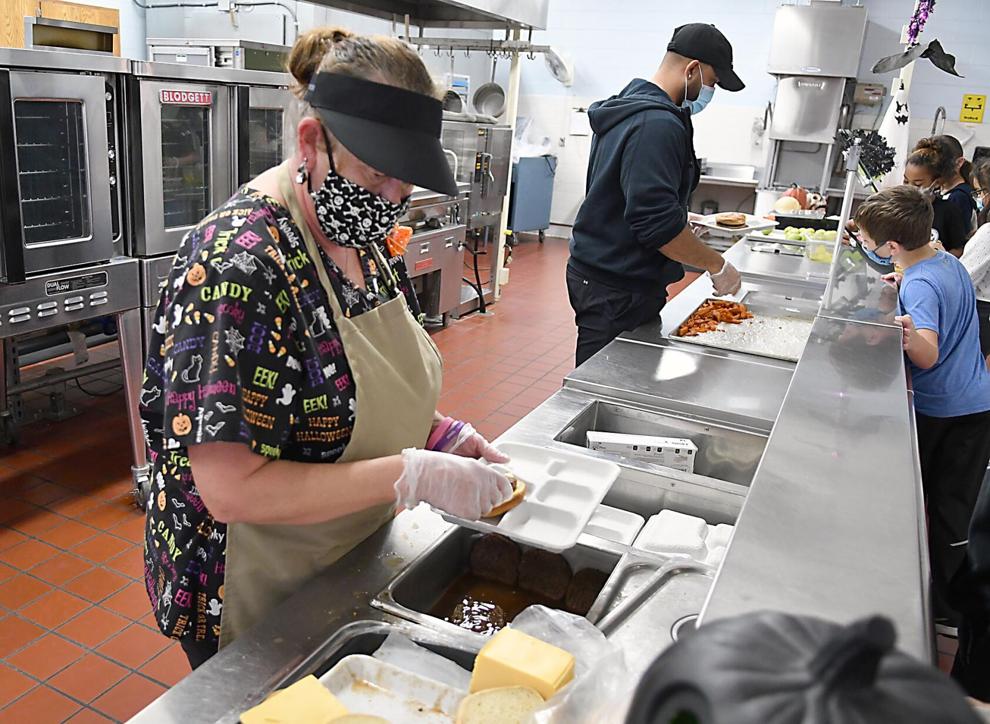 In Waseca, Larson said he's had more luck finding alternative vendors willing to supply when they can to his smaller district.
He's had to make substitutions, but he's so far been able to find substantially similar products. For example, his main supplier ran out of the mini corn dogs that were on his menu recently. He replaced them with full-size corn dogs.
Again, this school year public schools are using federal funding to provide free breakfast and lunch to all students who want the meals, regardless of family income level.
Now that they're free, Steuber has seen an increase in students requesting breakfast. But lunch numbers have not changed significantly, she said.
Larson is new to the Waseca district and has been too busy dealing with the supply chain issues to study whether more Waseca students are eating school meals this year. But he has noticed there seems to be more special dietary requests, such as no gluten. So far he said he's been able to accommodate all requests.
The amount of federal reimbursement districts receive has increased during the pandemic. Districts are now paid between $2.42 and $4.32 per meal, depending on whether it's breakfast or lunch and a rural or urban district. But school officials aren't sure if that will be enough to cover their costs.
Substitute products often are more expensive than what was budgeted, Stueber and Larson said.
Both departments have some money in reserves that their overseers said they will draw from if needed. But they're hoping for additional federal aid instead.
Last month the U.S. Department of Agriculture, which oversees school meal programs, announced it will provide up to $1.5 billion to help schools cope with supply chain issues. How those funds will be allocated hasn't been specified.
The USDA also has temporarily eased some of its dietary requirements for school meals. If a school cannot find the required whole-grain bread, for example, Stueber said she can now use an enriched white bread.
The school meal administrators don't see the supply challenges easing in the near term. Larson guessed at least another month or two. Stueber predicted spring at the earliest.