Mankato Teachers' Association's new Teacher of the Year got her start as the overseer of a group home.
Before moving back to Minnesota, Pam Gabrielsen and her husband were "surrogate parents" to six elementary-age children with special needs in Montana. When the children went to school, they spent their day isolated in one small room.
"They were not given the opportunities other children were given at school," Gabrielsen said. "It was then that I knew I had to do something to advocate for children with special needs."
Now Gabrielsen advocates as a special education teacher devoted to inclusiveness. At Eagle Lake Elementary School she helps students with special needs access more opportunities in her classroom and with other students in other classrooms.
"Pam has worked with some very challenging special education students and has helped them make tremendous strides in both academics and socially," said colleague Kris Toner.
Gabrielsen's work earned her the title of 2021-2022 Teacher of the Year. The union representing Mankato Area Public Schools teachers annually recognizes one of its members.
Gabrielsen has worked in the district for 15 years, teaching students who receive special education services and for a time also gifted and talented students.
Now a life skills teacher, she supports students in her own classroom and in general education classrooms
"The kiddos are in the general education classroom, with support, and in my classroom throughout the day getting access to and participating in activities as their same-age peers," she said. "I collaborate with their classroom teachers, and we come up with a plan that is best for each individual student to be successful."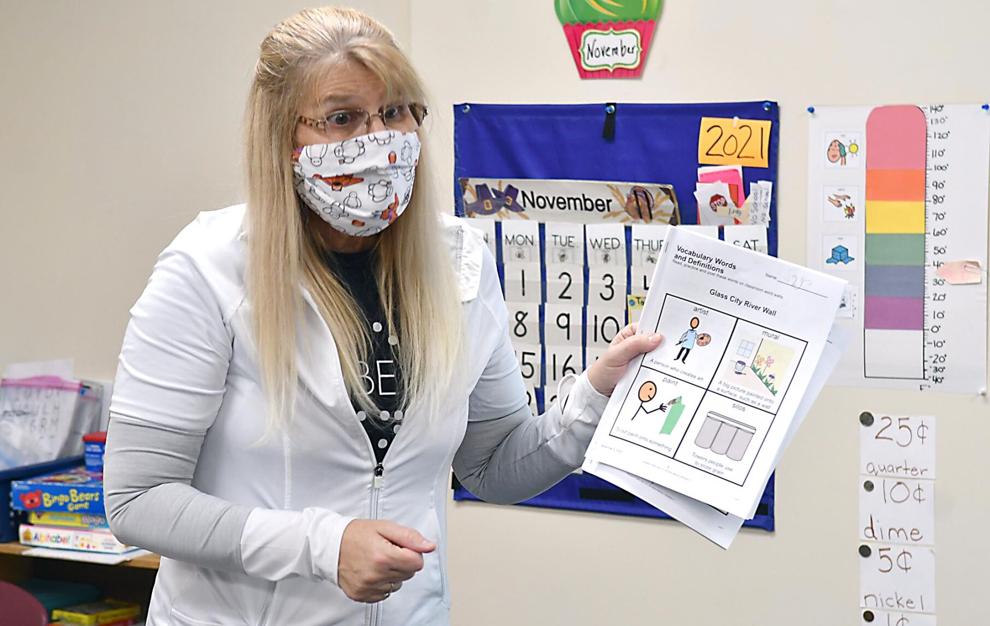 Second-grade teacher Deb Kienholz said Gabrielsen works well with other teachers to coordinate the best times for her students to be in regular classrooms. The bonds that form benefit all students, Kienholz said.
"It makes my heart happy to see all kids greeting one another, visiting, waving, helping, playing with and generally interacting with each other. This is inclusion," she said.
The pandemic forced a pause on that inclusion. Distance learning was "very difficult," Gabrielsen said. When in-person learning resumed, her students, like others, had to stay in one classroom to limit coronavirus exposure. While some pandemic precautions remain in place this year, her students have been able reintegrate with other students.
Gabrielsen has been glad to see growing acceptance during her 15 years.
"It is awesome to see that children with special needs are accepted into general education classrooms and are seen as an important community member with lots to give to others," she said. "I hope that this acceptance continues as they grow older and try to get jobs in the community."
Toner said Pam is quick to recognize when a student is struggling.
"She immediately takes action to remedy the situation," Toner said. "She accomplishes this through standards-based interventions that align with individualized education plans, collaborating with peers, paraprofessionals, specialists and parents."
Gabrielsen said it's a misconception that expectations are set lower for students with special needs.
"I have high expectations for each of my students and they all meet them," she said. "Sometimes it takes a bit longer, sometimes they are changed or modified. But nonetheless, they do meet them."
Gabrielsen's dedication to her students extends beyond the walls of Eagle Lake Elementary, her colleagues say.
"When homebound instruction is needed, she's there. When there's a special event, she's there," Kienholz said. "She really knows these kids on a personal level. Those relationships last well beyond their years at Eagle Lake."