Genealogy research brought Greg Wheelock to a tiny cemetery just outside St. Clair about three years ago. A sense of duty to the dead keeps him coming back.
The retiree, who grew up on a dairy farm near Waseca, has diligently restored McPherson Union Cemetery northwest of town in recent years. Using mostly methods he devised himself, he unearths, cleans and resets headstones that have been reclaimed by the earth.
He said the restoration project is partly about paying it forward, as he has the time and wherewithal to give the otherwise forgotten cemetery the attention it deserves.
"I'm trying to make this place look like it's, in a roundabout way, like it's still alive and active," he said. "Kind of an ironic term, maybe, a cemetery that's still living."
A cemetery in need
Wheelock dove into genealogy about five years ago, uploading photographs of graves at area cemeteries to the Find a Grave website. He came to the St. Clair cemetery with that in mind but immediately realized it was in disrepair.
"I got over here and determined this place needs more help than me just taking photographs," he said.
He found toppled headstones, some propped against other monuments, others lying in the grass. Etchings on grave markers were hardly visible with all the grass and dirt obscuring them.
Apart from the mowed grass, the space seemed left behind. He said it was a disheartening feeling, especially when he read the "gone but not forgotten" and "lest we forget" wording on various memorials.
The cemetery has about 170 graves with at least some indication of a burial record. Many of them are veterans from as far back as the Civil War. The first casualty from Blue Earth County during World War I, Glenn Campbell, was buried there.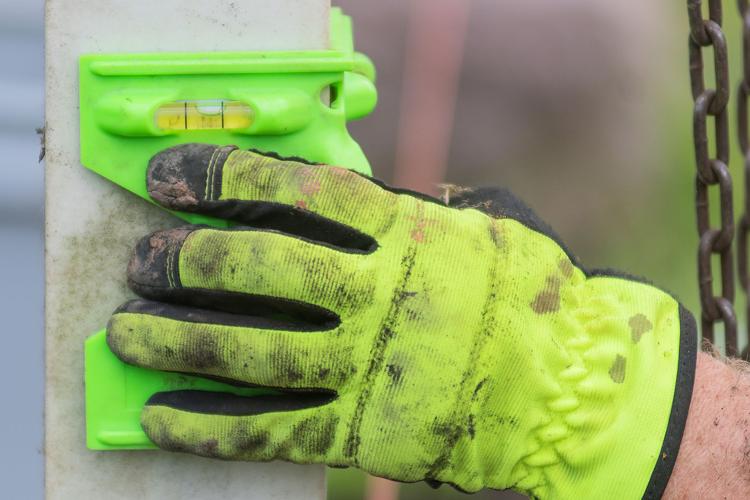 Wheelock doesn't have any known relations to anyone buried in the cemetery. He knew about McPherson Union because he lived nearby and had driven by it for 35 years to and from his old business in Mankato, Crop Insurance Services, which is now Agri-Business Insurance Services.
His cemetery work, though, gives him ideas about how the people who were laid to rest there lived and died. Families dying in quick succession might indicate a disease or other tragedy befell them. A stately grave with a toppled spire bears the family name of some of St. Clair's earliest founders.
Research helped him put the misplaced headstones back where they belonged. Certain markers somehow ended up across the cemetery from where they were originally set. Wheelock discovered one against the fence line, which wasn't visible until he cleared thick overgrowth along the perimeter.
"I don't know where his original plot was, but they mention that he was buried right next to his aunt, so that's where I'm going to set him," he said.
He found microfilm records from 1982 at the Blue Earth County Historical Society with row-by-row descriptions of where the graves should be. Two graves seemed to be missing as he followed the same path one day, so he dug down until he heard a "tink," and found two sunken headstones deep in the dirt.
Both were still attached to an even deeper concrete slab. A third was once attached to it, but he thinks a lawnmower might've broken the bond, leaving it on the surface apart from the other two as gravity and erosion did their trick.
Raising the slab to reset all three wasn't possible. Instead, he took a floor jack to wedge a hole and used a sledgehammer to free the two gravestones from the slab.
They're now reset and visible again. Absent the records and his shrewd genealogical sense, the graves might've been forever swallowed by the soil.
Wheelock learned to fix things on his own growing up on a farm. Thankfully for his back — gravestones can weigh hundreds of pounds — the skills come in handy at the cemetery.
He came up with a giant tripod with chain pulleys to hoist bases and headstones into place. This method and other tutorials are documented on his Youtube channel, "A Good Cemeterian," which he hopes will teach others how to take up similar projects at neglected cemeteries. He also takes extensive before and after photos to chart his progress.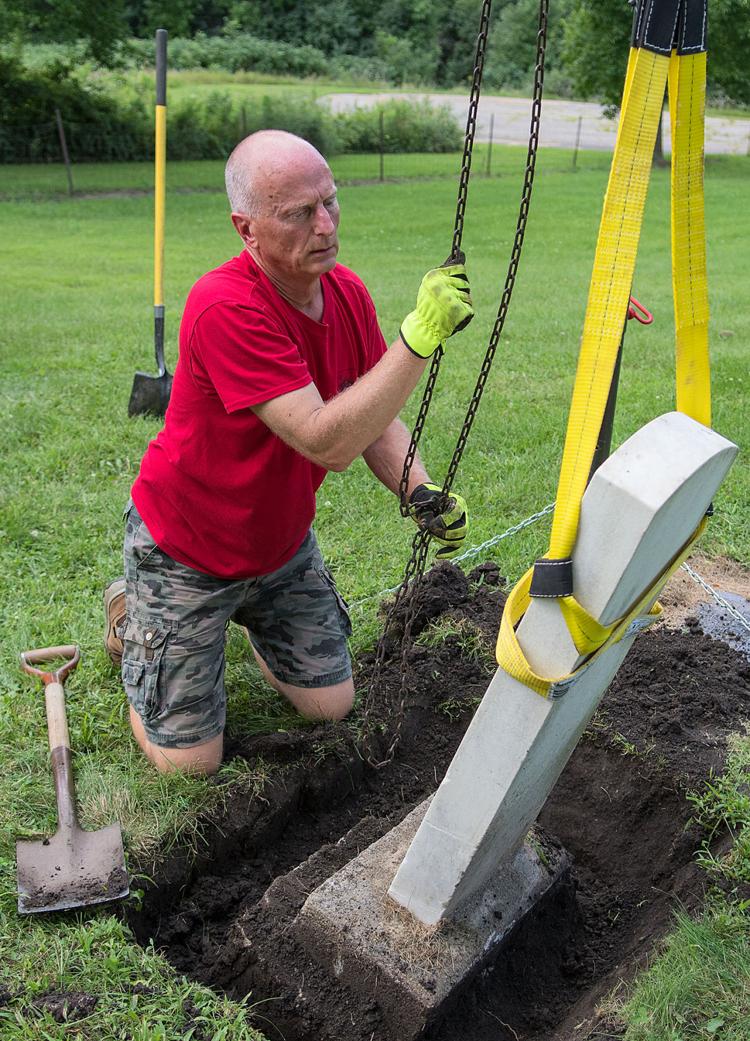 Although he's bought a chunk of limestone and poured concrete bases for headstones himself this summer, he receives material support from local businesses supporting his work. Fitzloff Electric in St. Clair provided about a half-dozen concrete slabs when he first started to reset headstones.
Thomas Tree and Landscape regularly allows him to come take the pails of gravel he needs to fill in holes when resetting the graves. Monuments by Miller owner Thomas Miller gave him advice and materials on how to set, restore and maintain old stones.
Miller is familiar with the McPherson Union Cemetery from past work there, remembering it as filled with marble gravestones. As popular as marble was for memorials 100 to 130 years ago, he said small carvings on the stone don't hold up well in extreme weather. More durable granite is commonly used now.
"I'm constantly getting calls on that, and what I'll do is cut the letters deeper," Miller said. "Marble is just not meant for our harsh conditions in Minnesota."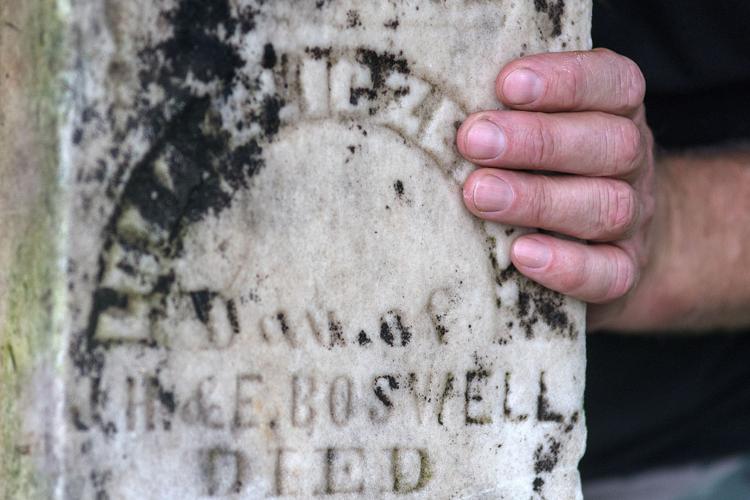 He occasionally takes calls from cemeteries to fix headstones when they lean enough to become hazards, but he said many cemeteries don't have the resources for major repairs, especially when they don't have regular burials. McPherson Union hasn't had a burial in years going on decades.
Miller called Wheelock's volunteer commitment to the cemetery admirable and not at all common.
"A lot of cemeteries are financially in rough shape, so it's kind of a rare thing," he said.
Gone and being forgotten
Ronald Gjerde Jr., secretary treasurer of the Minnesota Association of Cemeteries, said there are likely many cemeteries in rural areas without consistent caretakers. The exact number is elusive, as there isn't even an official tally for the total number of cemeteries in the state.
Gjerde has a list from the 1940s showing at least 3,000 Minnesota cemeteries with listed contact information, although more recent estimates add thousands more to the tally. Between old family cemeteries and abandoned church cemeteries, Gjerde suspects the Land of 10,000 Lakes may well have 10,000 cemeteries as well.
He said cemeteries not being maintained as much as they were in the past could have something to do with cremation's rise in popularity. The National Funeral Directors Association's 2019 cremation and burial report projected a 39% burial rate this year, compared to 53% as recently as 2010.
"That trend is changing," Gjerde said. "Cemeteries are becoming less and less part of the equation."
By 2040, the funeral directors association projects a less than 16% burial rate. Where the majority of people for centuries had an emotional investment in the cemeteries where their loved ones were laid to rest, they won't for long.
There are now generations between the people buried at McPherson Union Cemetery and their living relatives. In all his time there in recent years, Wheelock has only noticed one show of remembrance — artificial flowers left at a gravestone — at the cemetery.
Gjerde was glad to hear the St. Clair cemetery has Wheelock. He said it'll come down to people like him to maintain similar resting places.
"We need to take care of these people," he said. "There's no one around to talk for them."
Wheelock also works on the much bigger St. Mary's Cemetery in Waseca, where he has multiple relatives, in his free time. He doesn't plan to quit his cemetery work, saying the work won't be done even when all the undone headstones are reset.
Every storm or windy day leaves sticks strewn about, and it doesn't take any special equipment or handy know-how to pick them up. Wheelock said he plans to keep at it because he can, and because he now knows how much cemeteries need it.
"In a way it's kind of my way of paying it forward," he said. "I've got the time. I've got the knowledge or can gain the knowledge. I've got the ability, and someone just needed to step up to the plate."