MANKATO — In case you didn't hear or feel it, the stars of the show arrived Thursday afternoon in Mankato, getting the lay of the land at 500 mph.
The Thunderbirds' six F-16s criss-crossed the airspace around Mankato for about a half hour before landing.
"We do a sight survey and get the lay of the land, looking for any towers, bodies of water," said Maj. Will Graeff, who flies the No. 2 jet.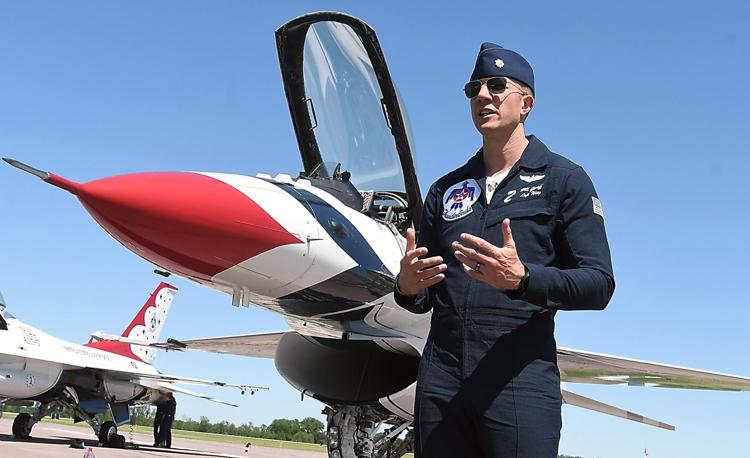 The day before, the pilots went through Google maps to look at roads, lakes and other markers to help them find areas they'll start their formations during the Mankato Air Spectacular on Saturday and Sunday. On Friday afternoon they'll go through a practice.
Graeff is in the second year of his two-year stint in the Thunderbirds. While officers do a two-year tour, enlisted pilots do a three-year stint with an option for a fourth year. Each year about half of the pilots rotate out.
Graeff, 34, a Florida native, has been serving for 11 years.
"When I was about 12, my uncle owned a four-seat Cessna and let me fly it once in a while and I loved it."
But it was when he was in college and talked to some helicopter pilots that he knew he wanted to be an Air Force pilot.
The team flies every day of the week except Wednesdays, with the air show season running from mid-March to mid-November. They attend air shows most weeks, from Thursday to Monday, then usually return to their home base, Nellis Air Force Base in Nevada.
"During show season, it's like a family atmosphere," Graeff said of his fellow pilots and the large crew that supports them.
While their precision flying techniques are well-honed and second nature, there are things that they can't control — like birds.
"You have plenty of bodies of water around here, which attracts birds. But we didn't see a lot of them. If you see them, you just hope the birds get out of the way."
While they can sometimes maneuver away if they spot a flock of birds, there are times they can't, like when four jets are in tight formation doing a "diamond" flight pattern. "You're so tight together you can't get out of formation without risking other problems."
One thing they've had little problem with is people flying drones near their airshows. Graeff said the Thunderbirds had one issue a few years ago where someone was flying a drone near a show, but he said local law enforcement is more aware of the risks of drones near aircraft and watch for it around the airshows.
On Thursday night the pilots were going to take in the MoonDogs baseball game and see a little of Mankato.
"I'm just proud to represent the professionalism of the United States Air Force for the people of Mankato," Graeff said.
Parking for the Air Spectacular starts at 8 a.m. both days with ticket sales starting at 9 a.m. The show starts at noon. General admission tickets are $30 each.